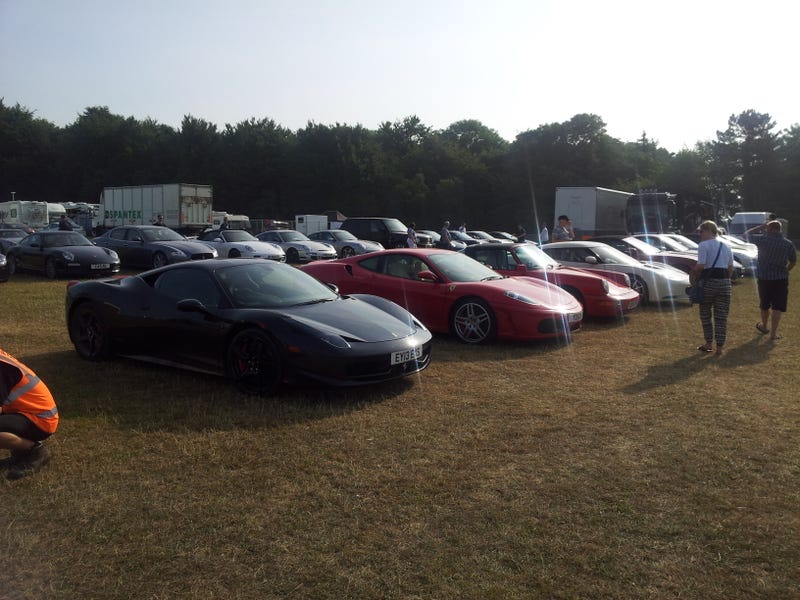 As has been pointed out already, the Goodwood Festival of Speed can top many car shows before you even show them your ticket to get in. To make sure this was definitely the case, there was a Supercars Car Park right near the ticket gate for owners of more interesting cars to leave their prides and joys rather than mixing it with the more plebian cars. Here are 30-odd photos of them!
How's this for a kick-off: not one, but TWO Noble M600s! The blue-tint carbon fibre was gorgeous. Definitely better-dressed than that guy on the right...
DAT BLUE CARBON FIBRE.
There were of course many 911s at the show this year, as the 20th FOS was celebrating the 50th anniversary of the DEFINITELY NOT A BEETLE rear-engined sports car (like, srsly, only the 356 used Beetle parts, not the 911).
Have a little upskirt peek at that Yamavolvo 4.4 V8TT.
This was meant to be a shot of the engine, but I was dehydrated and couldn't see my phone screen because the ENTIRE SUN was on it.
Of course, there are always some who stretch the term "supercar" a bit far. But who's complaining?
A totally unmolested NSX is more desirable than a C6 Grand Sport IMHO.
This little tyke scooted down to the Scuderia Ferrari garage to set up camp. The driver had the full team kit on, so he probably works for them.
A delicious rarity (and not the only one), a Jaguar XJ220 is a very uncommon sight even in England.
It may not be a V12, but this engine also saw work in the Metro 6R4... and a Ford Transit!
While Nobles and XJ220s were left to face the dust, Mr. Mustang decided he was too good for that...
While mentioning rarities, HOWZATT for something you don't see every day? All told, only 5 or 6 of these Schuppan 962CRs ever came into existence. Essentially an overhauled Porsche 962 by an Australian racing driver, the 3.3L "Type-935" H6TT chucked 600 horsepower at a 1050kg carbon chassis. Being based on a Le Mans car, there's just about room for two seats... but not necessarily two comfortable people.
This F599 GTB Fiorano was recently sold by none other than Chris Harris. Clearly it went to the right kind of guy!
Left to right: Porsche 996.2 Targa, Porsche 997.2 Carrera, Porsche GT2 RS, Lotus Evora S.
This is possibly the first 512BB I've ever seen in real life!
575M, DBS, 12C, Murcielago 6.2, now that's a lineup!
If you can drive one of these to Goodwood, you've pretty much made it.
Hmmmmmmmm........
Not sure which of these I'd have either!
I'm not even going to try picking one out of these ladies...
The most complete two-seater ever?
The new Cayman looks as great in real life as I was hoping.
My favourite design touch remains the spoiler that integrates into the tail lights.
Old V8 Vantage FTW.
And finally, some lucky drivers that didn't get the memo about separate parking: