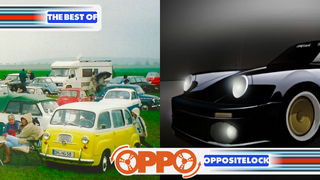 Assembled here are the best Oppositelock posts from Monday and Tuesday. Today we've got the last Störy Microcar Meet, A car at the heart of Midnight Club, a LeMons Ferrari and more.
In 2002 I traveled to the tiny hamlet of Störy, Germany for what turned out to be the last great European microcar gathering. The Automuseum Störy was the first, and greatest, car museum dedicated to microcars. Throughout the 80's and 90's, it hosted a bi-annual meet that attracted cars and enthusiasts from all over the world. At that time, microcars hadn't yet entered mainstream car collecting and Störy was the only place all the weirdos who love these things could get together and celebrate cars that had always been ignored and ridiculed.
Strange isn't it, how one car can change your mindset? Change your entire life? For me, that car is… the "Blackbird" Porsche 911 Turbo. The Basis: In the mid 1980's, street racing, and highway racing especially, became very prominent in Japan. People who couldn't afford the rising land prices bought themselves a car to display their personal tastes, and then took that one step further to modify it to suit their needs. In the form of expressway racing, the "Mid Night Club" had just formed and was making its rounds as the up and coming kings of Wangan Bayshore racing, on the venerable C1 Loop of Tokyo's expressway system.
The first time I saw an Enzo, I didn't like it. I specifically remember seeing the press photo of it, with a watery type background, and thinking that it looked like an ungainly piece of origami crap with wheels. Then again, I was 13, and in my then immature mindset I thought that even boobs of any kind and any stature were unobtainium and of the utmost importance, so what did I know?
Yes, I admit that I may actually be crazy, which you were probably already thinking when you read that "E60 M5 Was The Last Four-Door Supercar" post on Jalopnik. But in considering potential cars for LeMons, I just go with the usual suspects, such as BMW E30 3-Series cars, Porsche 944s, and Miatas picked up for a song. All of them no doubt excellent cars that LeMons teams know and love, but they also tend to receive penalty laps and little awards.
As many of you know, life can get in the way sometimes. Work demands a lot of our time away from our families and our friends. When we have free time, it is spent catching up with the people we love. As it should be. However, what happens to all those projects that we are working on? The ones that we are (in some ways) equally passionate about? This weekend, I made it a point to set aside time to get down and dirty with my 1965 Crown Firecoach.
The event was petrolhead nirvana. (Or gearhead nirvana, if you've only just earned your "Captain Slow" title in Top Gear Quizup). Fumes from the finest steeds of Stuttgart, Maranello, Sant'Agata, Detroit, and Tokyo came together to create a magnificent aura of automotive exhaust unrivaled on this side of a Beijing rush hour. Echoes from the operatic screams of LS7s and 2JZs filled the concert hall parking garage adjacent to the main lots. There were V8 swaps, restomods, stanced rides, off-roaders, and Miatas. If you are reading this right now, you would have fit right in.
Launceston-based Vehicle Engineering and Modifications built the Holden HJ-HZ-based Overlander 4WD models. Between 1976-89, 120 examples were built, using Holden mechanicals and a Dana transfer case and front and rear off- road axles, wheels and tyres and suspension. The conversion was created in conjunction with Holden, and could be had in either wagon, ute, or one-tonne ute body styles.
When I stumbled upon Mitsubishi at this year's Chicago Auto Show, I was yet again kinda-sorta disappointed by what lay before my eyes. For a long while, Mitsubishi's cars have looked great on the outside, but kinda fell flat in the interior. Recent changes in their vehicle line have almost eliminated that, and the new Outlander is definitely a step in the right direction. But there are a few lingering things here and there...
The 1st gen Insight didn't sell well compared to the Prius, which is a shame because it was a great car, complete with manual transmission and proper feedback from the steering wheel. If you didn't buy an Insight when new, perhaps you will consider a modified version that will smoke the tires in the first 3 gears. Also check out Imported From Haifa: The Israeli Built Sabra Sport.
What can one person can add to the conversation about the Ford Mustang that hasn't already been said? One simple internet search can bring up countless pages of credence and cynicism exclusively devoted to America's most popular sports car. No opinion is left unheard, each and every remark is horribly clichéd.
I'm back. One of my clients picked me up in his loaded brand-spanking new white 3/4 ton Ram Laramie 4x4 diesel. If you've ever wondered why people forgo luxury cars to get a truck, sit in this behemoth: you'll understand.




For the next couple weeks, I'm gonna put out a preview for every F1 team for the 2014 season… Ayrton Senna, Alna Prost, Damon Hill, Jaques Villeneuve, Nigel Mansell,Nelson Piquet, Keke Rosberg, Ralf Schumacher, and Jensen Button have all driven the FW coded Williams cars and the team is one of the greats in F1. Sadly, Williams has been on the decline since 2008 and finished 9th in 2013, a tie for worst in team history. Also check out the preview for Marussia's season.
Yesterday I had a chance to check out the latest generation of the Audi S4. It's the B8 chassis, (2009+) and its supposed to be the best S4 to date. My view of the entire 4 series, not just the S4, has always been that they're nose heavy, under-steering machines. The S4 line just happened to be slightly sportier with much more power. I've always seen the S4 as a car better suited to daily driving than spending time on any track surface.
A family-related complication forced my parents, my brother and I to make an 800 mile trek to North Carolina this past week. We've been driving out there once or twice a year for as long as I can remember, so it's gotten a little old by now. Even though there's only four of us, we wanted to drive something with more room this time, so we rented a Caravan from Budget. You know it's Budget because they didn't bother to vacuum up the previous client's dog hair. Here is a short review.
If people want sheer performance and don't care about looks, they get a GTR. If the just want looks and don't care about performance they get an Alfa Romeo. But a boutique sports car manufacturer has to produce something that is both easy on the eyes and a monster under the hood. I'm not entirely sure Felino has managed that.


Most of you probably know the old saying "The best way to teach someone to swim is to throw them into the deep end." Well, that saying accurately describes my venture into car audio, and, perhaps surprisingly, is not a very good idea. At all.
ARCA: The Other Stock Car Series. Though the advertising has changed on Frank Kimmel's car, presently featuring the colors of series partner Menards, ARCA's most recognizable driver enters Daytona in the same place he's always been: series champion, once again, but winless on the speedway that defines stock cars as a category. Also check out An Audience for Gene Haas.
The Best of the Rest
Jovimon7 attended the SCCA Majors Tour at Nola Motorsports Park. Shizanester got to do some rallycross. Audi For Life shared his photos from the 2014 Portland Auto Show and got up close and personal with the new A3. Iforgotmyburnerkeyonce took photos at the Chicago Auto Show. Feather-throttle-not-hair went puddle jumping. Vert304 visited the San Diego Automotive Museum. SnapUndersteer posted photos of his old M3. Liquid_popcorn's wife won a fight with a deer. Automatch Tom shared his impressions from the Philly Auto Show. DatASSun updated us on his LS swap. CrzRsn found a thing in Brookline, MA. Gabdere got some new wheels. BlythBros. practiced some panning shots with an S4.
---
As always, If I've missed something and you would like me to include it, let me know.
Fun Discussions
There were several posts that asked questions and sparked some good discussion on Monday and Tuesday. Take a peek and chime in on some of those listed below:
Just the #tips
Honorable Mentions
These posts have already been shared with Jalopnik directly but deserve to be mentioned again because they were first posted on Oppositelock:
Want to participate on Oppositelock? Check out the general handbook for posting on OppositeLock as well the Oppo tools to help you get started.