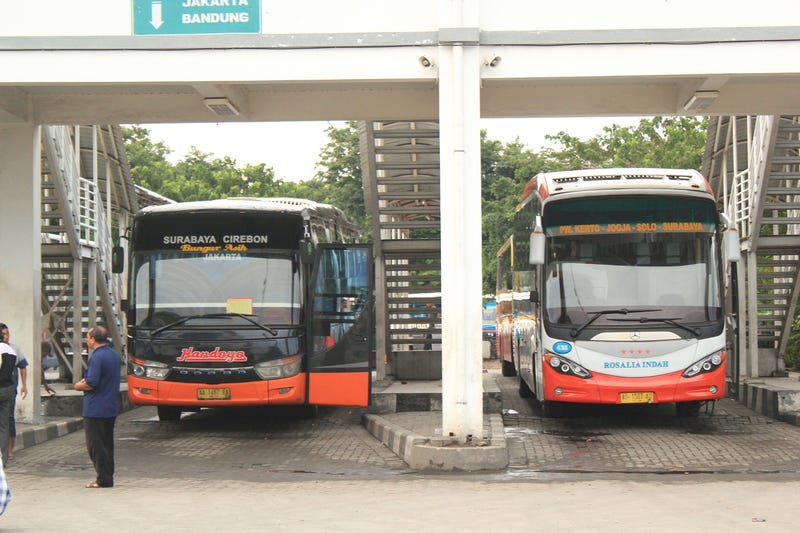 A quite a while ago, i saw an article in TTAC about the luxury buses of Latin America. And that inspires me to write about Indonesian Bus. So, you have seen the TTAC's take on buses, And here's a look to the amazing world of Indonesia's luxury buses.
Traveling by bus is the third choice to get around in Indonesia, just below the Airplane and Trains. Some peoples take these buses for many reasons. First, it is much less expensive than flying. Second, buses reach a lot more destinations than planes or trains. Third, they can't get a plane ticket and miss the train. Fourth, most of the bus passengers don't have cars. Fifth, bus is dependable in all conditions. Finally, There's some people that just loves buses just like me.
Seriously.
Anyway, let's dig deeper into the world of luxury buses of Indonesia!
The Buses
The buses in here is a bit different than the bus you see anywhere else. It's because the buses were made locally by a coachbuilder. So, the bus company only have to buy the bus chassis and let the coachbuilder do the rest, because it's cheaper than buy a completely built-up buses from bus company. For example, here's a Mercedes-Benz Bus that you normally see in Europe:
And here's an example of a variant of Mercedes-Benz bus that's sold in Indonesia:
A bit different, isn't it?
And now, the buses. There's quite a lot of bus maker in Indonesia, but i'll only focus on the top 6 bus makers sorted by market share.
1. Hino (Japan)
Hino is the most common buses here in Indonesia. The reason is simple, they're cheap, easy to work on, very reliable, easy to tune, and quite powerful. The base model hino chassis with 260hp engine and no air suspension retails for mere sniff of 50k USD, and the top of the line RN285 with 285hp is just 65k USD, and those bus can be tuned to as high as 350hp just by adjusting the turbo and ECU setup. And because the bus is cheap, the ticket is pretty cheap as well, since in here some bus company have varied ticket price depending on the bus engine and creature comfort inside.
But, because Hino is cheap, they tends to skip some features you normally get on the other bus maker. For instance, you don't get Air Suspension. Sometimes you don't get ABS as well, so stopping the bus is a bit scary. And because the bus has no air suspension, the ride is pretty rough.
2. Mercedes-Benz (Germany)
What? Mercedes made Buses?
Yep. Mercedes do made buses, and they're the 2nd most common bus you'll see here in Indonesia. The reason is simple, it's the most comfortable bus in here. Seriously. Mercedes Bus is all about long-distance comfort. They don't even let the bus company to re-adjust the Air Suspension on some models because they say it's the best settings suited for Indonesian country road, although if you bought the top of the line OH1836 or OH2542 you can adjust the suspension.
The another reason is, the Mercedes buses is full of advanced technology, like active body control or ABS just like their cars, but it's not very expensive. A base model OH1526 with 260hp and 1500nm of torque is just 60k USD, same price like Hino RN285, and top of the line 1836 is only 120k USD, cheaper than Swedish offering like Scania and Volvo. The only downsides is, the bus top speed is Electronically limited to 120km/h. And in here, speed matters. Just wait for the next part.
3. Scania (Sweden)
Scania is famous in here for the Power. If you look for a thrilling bus ride, go take a Scania bus in here, you won't be disappointed. The power comes from a finely tuned 13,000 cc engine, pumping out a massive 360-380hp and boatload of torque. 0-60? Depends on the driver, somewhere arround high 8 to low 9 seconds. Top Speed? 160km/h for the K380.
Think about it. A 10-ton of alumunium box with some meat and leather hurtling trough the highway at 160km/h.
But, as the saying goes: "With The Great Power comes with a Great Price". That's why the Scania is not really popular in here. The base model K360 cost about the same like the 1836 from Mercedes, yet it's less comfortable due to a stiffer chassis despite the Scania comes with Adjustable Air Suspension. And for the top of the line K380 cost nearly 200k USD, which is a bit ridiculous, for the bus company at least.
4. Golden Dragon (Chinese)
If you see a bus with this logo, don't be fooled. It's not a Citroen. It's Golden Dragon, a Chinese bus manufacture. Golden Dragon is a new player in Indonesian Buses, but now they're gaining quite a lot of marketshare. It's because they're copying Scania. So they offers similar power to the Scania K360, have similar features like air suspension, abs, retarder, cruise control and many else, but at half the price. That's Quite a deal. No word on reliability tough, but i think they're pretty reliable, having seen some buses break the 500k km mark easily.
5. Hyundai (South Korean)
The Story of Hyundai is a bit unique. It may says Hyundai on the front, but underneath it's a Mitsubishi since it has the same Transmision and Engines made by Mitsubishi. The Hyundai buses is powerful, nearly as powerful as the Scania. But my favorite thing about this bus is sometimes it's shooting flames from the exhaust like a Lamborghini when it's driven hard.
Other than the flames, it's just a regular bus just like Hino. Cheap.
6. Volvo (Sweden)
Volvo used to be the ultimate choice of bus, before Scania arrives and steals all Volvo costumers. I mean, Volvo offers Air Suspension, ABS, cruise control, and 330hp engine, all back in 2004. But then it's discovered that the Air Suspension was not suited for Indonesian roads due having very low pressure, and therefore prone to fail. Plus dealership networks is a bit hard to find, so Volvo buses becomes more and more rare.
The other bus makers including Daewoo, Mitsubishi, Weichai, Dongfeng, MAN, Toyota, Perkasa, Nissan Diesel, and many others, but nowhere as common as the top 6 makers above. Now let's move on to the Interior and Creature Comforts.
The Interior
The Bus Interior in Indonesia is varies greatly from each bus company. It all depends on the distance of your travel. If you your destination is less than 300km, normally you get a basic interior like the picture above. You got reclining seats up to 160 degrees, a TV in the front, and that's about it. TV in the front? Yes, something a bit like this:
Pretty nice, right? It'll get better. If you travels more than 300km, you can get 2 class: Executive and Super Executive. The Executive class interior is varies greatly between bus company. But generally, it has more tvs:
A reclining seat with foot rest:
wi-fi, and toilet:
But the ultimate way to travel in bus is obviously, the Super Executive. Just look at this huge seats with massage function and your own reading light:
And even more tvs:
Some of them even have a lounge for you to chill out and relax:
While the others that don't have lounge have a meeting table:
Some buses even has even bigger seats:
And of course, they all have toilets and wi-fi.
So, the passenger have quite nice interiors in the back. But how about the drivers? It's turn out that the drivers also has a quite comfortable cabin:
So, that's the Interior. And oh, i almost forgot, you also got a food if you travel more than 300km. The food is also varies, but it's definitely an Indonesian Cuisine like tempe or some soup or a chicken curry. Usually something a bit like this:
And for the finale, let's look at the drivers
The Driver
I think it's pretty safe to say that Indonesian Bus Driver is one of the craziest in the world. I mean, even when a volcano erupts near them, they just keep on going. Simply because they're paid base on how many trips that they can do everyday. Sometimes they do a drag race:
Sometimes they do a corner in an absurd way:
Sometimes they drift:
Sometimes the do a wet race:
Sometimes the do a night race and pretend to be a police:
Sometimes they do a top speed run:
And sometimes they'll go "Fuck it!" and go out on the other way
But despite they're driving like a lunatic, they're actually very nice and helpful people. You can ask about anything about bus, or city, or travel, or anything about Indonesia with him, and they're pretty knowledgeable.
So, let's sum up then. It's look good, it's comfortable, the interior is awesome, the food is fine, and the driver is... a bit crazy. And that's why i love buses.