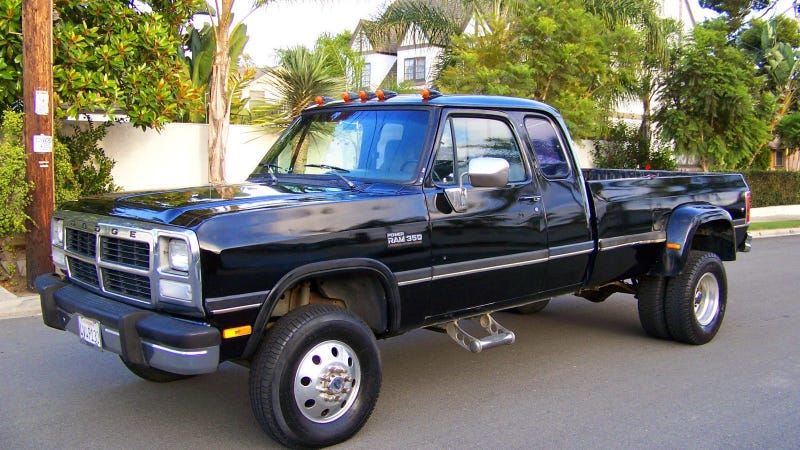 In 1981 Chrysler's truck division introduced a replacement for the aging D-Series pickup and B-series van. The new vehicle was called the Dodge Ram in homage to the Ram's head hood ornament that first appeared on Dodge vehicles in the 1930s.
While the Ford and Chevy guys decorate their rear windows with urinating Calvins, the Dodge folks just smile as their reliable trucks rack up miles and haul junk. Find this 1993 Dodge Ram 3500currently bidding for $10,300 on eBay with 2 days to go, located in San Diego, CA.
It would be strange to categorize a normal vehicle with 150k on the odometer as being "low miles" but the world of heavy duty pickups is not a normal world. 150k miles on a Cummins turbo diesel is just breaking it in; these things should last diesel Mercedes-Benz miles without major overhaul.
This 3500 Ram is powered by the optional Cummins 5.9 liter B-series inline six 12-valve turbo diesel. The Cummins engine puts out a meager 160 horsepower, but a whopping 400 ft-lbs of torque before you start modifying wastegate linkages and turning this thing into a smoke machine. Sure, Ford and Chevy offered diesel power at the time, but they were big nasty naturally aspirated V8s instead of the heavy goods vehicle style turbo six from Dodge and the difference is not insignificant.
The Cummins I-6 could be mated to a 5-speed manual, the Torqueflite A727 4-speed slushbox, and in a rare fit of slushitis I am going to recommend the auto-shifted transmission for a towing vehicle like this. You are never going to enjoy rowing your own gears on a monster like this, so why not relax and let some valve doohickeys decide what gear you are in and you can focus on trying to find a local bluegrass station on the AM radio.
See a cooler truck for your truckin' needs? tips@dailyturismo.com
Originally posted as 10k: Orange Blossom Special: 1993 Dodge Ram 3500 on Daily Turismo.