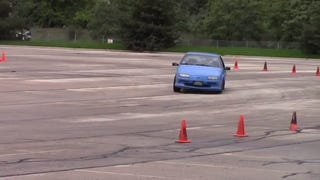 Update on the 21 yr old girl that is my race car.
My 1995 Beretta is okay sometimes while other times she screams for attention because she's an old car.
The Beretta got a new lease on life with a low mileage engine swap. Gave her a wal-mart rustoleum rattle can special to make her all one color until I can afford a real paint job. Surprisingly, it has held up really good considering there is zero clearcoat protecting my $30 paint investment.
---
She destroyed some ground wires, killed a coolant temp sensor, has ABS issues, and suffers from heatsoak with the starter/cables that causes her not to start up at temp.

All in all, I took her autocrossing for the first time this year with all these issues.
Her GM brethren Victoria at least AutoX onced this year so not to be outdone, Abigail needed her time to shine.
So off we went to Milwaukee Brewers Stadium in Miller Park for some raceday fun.
It was raining the first half with the Limited Slip Diff working it's magic to give me the traction I needed to keep her steady.
Here's inside view of my second run in the rain.
Also it dubbed as a bragging rights match with my brother's Celica. Spoiler alert, Abigail came out on top, nom nom nom.
---
Also bugs love me car:
I still have to install the Beretta Z26 bodykit Z04 sideskirts, an additional internal rear sway bar and fix the odds and ends plaguing her but it's cool.I've already had her for 6 and a half years, I have nothing but time.
---
Abigails 1st AutoX back in 2012
To Now