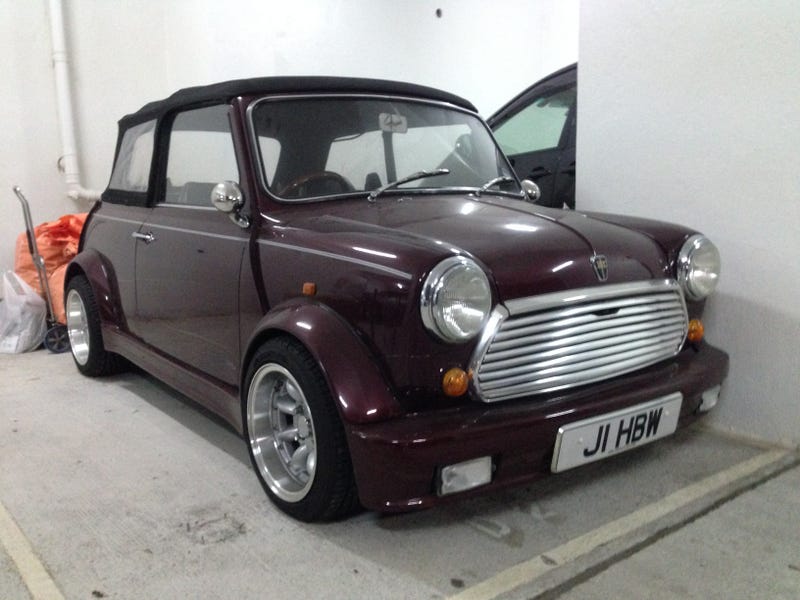 As you may know, my family is currently restoring a 1998 Mini Cooper 1275 for a friend. Today, the shop mechanic took it away for to be worked on and replaced it with this! A Rover Mini Convertible - but not just any Mini convertible. This one's a bit special...
Shipped over from England, it still wears its UK numberplate and tax disc. So I did a little delve into the DVLA database to see what I could find. Turns out it was manufactured in 1991 - but Rover only started making the cabriolet, seen below, in 1993.
So what's this?
Turns out, a company called LAMM Autohaus, Rover's German franchise, converted a bunch of Minis to cabriolets. Back then, it would've cost you £12,250 to buy, a steep price for Mini. Nevertheless, their success is what convinced Rover to proceed with full scale production of their own Cabriolet.
The first of two differences was the paint - the LAMM came in a deeper shade of red known as Cherry Red. The second was the hood - instead of glass windows like on the normal Cabriolet, this one had plastic ones.
The special thing? Only 75 of the LAMM Cabriolets were ever built, making it one of the most limited editions Minis ever. And one of them is sitting four floors below me in the carpark, a very long way from home...