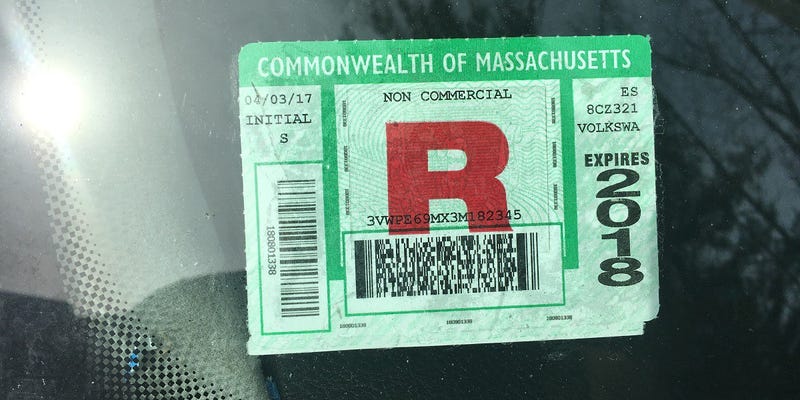 After a great deal of wrenching and some ancient pagan rituals to make our VW Jetta Ute project pass its emissions test, it still failed Massachusetts inspection. It wasn't anything I'd done wrong, but a small detail I hadn't considered. The stock muffler is supposed to have two tailpipes. The right one had broken off. Therefore, exhaust gas was escaping ahead of the rear bumper. That stupid complaint, alone, transformed the car into the ultra obscure VW Jetta Type R – with a big red sticker on the windshield indicating it couldn't be driven, anywhere, ever, until this got fixed.

Read on Right Foot Down or continue below
Most people I told about this said it was a stupid reason to fail. While I understand not wanting exhaust fumes in the passenger compartment, I tend to agree. Welcome to Massachusetts. Ironically, if the Jetta had already been converted into a Smyth Ute, it wouldn't have been a problem. The passenger compartment technically ends where the bed begins, despite the separate trunk area of a sedan not being given similar consideration.

Since it's going to become a Ute anyway, I didn't want to spend any more money on this "repair" than absolutely necessary. Before leaving the inspection station, I asked the guy if just sealing off the hole for the second pipe to force all exhaust out the remaining one, behind the bumper, would be legal. He paused to think about it, and said yes, that would be fine. I went home and planned the worst exhaust bodge job ever.
A Cover Up Operation
My fix involved simply patching up the hole left by the missing tailpipe. I picked up some Muffler Weld for $5. But this goo is intended to fix pinholes and cracks, not large open spaces like the missing tailpipe left behind. I've used exhaust sealer tape in the past, but that's designed to wrap around a pipe, and wouldn't work over a big gaping hole like this. So I turned to what all wise men turn to when faced with a problem – beer. No, not to get drunk about it. My plan was to cut up a beer can and use its aluminum to cover the actual hole, then seal all around it with Muffler Weld. Sure, a soda can would've worked, too, but beer seemed a more appropriately German solution.

In retrospect, it might have been smarter to use the bottom of the can, since it was already round. But the flat side of the can worked well enough, and was super easy to cut with tin snips. I bent and folded it around the stub of the missing tailpipe and contours of the muffler as best I could. I would've preferred to use a good German beer for this repair, but that would have doubled or even tripled the cost, so I settled for a beer I already had from an American brewery founded by German immigrants.

Then I put on some gloves – you don't want this toxic goo on your skin – and slathered it all over the patch. I even covered the can itself so that the inspector couldn't tell the true ghetto nature of this "repair." But mainly I focused on gooping up the seams between the beer can patch and the muffler itself. When I was done, I let it sit and cure for 24 hours before starting the car and checking for leaks.