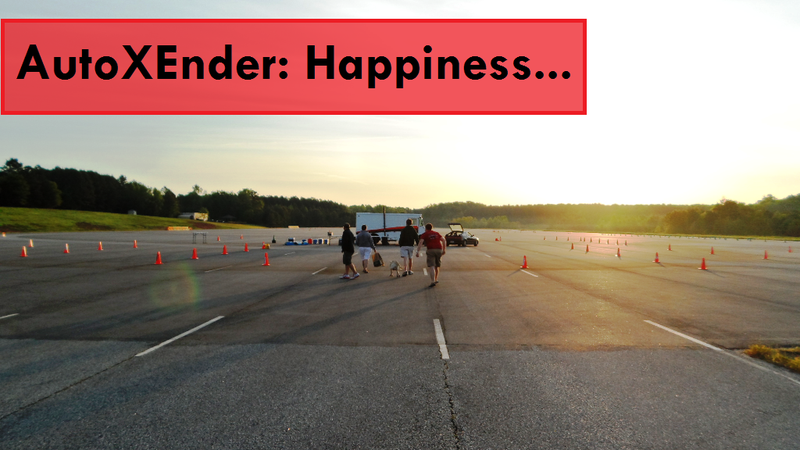 Welcome to another article written by a semi-novice auto-crosser as he re-enters the world of cone-carving and time-attack driving. Credits for the pictures go to Google Maps, Michael Hoatson Photography, Brian Nixon at Nixon Motor Sports, and me, Ender.
What is your definition of happiness? What keeps you driving in the early morning, so early the sun has yet to rise, on a Sunday you could spend sleeping in after a busy and stressful week or studying for finals? Why do you keep coming back every month to beat on your car in competition even though you stand little chance of taking first? Are you having fun yet?
This is my third year of auto-crossing; one year spent wheeling an HHR to an unexpected class championship and another wheeling a faulty Miata hard enough to inch out a close second place over an FR-S. Last year was my worst one thus far, encountering mechanical issues with my car that forced it into nearly 3 straight months of downtime and having to borrow my friend's Miata to keep my championship podium hopes alive.
However, that's last year's drama. It's a new season; the classes have been rearranged, the rules on modifications adjusted, and, most of all, my car's finally fixed. Some new sensors, cleaned-out injectors, and replacing the differential fluid has finally returned my gremlin-plagued Miata back to normalcy. However, I'd be lying if I said I stopped at just having it fixed, because I've started down the endless road of modifications and upgrades. As per Sports Car Club of America (SCCA) rules for stock class (now called street class since we all know no racer leaves their car alone), I'm allowed one aftermarket sway bar.
Last week I was able to install a Racing Beat '99 to '00 front sway bar kit from an unfortunate Miata owner who was t-boned by a reversing cargo truck. This meant the bar, end-links, and bracing blocks to help balance the car and keep the rear tires planted. In theory this should make the car more predictable in corners and over-steer less, saving precious fractions of a second I would waste sliding the car around Ken Block-style. Now there's a question, was it worth the purchase? I'd have to find out in a safe and affordable environment: the chalk-lined asphalt of the Michelin Tires Proving Grounds in Laurens, South Carolina.
Known as the "Black Lake" this gigantic rectangular patch of asphalt is South Carolina Region's favorite venue, home to some of the fastest speeds and longest run times due to the ample amounts room for both the course and emergency run-off space. It's probably the priciest one to attend but it's immediately worth it when you're driving on a dedicated asphalt surface rather than just another old parking lot, especially when Michelin repaved it last year.
So, what is my happiness? Why did I spend $40 to wake up at 4:30 (5:00, the alarm didn't go off) am to drive seventy-eight miles out to the Middle of Nowhere, South Carolina? Why did I enter knowing at least two of my rivals boasted far superior and brand-new Dunlop Z2's versus my cheap two year-old Chinese-knockoff Michelins? Maybe I should find out why other drivers come to these events.
First, there are those who are solely in it to win it; you'll mostly find these individuals in the Pro Class. Many who've spent time, money, and effort building all-out to-the-rules race cars, some of going far as far as sacrificing all street ability, comfort, and reliability purely for raw acceleration and handling in order to dominate.
Some, like the #65 Impreza, are here in preparation for attending and competing at top-tier events including the SCCA Solo Nationals held at Lincoln Airpark in Nebraska. The car is the beautiful result of nearly ten years of hard work to try and take home first place in Street Modified (SM) for this year's nationals in September.
They are the ones fighting tooth and nail to shave every tenth of a second off their times, racing against the clock and the handicap-helping calculator for top PAX time in class. They'll crowd around the TV screen to see their latest run-times and their position; smiling as they climb toward to the top or frowning in disappointment if someone edges them out on their final run.
There's a few who will just pack up and leave early without doing their fair share of cleaning up the place if they didn't finish as high as they wanted to…or they'll murder a few cones if their run goes sour. However, that's only a very, very, very small minority. Most people run Pro Class for sake of competition, being able to go up against thirty other skilled drivers to see where they place, and if they win then it's just a by-product of friendly rivalries.
Then there are people who attend the sake of being able to drive fast, allowing their car to stretch its legs out for once without worrying about getting a ticket for speeding or reckless endangerment. They couldn't care less if they're beaten by whole seconds because they're too busy smiling after wheeling their car so hard around the course they're drifting faintly through some of the gates.
Expect any allowed vehicle with these folks; I've seen stock sedans like Andrew's Toyota Corolla S...
To modified Mustangs like Phillip's M112'd-V6 Mustang...
To old-school sports cars like this 280Z. Many don't care if their modded or stock vehicle puts them up against superior cars; they're just there to have fun. Are they the fastest in their class? No. Are they smiling after each run? Oh yeah!
Speaking of classics, two men brought out these beautiful C2-generation Corvette convertibles. One of the owners told me he could have just bought the car, let it sit in his garage like a museum piece, and stare at it all day but where's the fun in owning that?
He was out there, owning a Corvette, to have some fun.
There are many people, both pro and casual drivers, that'll stay around for the entire event, helping put away the cones and picking up trash to make sure we'll in good standing with the hosts for our return later on in the year. They'll politely ask for and gives rides, for laughs or advice, and cheer drivers on from the sidelines. These guys keep the region going strong.
So where do I fit? I'm in the middle group with a majority of people. We're there not only to have fun driving our cars but also there for some competition. While I love driving the winding mountain roads, auto-crossing is a far safer alternative to that and I get the rush of competing against rivals in similar cars.