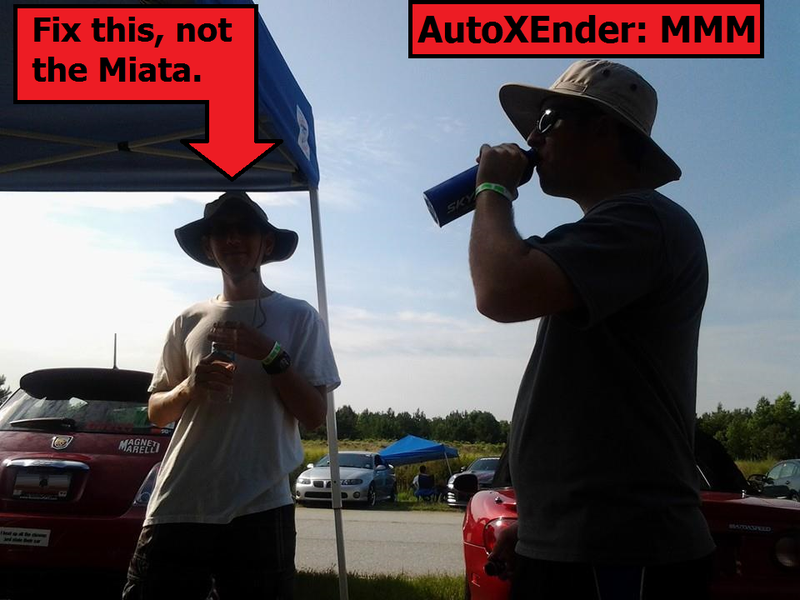 Welcome to another article written by a semi-novice auto-crosser as he re-enters the world of cone-carving and time-attack driving. Credits for the pictures and videos go to Google Maps, Michael Hoatson Photography, Cyndi Duckworth, Robert Nixon, alphajaguar, Glenn Holden, and me, Ender.
I have a bad tendency to blame anyone and anything except for myself when I'm beaten or losing. Bad tires, old shocks and springs, notchy second gear, quiet exhaust, etc. Sometimes it is true when your competition runs brand-new Dunlop ZII's and you're stuck on Chinese Michelin knockoffs, but I'm just proving my point that I don't take enough responsibility for my own actions.
About a month ago I was at South Carolina Region's auto-cross at Darlington Raceway, taking place in the parking lot directly in front of the historical stock-car track. Six other drivers were entered into my class, E-Street; three of them beating me earlier at Black Lake. By the end of the day, I finished fourth, beaten again by the three of them.
It wasn't the best of days for me; I struggled a lot to get my times down just a tenth or so at a time. It was a steep but needed major learning curve, I had gotten rusty once again and I was replacing my good driving habits with worse ones slowing me down. I wasn't looking far enough ahead, my slaloming wasn't as precise, and worst of all I was just getting angry and frustrated which resulted in my repeating my past and spinning out once more.
I had forgotten major points of auto-cross in the midst of pointless self-induced competitive stress, to better my driving skills and finding the limits of my car in a safe and controlled environment. That all became evident when I let my Miata-driving friend, Big Kyle, take the wheel of my car for a fun-run after the event. My best time that day was a forty-second and change run with no one else in the car, Big Kyle clocked a thirty-eight-second run while carrying his bear-sized self and me. He put down a thirty-seven second run in his Miata and I could have finished third instead of fourth easily.
His runs were insane, the back tires of both our Miatas continuously trying to slide out when exiting turns but he wheeled it like Senna and it shot out of the corners faster that what I was did. When I tried driving on the edge before, I kept losing control and spinning out or lost time while recovering, I had grown afraid to drive so loosely. I was broken, blue screen of death broken, my mind had trouble processing the fact that I needed to embrace such a dramatic driving style if I wanted to get the most out of my car and its tires.
Fast forward things ahead one month, June twenty-second and we're back at the Michelin Proving Grounds, the Black Lake (more like grey-lake since fading from the intense southern sun). This time armed with a mindset ready to push the Miata and its tires to their limits in the corners. Joining E-Street, Dan, last year's champion in C-Stock (where our Miatas were originally and improperly classed), finally setting aside his racing slicks for a new set of BFG Rivals on lightweight wheels.