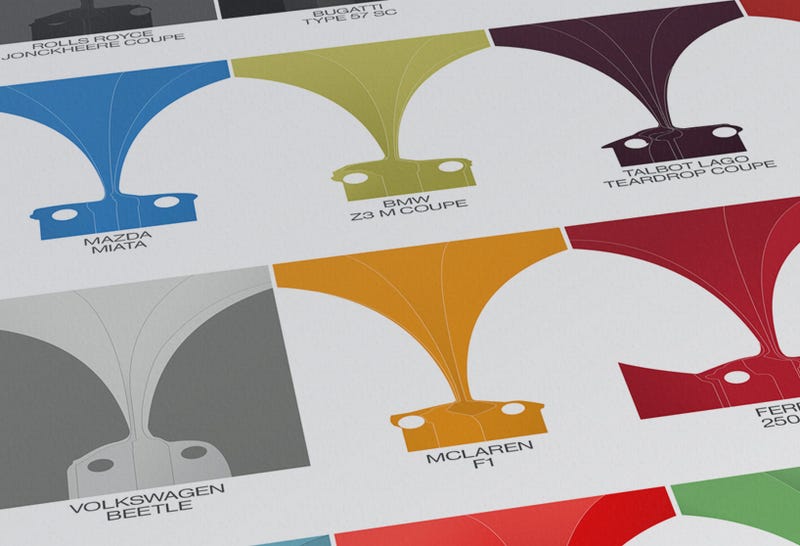 Hello guys, my names Salman Anjum (salmanorguk) - and Jalopnik very graciously featured some of my work earlier in the year - the Lancia x Top Gear Poster project.
Im back with some more work, inspired by The Jalopnik Fantasy Garage and Staff cars (I read all of them on an extended cigarette break at work) hope you like it.
The projects called SILHOUETTE RACERS. An artwork series where car shapes (or silhouettes) are depicted from outlines, panel gaps, silhouettes, etc.
After I made them I took the artwork to London for fun to see how aware normal people are of cars. I went near The Dorchester Hotel (Supercar central), near Kingston Uni, near my old School, and in my town - Heston.
To correctly identify the automobile. people had to guess the manufacturer and the model name (model engine size, trim, etc were not necessary).
640 people took part with the most astute people being near the Dorchester - 52% correct, and least astute were my town - 35%.
The most recognisable automobiles were the Volkswagen Bus and Volkswagen Beetle. Supercar wise it was McLaren F1. Least recognisable was tied between the Lancia Fulvia Coupe and Rolls Royce Joncheere Coupe.
You can see the full results at: http://www.behance.net/gallery/Silhou…
You can buy the artwork as prints/shirts/phone cases from: http://society6.com/Salmanorguk
Anyway hope you guys like the work, and if anyone wants a particular car print it'd be really cool so message me.
Thanks, Salman/ http://www.salman.org.uk/