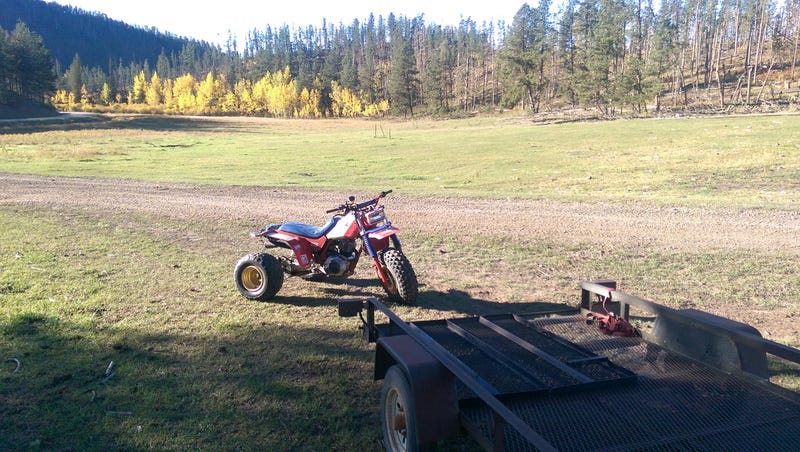 Last week I posted about having to do a very quick engine rebuild on my ATC200x in order to go riding in the Black Hills of South Dakota with my dad. Well I did it! I got it rebuilt, painted, and running. A bit of tuning and the only thing I wasn't %100 ok with was the idle, but it was good enough to go riding. A short 10 - 15 minute test ride around my parents acreage went great and didn't show any signs of trouble, so we packed up and headed out the next night.
Saturday morning we got to our trail, unloaded, and it fired right up, idled good, and revved out great. Time to hit the trails. No more than going around that bend you can see in the left of my picture, I shifted into third gear and something went wrong. At anything over 1/4 throttle it would spit and sputter and pop. So I babied it back to the truck and tried to see what I could figure out. The plug looked a bit black, so I figured it was running rich, especially because I hadn't re-jetted for the higher altitude. Not a problem, I'll just throw a smaller jet in from my handy pack of jets, which are.... six hours away.... at home. Dammit! I packed a toolbox for the apocalypse and forgot my jets at home. So we ran to town and got the closest jet I could to what I thought I needed and gave it another shot. It ran better, not perfect, but it was the best we could do so we headed back to the trail thinking I could at least putz along. It would just have to be a slow riding day.
Back at the trail head we get unloaded again and head out. I made it about twice as far, until I got to a hill, before it really started to complain again. So, turn around, back to the truck. Coasting down that hill was the fastest I went on my own machine the whole weekend.
Daylight was burning and I was still convinced my jetting was wrong, so we put the trike in the back of the truck, stuffed a backpack full of soft things, strapped it to the rack of Dad's 4-wheeler, and rode double all day. Needless to say riding tandem with your father as a 26 year old man is slightly embarrassing, but we came all that way to ride, and it was better than nothing. It was worth it for the scenery alone.
The fall colors were beautiful and overall it was still a great weekend.
When we got home I tried to run the three wheeler again, and it acted identically the way it did when it started to act up. On one hand that's relieving because that means that it wasn't the jetting and forgetting them at home wasn't a big deal. On the other hand it isn't relieving for the exact opposite reason, now I've got another problem and I have to tear into it tonight to figure out what it is. My best guess based on the way it's acting is that something timing related jumped. I'll look into it tonight, and update when I know more.