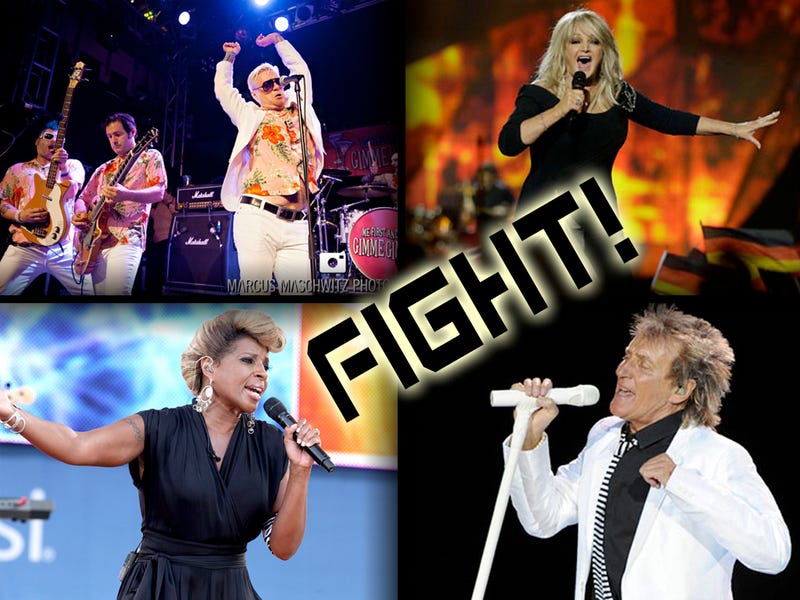 I can't honestly say I've ever felt like a natural woman, and considering the mustache on mcseanerson's avatar picture I'd wager he's never felt like one either, but that didn't stop him from requesting it for our next round. Welcome to round five of Battle of the Covers, today we're looking at the Aretha Franklin classic: (You Make Me Feel Like) A Natural Woman.
In round four we tackled nine versions of Depeche Mode's "Enjoy the Silence." Susan Boyle's down-tempo interpretation took an early lead, narrowly pulling ahead of Breaking Benjamin and Lacuna Coil. Ultimately though, a surge of votes for Lacuna Coil rocketed them to the lead, a surge I attribute almost entirely to the fantastic vocals of Cristina Scabia. Personally, I think she had by far the best voice of any of the covers, and the backing vocals of LC's version (especially the chorus, where the added voices almost overpower Cristina) actually kept it from being as good as it could have been. I'm not sad to see Lacuna Coil win though.
The battle for wost cover was the least represented battle we've had yet in terms of votes, both by total number of votes (20) and votes compared to the poll for best cover (12 fewer votes). Perhaps this means many felt there was no cover bad enough to be declared worst (or, alternately, too many bad covers to choose just one). But ultimately there had to be a biggest loser, and in this case it was Tori Amos. She may have only earned nine votes, but with 20 votes in all that's nearly 50% of the ballots cast. Sorry, Tori.
A Natural Woman was originally released by Aretha Franklin back in 1967 and it quickly became a major hit, peaking at #8 on the Bilboard Hot 100 charts. Natural Woman could have been a very different song by a very different artist if not for a chance passing. Atlantic Records co-owner Jerry Wexler was contemplating the concept of "natural man" when he happened to drive by famed songwriter Carole King on the street. Inspired, Wexler yelled to King that he wanted a "natural woman" song for Aretha's next album. King took the message to her songwriting partner Gerry Goffin, and together they wrote the famed hit.
Unsurprisingly, A Natural Woman has been jumped on as a choice cover from the very beginning. Peggy Lipton released her cover just a single year after Aretha's original, and Carole King (yes, the same Carole King who wrote the song in the first place) covered it just three years after that. Bobby Womack wrote a cover variation titled "(You Make Me Feel Like) A Natural Man" in 1973, and that version was in turn covered by Rod Stewart in 1974. Since the '90s it's become a mainstay of female recording artists, and has been visited by Celine Dion, Mary J Blige, Mariah Carey, Gloria Estfan, Shaniah Twain, Kelly Clarkson, Christina Agulera, and Jennifer Hudson, among countless others.
Another tough round of deciding who's in and who's out. This genre definitely isn't my strong suit. I tried to take a good selection of older and newer covers from across the genres and artistic spectrum. My "no live performances" rule helped cut things down, as artists like Gloria, Shaniah, and Clarkson haven't released studio performances. Others, like Peggy Lipton, simply couldn't be found on YouTube
Carole King - (1971)
Bobby Womack - (1973)
Rod Stewart - (1974)
Bonnie Tyler - (1978)
James Ingram - (1989)
Mary J Blige - (1994)
Celine Dion - (1995)
Me First and the Gimmie Gimmies - (2003)
BY THE WAY! If you want to check back on the results of previous rounds, or see what covers are coming in future rounds, there is now a Google Drive spreadsheet with past rounds and the upcoming battle schedule.