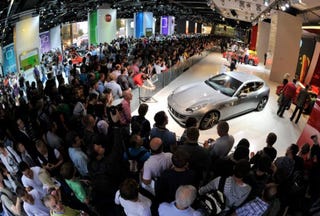 A couple of months back my father and I went on a little european trip. The trip consisted of a tour of france , stop off at the ring so I could be brought around the track and then head back to Paris for food and a little bit of culture. All in a 2006 Ford Mustang GT

Now 95% of that went according to plan , except for the track time. Sadly the night before we were to head to the ring , my dad received a call from Ms Sabine Schmitz; who was organising the event. The track had to close due to snow. It was a bit of a pain to come so far , especially drive so far ...only to find out that the highlight of the trip was so swiftly canceled.
To our surprise , Ms Schmitz kindly invited us to her workshop where I got to bask in the Glory of the 911 GT3 RS , chat about ring times, discuss TopGear antics and hear worrisome tales of the Nurburgring's uncertain Future. At the end of our tour , she kindly offered to rearrange our track time. Which was wonderful to hear ! Amazingly she offered to help with any accommodation planning and even offered a room at a local family B&B. We settled for September 13th. The Ring would be conquered ...second time round.

And now here I am to the main part of my post. I have just finalised flights , booked the hotel and rented a car with my father ( BMW F10 5 series ) I am so incredibly excited, Not only am I visiting the ring , but we have also decided to go experience the Frankfurt Auto show, Something I have dreamed of experiencing since I was young. I am so thoroughly excited, I feel slightly like a faux Automotive journalist, one who goes during the public days .....
I haven't been able to describe my elation to any of my friends as I seem to be alone in my appreciation for all things Automotive.
I am going to collect all of the car brand promotional USB sticks.
yaay