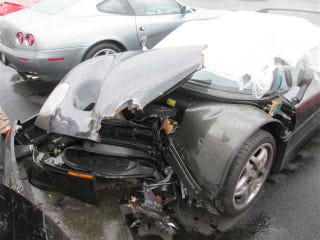 A black F50, possibly one of only four produced in Nero Daytona, has been wrecked, rumored to be 104799 a.k.a. the "F50K." Having spent most of its life in Louisiana and Texas, the F50K earned its name by amassing well over 50,000 miles between two of its owners. After receiving a significant overhaul including a brand new factory stamped engine, the car was sold late last year.
Photos which appear to have been taken earlier this month depict a black F50 which was recently posted on a salvage auction website. Damage appears to be severe but it is likely to be rebuilt, given the car's value and how few F50's were produced, so the death of the F50k will likely not be a permanent one.
Further information surrounding the incident is appreciated.
Photo credit: Peloton25 at Ferrarichat.