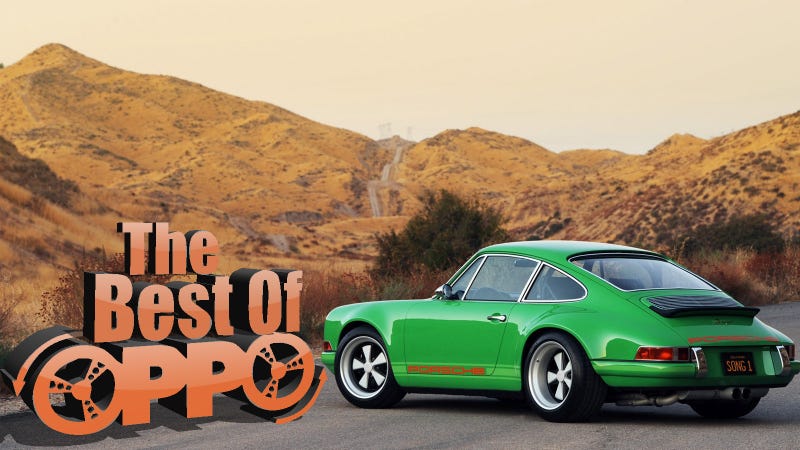 Gathered here are the Oppositelock posts that people have put a good deal of effort into writing from the last 24 hours. Today it includes an e30 Independent Throttle Body project, off-roading making a comeback and more.
Currently there are three "bolt on" kits available to add individual throttle bodies to your m20… I thought it would be interesting to try my hand at making my own set. Many people have done this before. The first question to consider is choice of throttle bodies. All of the m20 ITB builds I have seen use either motorcycle throttle bodies or BMW itb's from a s38/50/54 motor. The problem I see with the bike throttle body set ups is that they attach with hoses and hose clamps. This has three issues: lots of points for vacuum leaks, a less smooth intake track and potentially a less stable/strong/rigid mounting.
Enzo Ferrari is a person which has my utmost respect. 25 years after his death, today 14th of August 2013, Ferrari is on one hand the same old company about the most exclusive and fast cars and on the other just a brand that somewhat lost its identity in the wasteland of things that are slapped with the Prancing horse logo and name.
Has anyone ever had a wrong turn experience that somewhat resembled the early part of a horror flick? What happened? I know I've had one. Late last week I was in the middle of a road trip through the Alps. It was early in the evening, approaching dusk, and we were trying to locate our hotel. Apparently we had to go straight up a mountain on this tiny very narrow road. For a few dozen kilometers. It really was somewhat creepy yet interesting. Video after the break.
The very last Model Year (MY) 2014 Shelby Mustang GT-500 Convertible was auctioned off at Barret-Jackson's Hot August Nights auction in Reno, Nevada on August 10th for a spine tingling $500,000. All proceeds from the sale will support Brain Injury research. Mr. Don Damon of Grand Bend, Kansas won the bidding contest for the car with famed Indy winner Parnelli Jones cheering him on.
The first Grid game was a nice little racing title and I recently purchased the sequel to see how it stacks up to its predecessor. I'm a pretty big fan of console racing sims such as Gran Turismo and Forza. At the same time I can get into and enjoy more casual racing games such as the Need for Speed series or Burnout. Grid 2 nicely intersects these two genres feeling at times both simmy and arcadey.
I started my driving career in the heart of the SUV craze with excellent suv's like the pathfinder, explorer, cherokee, 4runner, Rodeo and so on; in fact I owned a Rodeo and a Cherokee at one point and I loved them. I live in Utah and try to make it to Moab at least twice a year and so I actually used them as off-road vehicles so when I read about cars like the new range rover sport, Cherokee Trailhawk, Grand Cherokee ecodiesel as well as faithful's the power wagon, raptor, TRD Tacoma and Off Road Nissan's meant for real off-road use in addition to FP teasers from Ford Australia in the everest and the positive feedback in the comments I have to wonder aloud: Is true trail capability making a comeback?
The E63/64 6 Series is dog-barf ugly, and its poor owners wound up paying $80K for the visual twin of the Camry Solara. It was also heavy as lead, which made it, well not slow, but maybe not as fast as you'd like if you were putting up with Solara looks and a big price tag. It also shat on the memory of the gorgeous E24 and E9. But what if you didn't know any of that history and all your taste is in your mouth? Would you be interested in an FR, German cruiser coupe with a 6-speed and 325 hp for $13K?
Car Spotting, Picture Threads
Jqj213 showed us the interesting cars in a local parking lot including a GT-R and a Scirocco. MountainCommand installed a type-s steering wheel in his super clean Prelude. CalzoneGolem updated us on his rat-rod project after removing a bunch of rust. A Rolls Royce Phantom, Lamborghini Gallardo and Maserati Gran Turismo parked next to each other in Sean Bartlett's parking garage. Bird spotted an unidentified electric car on a street somewhere in California.
As always, If I've missed something and you would like me to include it, let me know.
Fun Discussions
There were several posts that asked questions and sparked some good discussion over the last day. Take a peek and chime in on some of them listed below:
Just the #tips
Honourable Mentions
These posts have already been shared with Jalopnik directly but deserve to be mentioned again because they were first posted in Oppositelock: