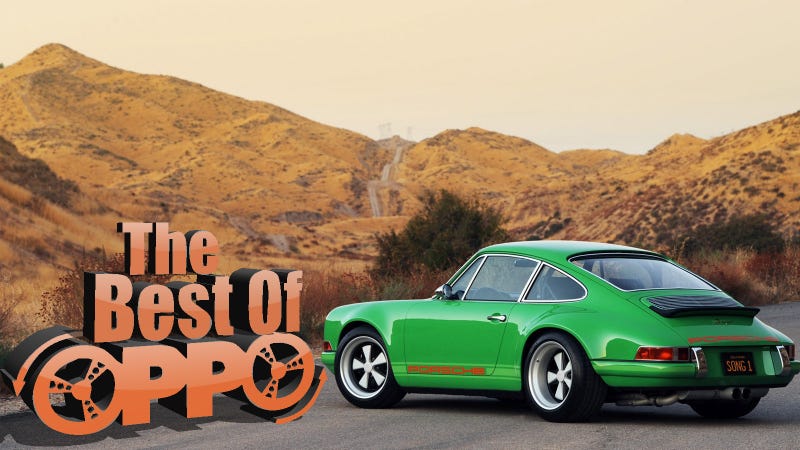 Gathered here are the Oppositelock posts that people have put a good deal of effort into writing from the last 24 hours. Today it includes weird cars we're glad exist, F1 silly season, the Ferarri ZXX and more.
On today's list we take a look at 5 unique cars that brighten up the automotive world in some manner. 1. Fiat Multipla Everybody has heard of the Multipla. It's often regarded as the ugliest car ever made. But is that a fair judgement? I don't think so. The design is definitely unique, brave, quirky and unlike anything we've seen before or since. It's not a beauty, but you can't say it's not endearing… Why do we love it? Because you couldn't possibly hate it even if you tried.
Hyundai really turned a corner a few years ago in terms of build quality and attractiveness of their products. I recently drove a newish Elantra that my sister bought, and it really made me wonder why the Corolla continues to exist.* Our subject today couldn't exactly be called attractive in the sense of pleasing to the eye, but an FR coupe with 300 hp and a stick? Sometimes ugly girls really do have great personalities.
We're barely halfway through the 2013 season and the 2014 silly season is already in full swing. Caterham indicated an interest in announcing their full driver lineup by September or October. This past year they announced their second driver in February. However, the big news is being generated by the seat at Red Bull being vacated by Mark Webber. [author's note: Image source]
You saved up and bought the perfect E46 M3. It's fast, handles as Jeremy Clarkson promised it would, and you're in love with it. Unfortunately, Ford has decided to offer up its 3.5 Liter EcoBoost engine in not only its Police Intercepter and Stealth Intercepter units, but also Ford's hottest selling police vehicle - the Ford Police Intercepter Utility Vehicle. Now the local PD has even more vehicles choices with at least a modicum of power and handling ability.
I was reading the 2014 Corvette Stingray piece in the new and improved Road & Track yesterday. A bit of writing really caught my eye. Not that the car was monsterballs. Or that Tony Stewart is a badass and a bit of a kook. No, it was this: If his performance and character weren't enough to declare Stewart a kind of latter-day A. J. Foyt, there's also this: He'll race 115 times this year alone, and most of the time you'll never hear about it… 115 races in a year. Most under a pseudonym. The man's heart pumps ethanol.
Chevrolet's Pony Killer is built just up the highway from where I live at the Oshawa Car Assembly Plant. Ironic: a rag top built in Canada, where you can only enjoy a convertible 4-5 months of the year. During those months though, this car is one of the most popular rental vehicles in our fleet.
How do you review a monster like this? I think you just do the right thing and run away from it. Note: Ferrari wanted me to not drive this so bad they made the original owner crash it a few times, once into an ocean, send it all the way to EDO to fix it up and make it more powerful, then have it run the Ring a few times before coming back to the quiet and restrained Canadian countryside. Another note: I'm pretty sure I got put on the blacklist by just sitting in this car. We have here a car that is loud, painfully fast and exceptionally unforgiving to your senses. If there was ever a car that blurred the line between road car and race car, this is probably the one.
We know about these things because people with fast cars enter these events to drive their cars fast, and we like fast cars. Generally these road "rallies" set waypoints and drive from one place to the next, and whoever gets there first (despite it "not being a race") receives certain accolades. I propose a new style of "non-racing" road rally. The cool thing about this one is that anyone can do it, from anywhere, in any car. Here's the idea: How far can you drive in 24 hours?
Car Spotting, Picture Threads
Powderhound thoroughly cleaned his WRX and took some pictures. MrCrash attended the Woodward Dream Cruise and shared some of his photos. Feather-throttle-not-hair spotted a Miura in the wild. SonorousSpeedJoe did some carspotting at UMD, including a Spongebob adorned Hyundai. CBell04 saw a clean Datsun 200sx in Rochester. Pixel ran into a cool gasser with the pictured note in a parking lot. MattP123 installed new wheels and wire hubcaps on his beautiful Cutlass. Mayoketchup shared some of his finds from Puerto Rico.
As always, If I've missed something and you would like me to include it, let me know.
Fun Discussions
There were several posts that asked questions and sparked some good discussion over the last day. Take a peek and chime in on some of them listed below:
Just the #tips
Honourable Mentions
These posts have already been shared with Jalopnik directly but deserve to be mentioned again because they were first posted in Oppositelock: