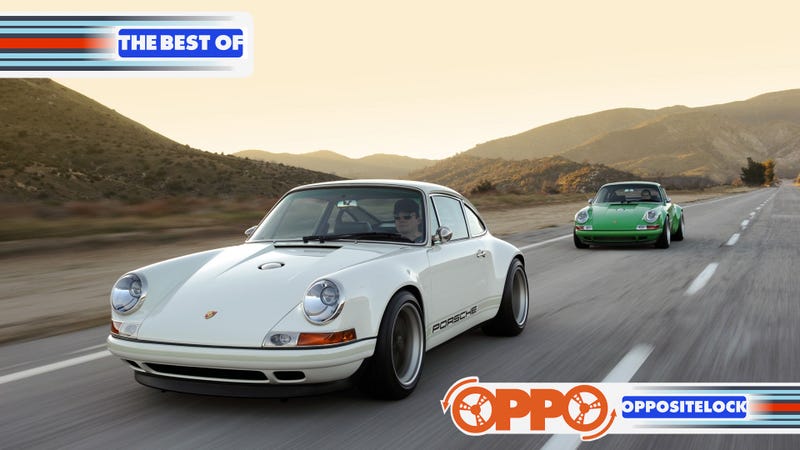 Gathered here are the Oppositelock posts that people put a good deal of effort into writing on Wednesday and Thursday. It includes the car every teenager in America should have as their first, Formula 1's elaborate demise, 2 years with a Mustang GT and more.
An old car. Or an old truck. Like this 1954 F100. No power steering. 3 speed manual transmission. Straight 6, maybe 115 hp. 4.27 gears, you won't go much more than 55. Nor would you want to with the king pin front suspension. Drum brakes with no "power." No radio. No lighter. No back seat.




It's great. I should give an introduction, I suppose. This is a 1965 Ford Mustang Shelby GT350-R. Roughly 35-36 of these were made and we're design as purpose-built race cars. What makes this particular Shelby so special and valuable is that it's Gt350 #3, the first one sold to the public.
...Now here's where the story gets interesting. One of the pictures is labeled 1984 Texas Challenge Vintage Race. Behind is the owner is his GT350R and up front is Carroll Shelby himself in an AC Cobra. At Hallett Motor Speedway, the two were racing, ball-to-the-wall of course...
Many automotive sponsors have clamored for a reintroduction of Road Relevance in Formula 1 since leaving the sport, but now that the FIA have mandated new rules to bridge the gap between science fiction and the Toyota line-up, the sport is about to lose a substantial following. Road Relevance isn't a necessary evil, in fact it isn't even what's killing Formula 1; misinterpretation is.
In 2004 Ford introduced the S197 platform Mustangs. Its retro styling set the stage for a renaissance of horsepower, cool cars and affordable fun. Ford updated the platform in 2010, resulting in a much more sculpted and muscular look. With competition from the newly introduced Chevrolet Camaro, the 5.0L Coyote V8 was added in 2011 transforming the car into a true performance bargain. I purchased my 2012 Lava Red Mustang GT in June of 2011. Now the question remains: After two and a half years and 42,000 miles later, has the novelty of this performance bargain worn off?
On Monday, I brought my 2011 Audi S5 down to Audi Wilsonville for its 3 year/35,000 mile scheduled maintenance that would normally take a couple of hours to complete and I would be on my way. So, I brought my laptop and camera with me to take some photos. About an hour or so, the service technicians noticed a bit of a leak from the rear differential. So, parts had to be ordered and I had the option of leaving the car there and get a loaner, or bring it back. I opted for the former and that gave me a chance to get a 2014 Audi A6 3.0 TDI as a loaner vehicle (how could I pass that up?).
I've always loved Volkswagens. My parents owned an MKIV diesel Jetta, a B5,5 Passat Wagon and other German cars. Back in January of this year I bought a nice 5-speed MKV Rabbit. It had a lowered suspension, xenons, Detroit wheels, tinted windows and all that good stuff. It also had 135 000 kms (84 000 miles American friends). So I used it for 6000 miles and listed it at a way higher price than what I had paid for. What I had in mind was to buy a Fahrenheit GTI, a car I always dreamed of. But I had to sell it at the price it was listed or I'd keep it.
I've been wanting to get a remote starter on my car for some time. I thought about getting one when I first got the Mazda but at the time it was a lease, and I didn't want to make that investment on a car that I wasn't going to keep. Well, I bought the lease out a year ago and it was time. Because the car has a manual transmission that makes putting a remote starter in a little more complicated.
Far before the creation of Austin Rover, years prior to the disaster that was British Leyland, Rover was putting along building cars like the P5 and P6. Growing up, kids my age frothed at the mouth over Nissan Skylines and Toyota Supras. Of course, I was the weird one that popped open his Big Book of Cars and saw the P6 and thought "Hm, that actually looks pretty awesome". This was all very fascinating to a ten year old me. Ogling this foreign exotica like my fellow 13 year old friends ogled the porn mags they found under their father's beds. It actually wasn't until much later that I learned that Rover got quite bored and decided to build some turbine cars.
Back in 1999, Volkswagen just bought the Bugatti and they had no idea what the hell they were going to do with the brand. So they gave Giorgetto Guigaro and his ItalDesign team 2 W18 engines and told him to build a coupe and a 4-door saloon for that engine. The EB218 was born.
Swan Song cars, the final breath of an era. The Pagani Zonda Revolucion (supposedly) marks the end of the naturally aspirated 7.3 V12 hyper car that is the Zonda. It's a mix between the road going Zonda and the Zonda R. The cost you ask? Chump change, it's only 2.8 million dollars! Only five of these puppies will be made and it comes with a hefty amount of horsepower, 800 if your were wondering. This car got me thinking what is the greatest swan song car?
The first "headlights" were oil-powered lamps hanging from horse-drawn carriages. On early automobiles they were nearly always round reflectors in housings standing proud of the body. Streamlining eventually melted them into the fenders, along with increasingly decorative grille covers and bumpers. Today, headlights are intricate and complex design elements. Take apart a modern headlight and you will find a myriad of lights, reflectors, jewelry-like accent pieces, and other bits and pieces. Yet another intricacy, a strange new aesthetic is developing in recent years - the split face.
The Chevy Malibu was a forgettable midsized sedan from the 80s and not worth a second glance...unless someone has shoved a modern fuel injected V8 under the hood, painted the bumpers body colored, tinted the windows and bolted on a set of Torque Thrust style wheels.


The image above is a screen shot from a document depicting GM's projected sales volumes by make and power train for MY 2012. These reports are submitted to NHTSA for the purposes of CAFE calculations. This is one of the only places you'll see automakers break down models by power train (read: performance trim), something not reported in monthly sales releases. Again, these are projections and not sales, but they do give you some idea of volume expectation.
I hate to break it to you, but Doug DeMuro's new car sucks. Despite all of my extremely well thought out suggestions, Doug's new car sucks. I mean, there was a literal list of spectacular choices that I sent him, and you know what? He ignored all of them. I swear he just looked at every good car out there and said, "You know what? I'm going to choose a stupid one instead. I love driving stupid cars that are all wrong in every way."



The Best of the Rest
Alex Nunez got to play with some classic exotics in the Miami. _Mécanicien came across an Aston Martin DB6 parked in the streets of Paris. T_s introduced himself, his 911 and racing Mini. Total_Spax spotted one of the classic busses servicing NYC for the holidays. Arch Duke Maxyenko took a spiffy picture of a Pinto wagon. ZachR chronicled his search for a Saturn Sky, a surprisingly rare beast. Oldirtybootz1.4T took some pictures of his Dart. Driving Sports TV got to have a go in the 2015 WRX and posted some sound clips. JayhawkJake found a Lotus Europa in his parking lot at work. Warshrike updated is on his Boosted V6 Firebird project. It's a "Porch-uh" parked his e39 M5 next to its younger sibling. Mathias Rios met the XL1 in NYC. Lumpy44 found a cross walk in the middle of nowhere.
---
As always, If I've missed something and you would like me to include it, let me know.
Fun Discussions
There were several posts that asked questions and sparked some good discussion on Wednesday and Thursday. Take a peek and chime in on some of them listed below:
Just the #tips
Honourable Mentions
These posts have already been shared with Jalopnik directly but deserve to be mentioned again because they were first posted in Oppositelock:
Want to participate on Oppositelock? Check out the general handbook for posting on OppositeLock as well the Oppo tools to help you get started.