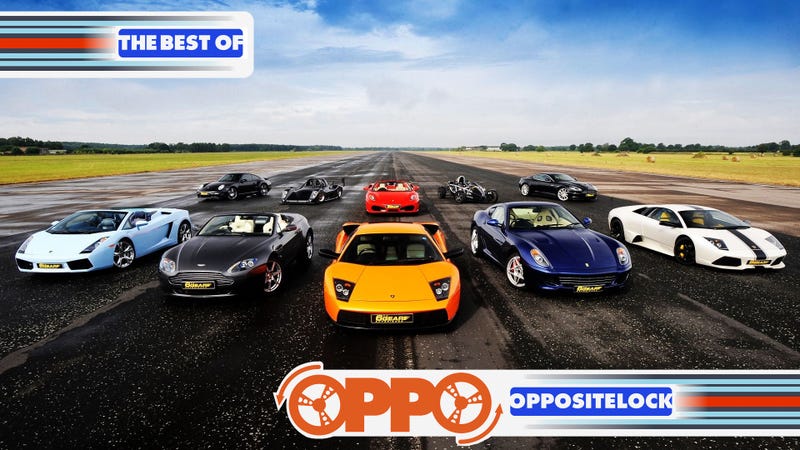 Gathered here are the Oppositelock posts that people put a good deal of effort into writing from Saturday through Wednesday. It includes the story of a SoCal icon, cars as christmas gifts, the love of Mustangs and more.
Merry Christmas everyone! Last year my girlfriend and I started the tradition of including our love of cars into our Christmas card, and since we live in Southern California we've made that a part of it as well. Last year it was the beach at sunset, and this year we chose Bob's Big Boy Broiler in Downey. Originally Harvey's Broiler, then Johnie's Broiler, this SoCal icon has an amazing story.
The weather outside is frightful and by frightful I mean raining and filled with chaotic last-minute shoppers. It's down right scary outside. I saw two police officers guarding a Honey Baked Ham store. Instead of risking my life for a last minute gift, I decided to cozy up to some soy eggnog and browse old newspapers in search of holiday automotive advertising.
Let's just get it out there; I love Mustangs but not at the exclusion of other brands. I'm an enthusiast, there's little doubt. I'm into 'the hobby' and have a passion for the passion. To be clear, what I am saying here is, "I Love Cars." There will always be a special place in my heart reserved for Mustangs and I'm not ashamed of that because the first car I felt an attachment to, the first car I owned and was proud of, was a Mustang. In fact, if it weren't for that Mustang there's little doubt in my mind that I would never have become an enthusiast or become involved in the hobby at all.
The 2015 Ford Mustang is a proper redesign. Set up as a global car, it is designed for a customer base that is international, not strictly for the United States. But, you read the title and think, how is it rooted in music?
The Nissan GTR, a technological step in the automotive world which has created a benchmark upon rivals from other manufacturers. This article isn't about why it's such a technological, amazing, blah, achievement, it's my account on why I despise its existence. Let's cut to the chase…


Aahh, the Range Rover, a rugged and capable automobile that has the ability to take on the toughest of mountains… Or is it? It seems Range Rover has a new priority in mind, which is not to climb the tallest mountain in the world (although it jolly-well can), but to take the luxury car segment by storm. The new 2013 Range Rover is up competing with the likes of the Bentley Flying Spur, Mercedes-Benz S Class and even the Rolls-Royce Ghost. It seems then, Range Rover have played their cards right.
Everyone loves manuals. Some people love DCTs. Most people hate single clutch sequential robotized transmissions. These transmissions are going extinct. And that's why I love them.



On Friday night, I noticed some unexplained damage to the back of my car, consisting of a gouged out scratch through a plastic trim panel and a broken tailight. This meant a trip to the body shop as soon as possible and a rental car. I have no idea what caused the damage and am pretty pissed that some careless idiot has now left me out $500. That said, I figured maybe I'd make the most of my rental car experience and try to get some level of entertainment out of it.
Hey, do you hear that? No? Then you're probably inside the Chevrolet TrailBlazer. I don't know why I decided to start talking about this car based on how quiet it is, but that should speak at least a little about how really quiet this car is. Turn off the radio, get up to highway speeds, and I you won't hear more than a gentle breeze blowing by.
The Best of the Rest
Jbh got a ride in a in a CCC Manhattan member's supercharged 993 and did some light painting. Jus1029 shared photos from a drive around Manilla. Pessimippopotamus posted photos from the LA Autoshow. Jagvar went to C&C in Great Falls. ZachR attended Carlsbad C&C and picked up a Sky Redline. Liquid_popcorn attended Katie's C&C. Ilike_cougars attended an Autism Awareness Toy drive. Party-vi shared photos of his Willys. Raphael Orlove posted photos of his local University's old Willys truck. JayhawkJake did some snow hooning in his Sonic RS. RotaryLover is now RotarylessLover. Milky enjoyed some snow in his Crossfire. 190e30 took pictures of his Audi. Santiago Iglesias took his FR_S rallycrossing. Nick showed us his Cobalt SS. Briannutter1 destroyed the driveshaft, bell housing and torque tube on his C5 Z06.Pixel organized his garage. SloPro replaced the clutch and motor mount on his MSP. Offroadkarter put his Marauder away for the winter. D took some film pictures of cars. Benzed92 bought an '02 Wrangler X. Garrett Harrison showed his Beetle. Msatlas did some doughnuts in his Jeep. EuroJosh did some filming at Club Loose's Slay Ride. Dr_Watson and his MX5 played in the snow. Brian Silvestro took a trip to NYC.
---
As always, If I've missed something and you would like me to include it, let me know.
Fun Discussions
There were several posts that asked questions and sparked some good discussion between Saturday and Wednesday. Take a peek and chime in on some of them listed below:
Just the #tips
Honourable Mentions
These posts have already been shared with Jalopnik directly but deserve to be mentioned again because they were first posted on Oppositelock:
Want to participate on Oppositelock? Check out the general handbook for posting on OppositeLock as well the Oppo tools to help you get started.