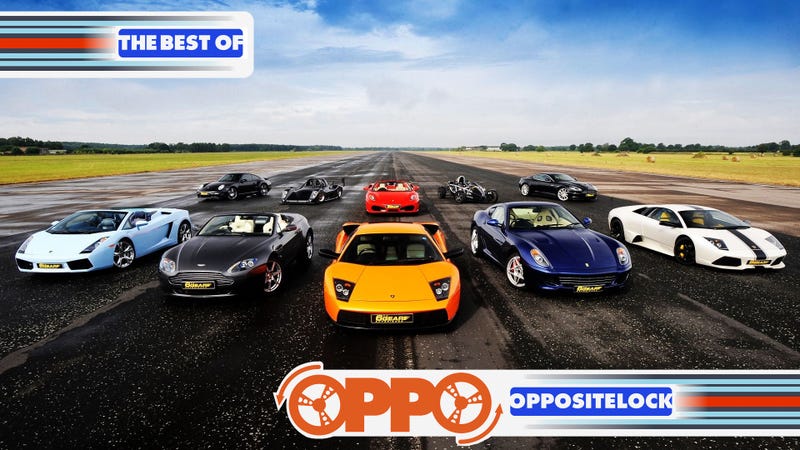 Gathered here are the Oppositelock posts that people put a good deal of effort into writing on Wednesday and Thursday. It includes a tribute to a Cadillac Calais, a Ferrari 365 Daytona, an amphicar and more.
Thanksgiving is a time for flying home to tiny towns in the middle of seemingly nowhwere and spending time with family, at lest for me it is. This year we went to the tiny town of Belpre, Ohio where my wife grew up and stayed in what until recently was the home of Annie Chicketti. Annie passed away last year, but not before she, the daughter of Italian immigrants crammed in exactly 100 years of jam-packed living. She started and ran a restaurant that ran for over 50 years and continues to serve home made pies to this day, she traveled the world, she maintained a crush on Matt Damon, and more importantly to people here, she took great care of her car.
I've read like a million times before about the most Jalop vehicle being brown, RWD, and a four-cylinder diesel wagon, with a manual transmission. Today I felt an urge to look up if such vehicle even exists or if it is just an urban legend and lives as part of the Jalopnik folklore, haunting Zac's and other fellow Opponaut's dreams.
Last week I went on my first actual vacation in years, my family and I drove up to Northern California for Thanksgiving and along the way we stayed at a friends place in Studio City. When we got up that morning we went out to breakfast down on Ventura, and about 5 minutes after we got there, this beautiful, beautiful car pulls up.



Just as all the cars I've had before her, I love my car. I tend to keep my cars for six months to a year maximum and don't recall ever having one for more than a year. For my birthday this year in May I decided to purchase a very clean single owner E39 530i, which I absolutely adore.
US President Lyndon Baines Johnson was a proud Amphicar owner and would drive at high speeds down hills in his Texas ranch screaming to his terrified passengers that the brakes had failed. The Amphicar would splash into a small lake and LBJ would erupt into fits of laughter as his passengers soiled themselves.
In case you hadn't been following along west african adventures are my travel logs from when I lived in west africa in 2007-2008. Today's adventure is about hosting the 2008 african cup of nations tournament. The cup consisted of 16 teams competing in groups of 4 in 4 different venues around the country.The venues were: Accra, Sekondi, Kumasi and Tamale. Ghana had been ramping up to host the event for several years including building new stadiums in Tamale and Sekondi, and completing new roads inside the capital city to ease Accra's endless and hopeless traffic congestion.
What has a supercharged V8, 450+hp, and the ability to enter and exit the corporate parking deck in a sideways smokey fashion? The car I bring you from the land of a thousand and one auctions for new Chinese junk, is this lovely W211 Mercedes Benz E55 AMG. This car has been featured in many pictures and videos for the wheel company Vossen, its also in my rotating wallpaper on my desktop because I always thought it looked great. So imagine my surprise when I got in an argument with a friend over W211 vs W210 E55's, hopped on ebay, and found this for sale!
The Best of the Rest
Jagvar got to drive a VW XL1 and play around in a Veyron Grand Sport Vitesse. Bozi T shared his Cadillac's journey from totalled to daily driver. Franzouse spotted a matte-black 5-series long roof on the streets of Beijing. Speedmonkey reviewed a Jag XFR-S and tried out the EV mode of the RR Hybrid. Battery Tender Unnecessary's battery tender became necessary. Msatlas cleaned up the headlights on his Grand Cherokee. A Raptor adorned the lobby at MontegoMan562's workplace. Cherry_man1 took his Gran Torino out for what may be its last run of 2013. K-Roll-PorscheTamer shared some flat-6 sound from his '74 911. 505Turbeaux's V70R met an unfortunate end. 48 Spoons got to work on some Corvettes in class. Jbh and CCC Manhattan could use Larry Kosilla's help with the plastidip in their 911. WhiskeyGolf's Golf decided to burn itself to a crisp :(. Monkeypuzzle sold his Impreza summer project. Dumpring shared a sad, neglected NSX.
As always, If I've missed something and you would like me to include it, let me know.
Fun Discussions
There were several posts that asked questions and sparked some good discussion on Wednesday and Thursday. Take a peek and chime in on some of them listed below:
Just the #tips
Honourable Mentions
These posts have already been shared with Jalopnik directly but deserve to be mentioned again because they were first posted in Oppositelock:
Want to participate on Oppositelock? Check out the general handbook for posting on OppositeLock as well the Oppo tools to help you get started.