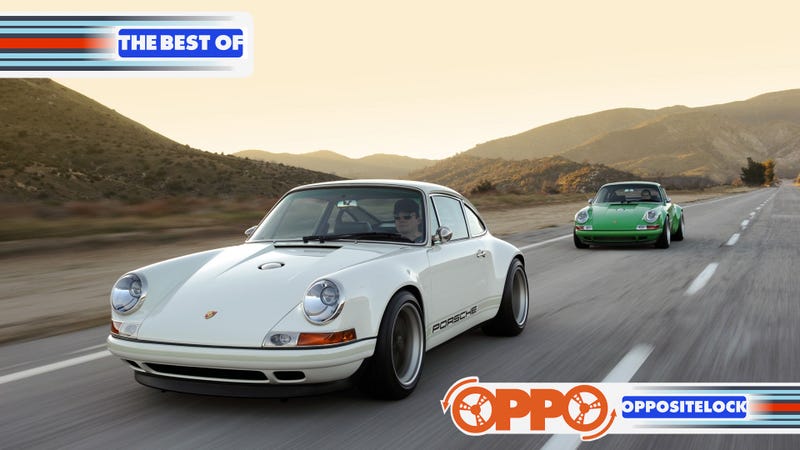 Gathered here are the Oppositelock posts that people put a good deal of effort into writing last Thursday through Sunday. It includes proof that nearly everyone is a car-lover at heart, dreaming of a rwd econobox, an Alfa Romeo high and more.
Conversations about our own personal ideals can lead to some really interesting thought provocations. I've known this for quite some time, but while talking to a good friend of mine the other day, she learned something pretty shocking about me. My friend designs sewing patterns for a living, is a little older than me, is married, and has a five year old daughter. Imagine my surprise when she sent me a picture of a murdered out Ford Raptor crew cab and claimed it to be her ideal vehicle. After a few more exchanges, she asked what car I would want her to buy me if she either won the lottery or somehow became a millionaire. My answer shouldn't shock anyone who reads Jalopnik, OppositeLock, or any other Gawker Media entity: Volvo 240 Wagon.
It's a good time to be an automotive enthusiast. The small, affordable rear-wheel-drive coupe is back in style, Fiat and Alfa Romeo (soon) are back in North America, there is a healthy selection of sports cars and a multitude of sporty compacts. And that's just North America, Europe has an even wider selection of all things appealing to Jalops. What more could we ask for? How about an econobox sending its motive power to the rear wheels.
Understanding why the Milano's engine had seized so suddenly and ruinously on 1-70 required minimal disassembly. The first bolt revealed metallic sheen of the oil – not good. 17 bolts later, I was staring at a mangled connecting rod cap sitting in a rubble of rod bearing annihilation – oh no, crank is bad. Then I noticed the coolant lingering in the lower oil pan, and started feeling better knowing that at this point, at least I'd get to meet another Alfisti, because the block was toast.
Last night's big game ads highlighted two brand new players to the hyper-competitive mid-size luxury sedan market, the Kia K900 and the Maserati Ghibli. This is going to be an interesting showdown in the marketplace. Of course the K900 is aiming more against the established players like the E-class, 5-series and A6, but for the sake of discussion let's look at the two newcomers.
It was easy to see the appeal of these things. Big on luxury, equipment and velour. Unlike its Western contemporaries though, they weren't that big on price. These were perhaps the default cars for those who wore suits to work, carried a briefcase and probably owned a Motorola Brick phone. As I mentioned before, the pool of full sized pure japanese cruisers has slimmed down quite a lot. The only attainable full sizer is the Crown and the Century is the last full sizer with royalty still in its blood.
After my last article, I started doing a little research into various prototype classes sanctioned by IMSA/ALMS and Grand Am, which are now united under the all new TUDOR banner. However, a quick history of the soap opera that is sports car racing in the US is needed.
As a car enthusiast, it's always fun, yet a touch difficult to attend an auto show. Those of us that spend an inordinate amount of time on the internet researching cars (that we will never buy) end up with a useless diverse wealth of knowledge about said cars. In addition to the normal horsepower and torque figures, we go searching for things like curb weight, wheelbase measurements, and other more obscure facts and figures most people don't care about. So what happens when you go an auto show that primarly exists to help normal car buyers research cars?
The Ford Bronco was launched in 1967 as a competitor to the Jeep CJ-5 and International Harvester Scout. Today's featured Bronco is the most beaten up Bronco we've seen since...well...last night in Super Bowl XLVIII.
We first met on a cold, overcast day in February after I had made phone contact through an online ad. We were both looking for companionship before Valentine's Day, tired of one night stands and suitors with indifferent attitudes. That evening, we said our first hellos and made conversation though moderate city traffic, trying our best to pry at our respective pasts. In a short amount of time, I managed to learn my new acquaintance had recently retired from a life of promiscuity, but that didn't matter to me because I myself had been guilty of frequent infidelity in the past. We both wanted a fresh start, and later that night, a new bond between the two of us had been forged, a bond to faithfully serve each other until death do us part.
In 1994, ford released the sn-95 mustang as an attempt to improve the older fox body platform. The base Mustang featured a 3.8 L V6 and 5-speed manual, or a 4 speed automatic. The V6 produced a dismal 145 horsepower and 215 foot pounds of torque. Then there was the GT with the more desirable 4.9 liter v8 putting out a still dismal 218 horsepower.
I've pretty much followed the CCC since they started. I didn't, don't, and never want to be the asshole that ruins one of their cars., or a clutch, or a wheel, or a tire even. Yes, my deductible is low, and the potential cost is somewhat manageable. But that's not the point. The point is I like cars. I know how much the guys who run the club like cars, and especially their cars. So it is my goal to treat every single car they hand me the keys to, with the respect and mechanical sympathy they deserve. So let's just say, for my first drive... I was a little nervous.
"I'm sorry sir, but we don't carry the Grand Marquis anymore. The new Taurus however is completely redesigned and you'll find it an acceptable replacement." I would never own a panther based Ford, but it was a guilty pleasure of mine to drive whenever I rented a car. I was really disappointed that they got rid of them. "Actually, we have a Lincoln MKT, it's a bit bigger but you'll love it none the less." Holy crap she was right.
During last night's Super Bowl, Volkswagen debuted their new ad touting the reliability of their vehicles. But it was the sprouting of wings and pooping of rainbows that got everyone's attention. So who got the wings, and who pooped rainbow?



The Best of the Rest
TwinCharged found a surprisingly beautiful road in China. Audi For Life attended C&C in Portland. WillKinton247 visited the Washington Auto Show. MR2_FTW acquired a trailer for his wheels and updated us on his Cressida build. EuroJosh got his Saturn back together and took it for a drive. Jeff-God-of-Biscuits installed some DIY heated seats. Raphael Orlove got a little nostalgic while doing some carspotting. UOne Quick Turbo Brick updated his Volvo build.
---
As always, If I've missed something and you would like me to include it, let me know.
Fun Discussions
There were several posts that asked questions and sparked some good discussion last Monday and Tuesday. Take a peek and chime in on some of those listed below:
Just the #tips
Honorable Mentions
These posts have already been shared with Jalopnik directly but deserve to be mentioned again because they were first posted on Oppositelock:
Want to participate on Oppositelock? Check out the general handbook for posting on OppositeLock as well the Oppo tools to help you get started.