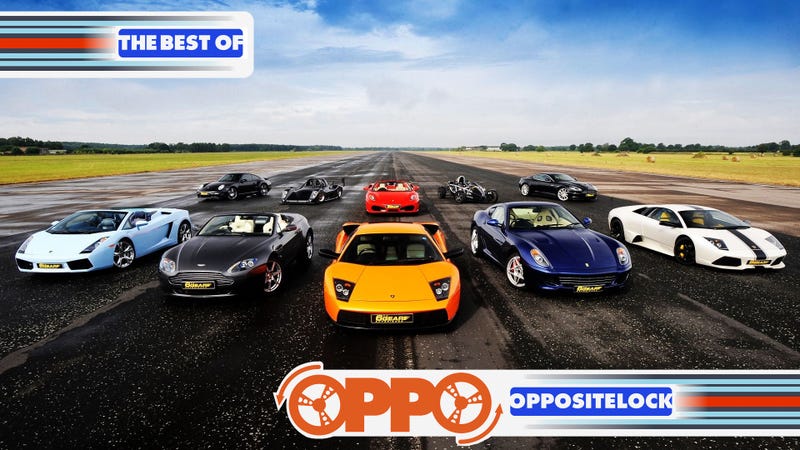 Gathered here are the Oppositelock posts that people put a good deal of effort into writing Friday through Sunday. It includes a 6,000 mile roadtrip in a Mk. I GTI, a forgotten airliner, the automotive aftermarket 40 years ago and more.
Earlier in 2013, I decided that I wanted to go for a substantial roadtrip. I settled on taking a 318is, but figured I'd sell mine and buy one in better mechanical condition. After a 1,500 mile trip to make that acquisition, I wound up with a car that needed the drive shaft to be balanced, had less AC than the seller implied, and needed 4 new tires. Normally these would be simple enough fixes, but I wasn't able to get the car ready in time for the trip. So, I decided to take my 1984 Rabbit GTI and every tool I own.
The Douglas DC-3, DC-4, DC-6, DC-7, DC-8, DC-9 and DC-10 are well known around the world. They were icons of the development of air travel. They presented fairly logical steps from the early days of mass passenger transport to jumbo jets. The list above is missing a number though. What of the DC-5?
While some trends among the car crowd will always be around and are well received by future generations, some things do not age like wine. They age like bread. Or milk... Below is a partial listing of what you had access to before the Internet and touch tone phones. Before disco but after the days of the first generation of hardcore factory muscle (with a few exceptions, I'm looking at you Mr. SD-455).
Welcome back to Power Explained; a multi-part series where I explain the tuning process, the mechanics involved and how they affect your horsepower numbers. One of the most common questions I get asked in the aftermarket performance world is "I went to XYZ Shop and they said my car made 140hp, but I think it should have made 200hp. What is wrong with their dyno?"
The Woking based Formula 1 team, McLaren, have recently revealed their new innovative suspension to the world during pre-season testing in Jerez, Spain. The suspension does little to improve upon any mechanical grip, as one may suspect; instead, the clever suspension improves downforce by acting to supplement the recent loss of the beam wing.
Technical innovation is what makes Formula 1 so different from any other form of racing. The on track action is as much played out by the engineers and aerodynamicists as it is the drivers. We are here to admire, study, and discuss this beauty that exists on the ragged edge of what we think is possible, or at least what we thought was possible.
Asia is an arms race hotbed right now - and depending on who you talk to, the People's Republic of China is the specific reason why. The PRC military has many strategic goals, some more publicly acknowledged than others. Whether or not the PRC has invasion plans for the Republic of China (Taiwan), they do have clear military and strategic goals on being able to counter the RoC military if necessary. The PRC also seeks military parity with the United States, if for no other reason than that this results in the PRC having greater regional and global strategic influence.
General Motors has been a definite linchpin of automotive Americana for over a century. At one point in time, it was the world's largest and most profitable automaker, its corporate presence dominating markets from Boston to Bavaria, from Sydney to Shanghai. The only other American conglomerate that was more globally ubiquitous with its product during this so-called "golden era" was Coca-Cola.
The most recent episode of Comedians in Cars Getting Coffee featured an absolutely minty clean 1967 Volvo 1800S and got me thinking how much I'd love to own one. The P1800/1800S/1800E market isn't bad right now and examples are available for the Seinfelds and Newmans among us.


As I led a corporate committee meeting on Tuesday morning, I casually glanced outside at the unusually large, dry flakes falling. The weather reports predicted the wintry mix would hit 100 miles south of us here in Birmingham, so the usual "Everybody Panic!" mentality was conspicuously—almost obnoxiously—absent. Even the state DOT had repositioned all of their snow-clearing equipment (which I believe consists two four-wheelers and a lawn tractor) to the southern part of the state in preparation for the onslaught. Grab the bread and milk and fire up the Netflix, we're going to be home for a while!
I promise that this is not a sea-faring tale, nor another one of those mini-rants about a car I found on Craigslist. No, this is a bit of background about my daily driver, that we fondly call "The Admiral", a 2000 Volvo V70. I've had the car for a little over two years now, as I bought it used in October 2011 in Erie, PA, with just under 180k on the clock.
So, at the end of last season the world was informed that F1 cars would be switching from the marvelous sounding 2.4l V8's to a 1.6l Turbo V6's. Now to those new to the F1 world, that might not sound particularly mad or insane, or even stupid. For those in the know and that want to experience the magnificence of the shrieking howl of a Formula 1 car again and again and again, you know that the switch has been quite a controversy.
The Chevy Volt's hipster little brother has been on the dealership lot for a little while, and has not gotten much publicity as of late. Is there a reason this little blue skittle has been forgotten already or is this much more of a car than it leads on?


Diesel sucks. There you go, I said it. It sucks, plain and simple. For some reason though, diesel are extremely popular on this website. As a french person who lived for the past 10 years in North America, this is something I do not understand. What good do you see in a diesel car? I can understand the fun of a boxy wagon, the fun of an extremely ugly and crappy car or why miata is always the answer, but what's up with you and diesel?
BMW has quite an audacious goal set for themselves. The official press kit for the BMW i3 states that its design "defines the automobile of tomorrow." Moving past the fact that this sounds like something I would have heard at EPCOT center as a child, this is quite a statement. Our friends in Bavaria have set forth with the goal to completely re-envision the way a car is built - claiming that the i3 was designed and executed with zero preconceived notions of what a car should be…
We arrived at the CCC, and unfortunately the Stingray was leaking its life fluids rather quickly. It turns out there was a hole in the radiator. I was saddened but resigned myself to waiting until the club puts in a brand spankin new LS1 :) Which is supposed to be happening over the winter, I believe. Word to come on that.
The Best of the Rest
Joest took photos at the 24hrs of Daytona and shared images of Memo's crash. AngryDrifter took pictures at Caffeine and Octane in Alpharetta, GA (Part 2, 3 and 4). 718Rogue photographed the Nissan Idx at the Petersen. rb08874 visited the Museo Dell'Automobile Di Torino. twinturbobmw attended C&C in Portland and made another video. AndersSim shared photos from his trip to Monaco. iXBoulderADAM got his e30 out on a frozen lake for some hoonage. ihm96 stopped by his local Ferrari dealer. Ricepuddin showed us some soldiers' cars in Ft. Hood. Kiwi_Commander got stuck in the ice with his Genesis in Atlanta. Itchys2 took pictures of his family's cars and snow. Blunion05 shared photos and video of his friend's 2014 Camaro ZL1. Makoyouidiot got his project. DOMdotCOM took part in a cruise. Agrajag shared a photos from an old trip to New Orleans. Godspeed11 hooned a Turbo X and IS300 in the snow. Dsscats bought a 300zx. Thebigbossyboss chose to teach a friend to drive manual, he chose poorly. BJohsnon11 shared some of his handiwork for FSAE. CrzRsn visited the National Corvette Museum.
---
As always, If I've missed something and you would like me to include it, let me know.
Fun Discussions
There were several posts that asked questions and sparked some good discussion between last Friday and Sunday. Take a peek and chime in on some of those listed below:
Just the #tips
Honorable Mentions
These posts have already been shared with Jalopnik directly but deserve to be mentioned again because they were first posted on Oppositelock:
Want to participate on Oppositelock? Check out the general handbook for posting on OppositeLock as well the Oppo tools to help you get started.