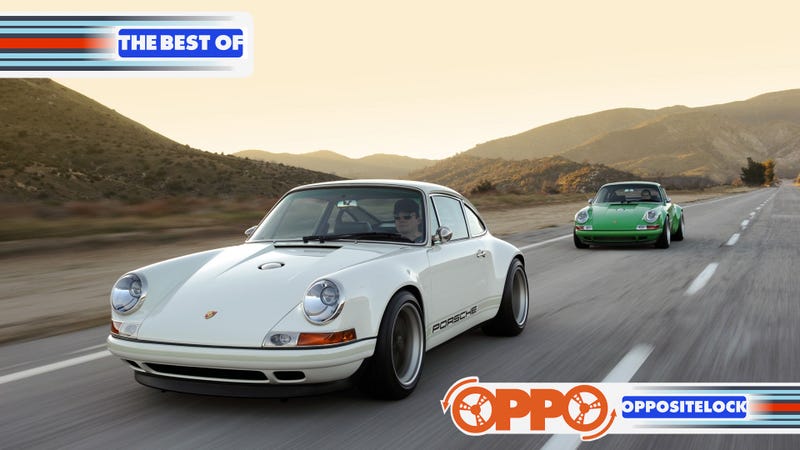 Gathered here are the Oppositelock posts that people put a good deal of effort into writing from New Year's Eve to last Sunday. It includes a positive dealership experience, driving older cars, plastic engines and more.
This story begins on an August day in San Antonio with me shopping for a used Mustang GT. I had test driven a few around Ft Hood and was at the local Car Max awaiting my current car's appraisal. See, I had found my Mustang, with all the glory that was the Brembo package, on carmax's website. I just needed to break even on my trade to make it really worth it, but once again I was met with disappointment and I left smelling of defeat (and sweaty Army uniform).
Car manufacturers say they endeavour to reduce weight by using novel measures but those measures are more of a compromise of an existing inefficient design. Bold claims from someone who knows a lot less than those engineers, sure, BUT I still cannot find good reasons WHY Polimotor's plastic engines aren't in play.
Someone told me recently that people who drive older cars are heroic. While that is flattering it's just not the case. More like reckless but not in a cool James Dean sort of way but a stupid, blissfully ignorant of how bad a wreck would be sort of way.





I've been thinking a lot about my future lately, which has in turn prompted me to think about what I would like my automotive future to entail. So in order to keep track of it all, I wrote it down.
Until December 30th, 2013, I have never truly driven my car, a second-gen Miata. I've done a season's worth of autocrossing including almost crashing it, trips all across the state, and I've DD'd when I'm up at college but nothing, absolutely nothing compared with what I went through that day. [I've learned more about the car that I have in the past 11 months I've driven it, the good and the bad aspects of the Miata, smiling from sun up to sun down.]
Over at The Truth About Cars, Steven Lang writes about "The Almost Car". Not your dream car that costs more than your house, but the car you first lusted over and now, theoretically, you can afford. I have fallen into that trap. Literally within a month of getting my first steady salaried job I was at a Mazda dealership buying a used 2000 323Ci coupe with about 90,000 miles on it… It was perfect shade of blue, it had a five speed, it was a freaking BMW! I could afford the monthly payments. It was perfect right? Right?
After I learned about it's existence last weekend from Bad Idea Hat, I wanted to take a ride out east and see if any of the track still remained. My girlfriend and I had nothing to do today so we looked up the directions and set off to find it.



Upon my daily commute to and from work I see a lot of douchebags on the road. I decided to come up with a name and definition for each one.
The iconic orange paint with the number 01 on the side is normally reserved for the countless Dodge Chargers that are built as homage to the Dukes of Hazzard, but sometimes a DoH fan can't afford the high prices demanded for a vintage Charger. Also check out Why The Buick LeSabre Should Be On Your Bucket List.
Every gearhead loves the thought of living close to a racetrack. Not quite as close to be bothered about the noise, just a comfortable distance away to enjoy a weekend joyride from time to time. And there are street courses.
How do you take a picture of the world's handsomest train at the turn of the century? With the world's largest camera, naturally… It was the largest camera constructed up to that time, and the purpose for its construction is about as Jalop as you can get in the year 1900.


The Volkswagen Jetta Mk IV was introduced around 1998 or so and was advertised with such advanced features as a full-size spare. The Jetta kind of gets a bad rap, especially this one for being unreliable and boring, maybe. It's meant to be a bread and butter volume seller, something VW tries to keep tweaking with every generation. The current Mk VI is the ultimate (so far) expression of that, but the Mk IV still maintained at least some semblance of sportiness.
Pointless as this review might be, except, maybe, for the two other Brazilian guys on Oppo, I'm bored and thought this would be a fun way to pass the time, because, obviously, I'm too messed up to know what normal people do on a sunday afternoon. Also, there's a fair chance I suck at this, so bear with me here ok? Oh yeah, and excuse the poor pictures, I figured phone pictures were better than no pictures so, there's that.
Released in 1963 to positive reviews, the Chevy II soon fell into the graces of Hot Rodders due to it's low weight and even lower price. While the specialized media regarded it in the same way we now regard the Corollas and Camrys of the world, enthusiasts all over the country were measuring the space between the fenders and figuring out how to stuff Chevrolet's Small Block V8s in there.
AKA: What I learn after spending too much time on Wikipedia. I bet you didn't know Willys Overland produced a 1200 lb, rear-engined sports car… Now, before y'all go up in arms and start claiming that whats pictured is really a Renault Alpine A108, allow me to direct your attention to the front quarter panel. You see that "W" logo? That's for Willys. If you saw the front of the car it'd spell out Interlagos.
I hear it might be cold out. I hear it might be snowing. And that the warmest place might just be in your car on account of some serious blackouts. I'm looking at you Eastern Canada. And probably in a sizeable portion of Canada's Pants as well. So if you *are* driving this evening, even aimlessly, like I am (Macbook in tow, leaching off of free wifi in a Starbucks/Chapters parking lot in West Edmonton) then this playlist is for you. It's full of slow smooth drivers that should put some sugar in your tank, and some lead in your trunk. Perfect for aimless winter driving.
[January 4], in front of over a hundred thousand fans, 500 cars passed through the center of Rosario, Argentina. In a parade that quite literally lasted hours, every competing vehicle drove up the dais at the ceremonial start (aside from the trucks, they're too heavy and had to stop alongside) and every driver and co-driver was introduced. From a host of privateer buggies and indestructible Toyotas, to the car of paraplegic rally driver Albert Llovera with it's unique hand controls, to the armada of Minis, to Robby Gordon and his traditional jump of the podium.
The Best of the Rest
Labcoatguy took a drive around Boston in his Saab. Quarterlifecrisis visited the Porsche exhibit at the NC Museum of Art. NoahthePorscheGuy's dad ran into Lewis Hamilton. Saabstory posted photos from the LeMay museum. TwinCharged took photos at the 2013 Macau Grand Prix. CarFanatic posted photos from recent track days. Alex Murel took a lot of pictures in 2013. Gmctavish spotted a Ford Deluxe Coupe. SaabLife visited a deserted Saturn dealer. Twinturbobmw did a photoshoot with a '66 Mustang and attended C&C in Portland. A Beetle RSi stopped in at EL_ULY's dealership. BullManUGA did some karting. IDROVEAPICKUPTRUCK picked up a Focus ST. TDIGuy shared his car history. TA4K30 shared photos from a V8 SuperTourers Enduro weekend. Jagvar did some carspotting around Ft. Lauderdale. Cazzyodo enjoyed the snow in his Focus ST. Storz posted pictures of fun cars he's had. A drunk driver hit Pearson Hurst's office. Daender took his Miata into a forest for some photos. Yont283 did doughnuts in his Saabaru. Decay added lightness to his FR-S and test drove a Tesla Model S P85+. 505Turbeaux fixed the Hall sensor wiring for his Audi. Jeff enjoyed some Manhattan snow in his IS300. Driftdog saw a Mercedes 190SL outside a bar. Jbh took a night drive down Mulholland Drive. BJohnson11 finished up the exhaust on his truck. Tentacle, Dutchman, drives French spotted a classic Saab in the wild. Clown Shoe Pilot took his new Grom for a spin around the COTA.
---
As always, If I've missed something and you would like me to include it, let me know.
Fun Discussions
There were several posts that asked questions and sparked some good discussion between New Year's Day and last Sunday. Take a peek and chime in on some of them listed below:
Just the #tips
Honourable Mentions
These posts have already been shared with Jalopnik directly but deserve to be mentioned again because they were first posted on Oppositelock:
Want to participate on Oppositelock? Check out the general handbook for posting on OppositeLock as well the Oppo tools to help you get started.