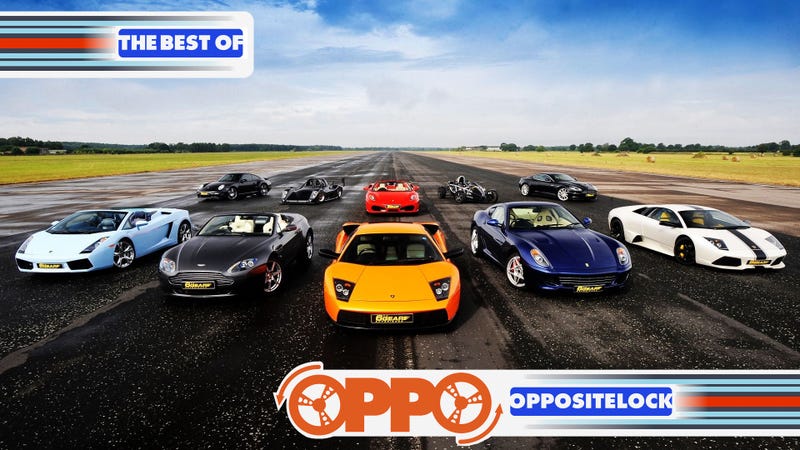 Gathered here are the Oppositelock posts that people put a good deal of effort into writing last Thursday through Sunday. It includes compact trucks, chick cars, a rant on Fiestas and millenials and more.
There has been a lot of buzz surrounding the arrival of new, or rather re-introduced, players to the compact truck market, the promising Chevy Colorado and GMC Canyon and I got to thinking about the small truck market. We've all hear the small truck market is dead or dying, so why now? is this just a desperate gamble, or shrewd timing? Do compact trucks have a place in this market?
A while back I wrote that I think the original Audi TT is one of the best looking cars ever, and one I'd love to own. Over at another automotive website a commenter had this to say about the TT: I know this is a cult car, but to me it was always a chick mobile. Ouch. Quite the insult there. I've owned my share of "chick" cars and I have to say they are some of the best vehicles I've driven. Let's start with the original "chick" car or "hairdresser's" car as they used to say, the Mazda Miata
The BMW 3-series arrived on the automotive landscape in 1976 as a replacement for the aging new class chassis (BMW 1600/2000/2002). The 3-series was an immediate hit and for a long time was the de facto yuppie car, but is now becoming a classic in its own right. Also check out The Elf Sized Daihatsu Hi-Jet Is Both Mini And Mighty and Is A Yellow Chopped Top Volvo 1800ES Custom A Lemon?
Well, I finally did it. I drove a Fiesta ST last night with the recaros and moonroof and everything. It was snowing, there was a lot of traffic, and people had been in accidents so I did very little hooning. I still liked the car… So I'm placing a deposit on my own Fiesta next weekend after the NAIAS. But this journey to a new car has bothered me a lot not because of anything I did, it's because of what everyone else has been saying to me along the way.
This is a pictorial journey for you to behold. My mother's car had a starting issue and after running a few tests, I figured out the problem and fixed the car for her, saving a $400 labor charge. I took pictures of the process and put it in terminology she or anyone not fluent in cars would be able to understand. You are welcome...



The BMW i3 is arguably one of the most important cars the company has ever produced. It also has a lot of brand heritage to live up to. Is the Bavarians' first big push into electric cars worth the hype?
This is The Opposite Locker - FarOut Fridays where we try and sort out the cool from the square when it comes to the automobiles of tomorrow (concept cars)… The 2014 Detroit Autoshow has come and gone, leaving us with a plethora of concepts; some will sway into a better light when the executives hit the boardroom, while others cripple and get tossed into a trashcan. Let's see if we can help them out any...
This is something I've been wanting to put into writing for a while, as a longtime car nerd. These are the irrefutable truths of cars, as far as I am concerned. These are gospel. These are science. You will never be able to convince me otherwise.
And so approaches the end of a 9 month relationship with my Honda fit. Warning, rant ahead! Why, you ask? Because it's the wrong fit (get it?) for me and my personal needs. I loved it at first! It was fun in the city, fuel efficient and incredibly roomy and versatile!


Look, I moved in a few weeks months YEARS ago...and the garage is still packed up with junk. I tried to organize the things in boxes into a pitch/keep pile but it's now a pile with boxes on top of it. I have learned many things in the last few attempts. Here's a few tips of what I learned.
Why that caricature of a car? Because to me, that's the quintessential Cadillac. Somebody saw that car, decided that it was the best thing they could buy, dropped an excessive amount of money on it, and treasured it. While I never really liked Cadillac, I am absolutely, completely, head-over-heels in love with the IDEA of Cadillac. A yankee stab at vault like german luxury, and the stately, elegant brits.
Robert Kubica showed everyone why everyone is keeping an eye on his progress in WRC. The rally started in typical manner: It was dark, there was snowfall, and nobody knew where the road would be dry and where it's slippery.
After 3 crazy days, it is over. We have got a winner and 2 surprise podium finishers. Ogier showed why he is the best driver currently and dominated the event after day 1. The win was well deserved thanks to his speed and consistency. Bryan Bouffier in his private Ford managed to keep it together and beat most of the bigger names in rally - a good sign for his new employer Hyundai.
It's no new news that Bernie has been trying to get a new race slot in the US of A. Lack of funds and other nuts and bolts haven't fallen into place yet. But with the possibility that Nascar's HAAS could join the sport with a big budget, if I where Bernie, I'd front part of the team, in an effort to ramp up and recover my investment (plus some extra "interest") via F1 and/or a new US circuit.
The Best of the Rest
JACU and his wife took a driving vacation in their s2000. Jbh had a very Porsche-y day. Stevo777 took some pictures of his F10. -Amateur held a Hot Wheels snow rally. Twinturbobmw posted photos from Portland C&C and took photos and video of a 991 GT3. Rattleface Blouses also attended PDX C&C. Patrick George spotted the best car wash sign ever. Slow4o finished installing the Watts link in his Mustang and posted photos from his favourite shop. Goggles Pizzano picked up some very cool die-casts. DanMosqueda got some new rims for his e46. Decay did a photoshoot with some Toyobarus. TA4K30 posted photos from the Ferrari Festival of Motor Racing in NZ. WhiskeyGolf replaced his Golf, with a Golf. ShiftsAndGiggles engaged in some snowy shenanigans. CrazedClay reviewed the 2013 Compass and looked back through his vehicular history with some old photos. Victorious Secret got to drive a Ferrari FF and Maserati Ghibli. Echo51 ran into the Danish Corvette owners club. Battery Tender Unnecessary shared some video of his e39 M5. Team5.0 drifted his Mustang 5.0.
---
As always, If I've missed something and you would like me to include it, let me know.
Fun Discussions
There were several posts that asked questions and sparked some good discussion between last Thursday and Sunday. Take a peek and chime in on some of those listed below:
Just the #tips
Honourable Mentions
These posts have already been shared with Jalopnik directly but deserve to be mentioned again because they were first posted on Oppositelock:
Want to participate on Oppositelock? Check out the general handbook for posting on OppositeLock as well the Oppo tools to help you get started.