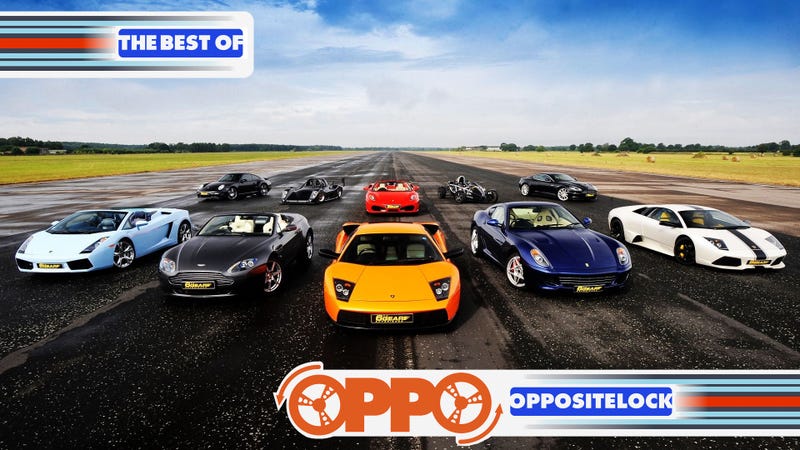 Gathered here are the Oppositelock posts that people put a good deal of effort into writing last Thursday through Sunday. It includes Autocross 101, cars as family, owning your dream car and more.
I used to autocross pretty much every weekend. I campaigned various cars with varying levels of success. I won Street Touring X one season in the Metropolitan Washington Council of Sports Car Clubs in a 2003 Mustang GT. It was that season that the car club I was racing with started to ask me to teach a basics course for the new folks. So if you think a "corner worker" is something illicit, here is your Autocross primer.
Hey you. Yeah you, Dickhead. Wait, you're probably not a dickhead. You're probably gonna agree with everything I'm about to say. Nonetheless, do listen. While you're probably one to appreciate the mechanical relative in your driveway, you're beaten out by thousands who don't It's disgusting, really. There's alot of reasons why it's such an abomination that the family car gets the shaft in the yearly Christmas card, and here's a good summary of why.
Growing up, I always wanted just one car to suit me for the rest of my life – that car was a 1966 Ford Mustang coupe. Everyone wants the fastback models or the various iterations of the Shelby Mustangs, but from the moment I began taking an interest in cars while in Primary School, this was the car of my dreams and the car I knew would one day be mine.
Lease a brand new Civic for only 99/mo!....Guaranteed minimum 6 grand for your trade, no matter what condition it is in!.....No credit, no problem we will get you approved today! What do all these phrases have in common? One thing, to get you into the dealership so they can tell you something along the lines of, "Well yeah that is what we advertise but it doesn't apply to you."
2003 came and Lincoln introduced the redesigned Navigator, a design that in my eyes has aged much better than the current generation. It even had my first introduction to power running boards, which I thought was the coolest thing ever (a feature not available on the 2003 Expedition my parents bought). Lincoln was on a roll. Now, fast forward ten years… "What the hell happened?"
Juan Barnett's post of a rendering of a race-spec Tesla Model S got me thinking; can the Model S be realistically adapted for production-based touring car racing? How much must the car be altered to meet regulations? How will the electric motor's performance be matched with competing internal-combustion engines? Can the battery pack be made as safe as a fuel cell? And, the biggest question; is it realistic to race a car with a energy-replenishment time measured in minutes, not seconds?
The E34 M5 is a pretty rare beasty in any form, so without any firsthand experience you might stumble across this ad for a 20-year-old imported wagon and say "so what?" This is when you slap yourself for evening thinking this isn't the most awesome car ever. Also check out It's Hard To Shift Gears While Wearing Darth Vader's Suit.
Unless you have been living under an early 2000's Chevy truck (sing it with me "Like a Rock…"), you have no doubt heard about the new 2015 Ford Mustang. The new, sculpted body is pure candy to the eye, and the fit and finish is bound to wow European petrol-heads, who already know the quality Ford is currently putting into their interiors. So why on earth would someone make the audacious comment that the smallest motor to grace a modern Mustang also be the best? For three reasons: size, tuning, and desirability.
As defined by Wikipedia (because who needs Webster's anyways?), Homologation is: the approval process a vehicle, race track or standardized part must go through to race in a given league or series. The regulations and rules that must be met are generally set by the series' sanctioning body. The word is derived from the Greek homologeo—literally "same words"—for "agree". How can you not agree with a BMW M1, a Porsche 911 GT1, or a Mercedes CLK GTR?
Hey Guys and $kaykog! Today our west african adventure takes us to Koforidua. If you haven't been following west african adventures is the story of my life when I lived in Ghana, from 2007-2008. To find other posts go here.
Controversial. Perhaps the best way to describe the E60 5-Series when it first came out. Gone were the elegant soft curves of the E39 and was replaced with sharp edges and acute angles. Some critics said that it lost its elegance. For others, it looked so ugly that some say that BMW has lost their way. Of course, there we a few who thought the car looked good when it first came out. James May was one of them. May called the car "modern and groovy". Unusual that Mr. May would like something that looked far ahead of its time.
If you were one of the three people lucky enough (read: rich enough) to obtain a Lamborghini Veneno, no one would fault you for being hesitant to drive it anywhere. After all, most people will never see $4 million in their lifetime let alone be able to spend that on a car that is ill equipped to do anything other than peel your face off with pure speed; however, I think we were all happy to hear that one of the new owners in Florida will be making the effort to show everyone in his neighborhood how much he spent.
Introduced in 1988, The E34 was the third generation of BMW's 5 series, and depending on whom you ask, was one of the last generations of what could be considered "classic" BMWs. How does it stack up now more than a quarter century later?



I've been driving a 2012 Hyundai Elantra GLS for the past five days and here's my take on it. (Full disclaimer : Hyundai wanted me to drive a 3 years old Elantra so bad that my GTI went nuts and I had to rent one. Not cool Volkswagen.)… The model was a silver GLS, with Bluetooth, sunroof, 16 inch wheels and it had a huge 57000 miles on the clock.
The first race weekend of the inaugural IMSA TUDOR United SportsCar Championship and IMSA Continental Tire SportsCar Series has come to a close, and Turner Motorsport has once again established itself as a force to be reckoned with as the team moves towards the second race of the season, the Mobil 1 Twelve Hours of Sebring.
The Best of the Rest
Stephen Hennessey posted photos from C&C Irvine. Mehugtree aired out his 4Runner. Hey Julie spotted a beautifull C1 Corvette. CrzRsn almost learned about icy bridges the hard way and found a cool hotrod in Louisville. TheD0k shared his photos from the NAIAS. FJ80waitinforacummins attended the DC Auto Show and Nada Convention. MrTheEngineer hooned his Raptor on a lakebed.
Harris Lue got some shots of his clean car. Joest posted non-racing photos from the 24hrs of Daytona. Stevo777 got some icy photos of his 550i. CKeffer entered the world of Miata ownership. Jarod Rose found some cool vintage signs. Godspeed11 got his family's Saabs together.
As always, If I've missed something and you would like me to include it, let me know.
Fun Discussions
There were several posts that asked questions and sparked some good discussion between last Thursday and Sunday. Take a peek and chime in on some of those listed below:
Just the #tips
Honourable Mentions
These posts have already been shared with Jalopnik directly but deserve to be mentioned again because they were first posted on Oppositelock:
Want to participate on Oppositelock? Check out the general handbook for posting on OppositeLock as well the Oppo tools to help you get started.