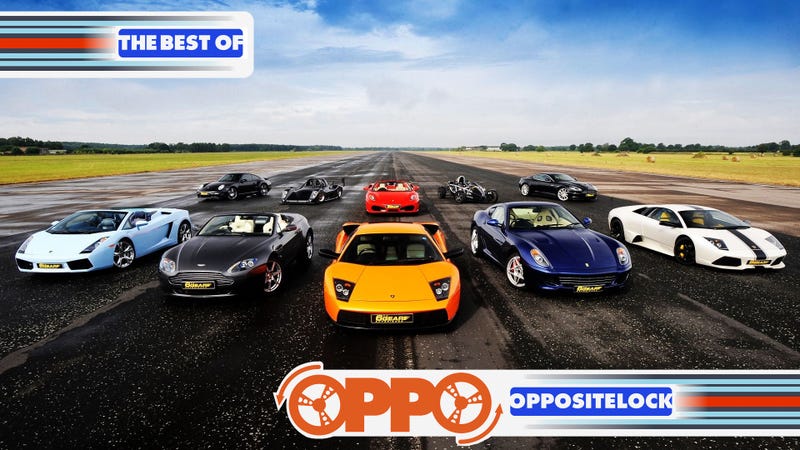 Gathered here are the Oppositelock posts that people put a good deal of effort into writing from last Monday through Wednesday. It includes another car that time forgot, proper engine warm-up, the Dakar Rally and more.
Today's model can only be described as a true supercar. The stuff of legend. Imagine the following - A mid engined, three seat, two-door coupe from a legendary racing name with victories from some of the top forms of automotive racing in an ultra-light package from a European nation. If you imagined a McLaren F1, congratulations! That was the car that was (not at all) inspired by today's car that time forgot - the Talbot-Matra Murena!
With this recent cold snap (sorry, I mean Polar Vortex) having brought colder temperatures to much of the country, I have seen renewed debates online about the proper way to warm-up your vehicle in cold weather. There appear to be two sides to this debate - both of which make reasonable arguments.
You can't win the Dakar on the first day but you can lose it. [On January 5th] much of the field lost the Dakar, including many of the big names. Meanwhile a leader has emerged that had even legendary rally commentator Carlton Kirby saying "where'd he come from." Also check out Daily Dakar: Stage 2 and Daily Dakar: Stage 3.


The 2014 WRC season is nearly upon us, which means it's time for the return of Oppositelock Fantasy WRC. The new season brings new cars, new drivers, new teams, and a new fantasy structure.
The idea of creating a custom shooting brake 1st generation Mustang isn't new, many claim that Ford was working on its own station wagon version of the Mustang in the 1960s. Unfortunately, the creator of this Mustang shooting brake was probably shooting something else up, because it is an unholy abomination. Also check out, the Fastest Looking Slow Car on Ebay, a Muscle Car For When You Just Want to Cruise and Life is Good in a Turbo 13B Rotary Powered Toyota Starlet.
Barrett-Jackson auctions are always accompanied with a ton of hype and constant coverage on TV. BringATrailer just did a 'our picks' post where they posted their four favorites from the auction's list of 1600+ lots. I figured I'd do the same but not limit myself to four. daender also listed some vehicles of interest at Barret Jackson.
I have been on an adventure for the past two weeks. My family and I got the chance to go to Italy for two full weeks, and during that time I had the opportunity to drive two completely different cars, a Ferrari 458 Spider and a Ford Focus Estate diesel manual.


"A lot of cars today see the light of days after a lot of concepts have been shown, an example would be the Suzuki Kizashi had 3 concept car based upon to show the public the design cues the final car would have. The Avantime only had one concept, and the concept looked exactly like the final car, something I miss in today's car industry."
1972 was a sad year. It was the last year that GM A bodies would look good, and performance numbers were in the early stages of a downward spiral. It was clear the muscle era was coming to an end. That's why this car just rage quits and says to hell with it. It doesn't try to be a muscle car.




The 3-Series is the benchmark of the luxury sport sedan market. Many automakers try to copy and counter with their own similar creations, yet they usually all come up short. The Audi A4, the Cadillac ATS, and of course, the Mercedes-Benz C-Class are perfect examples of 3-Series competitors. The All-Wheel-Drive variants you see here are direct competitors, and are both wildly popular… Anyways... how do they stack up?
Some things resurrect quite well; others not so much. Mini and Fiat have been doing quite well in the small car arena, with the 500 and the Cooper Hardtop being the most popular sellers. But some people need a bit more from their small car, say, weirdness. And a bit more space. But mainly weirdness.




In the land of beige, does the "sporty" version of the Camry actually make it fun to drive? Full Disclosure: Toyota wanted me to drive the Camry so bad they made it so that the only other car available at Enterprise was a Buick LaCrosse.
The Best of the Rest
Joest took photos at the Roar Before the Rolex 24, as did Driftdog. Vee Ate Injun ogled Jay Leno's Mazda Cosmo and checked out the Automobile Driving Museum and got a ride in a couple of their cars. Blunion05 stopped by Houston C&C. 911e46z06 posted photos of his 'vette. McSchmalex picked up a well earned S4. Dukie attended Caffeine & Gasoline. Audi For Life posted photos from PDX C&C. Coty ditched the efi on his beetle. George Richardson shared the story of his Accord wagon. thedriver put up some automotive decoration around his bar. EL_ULY went to Monster Jam. Itchys2 shared his impressive Hot Wheels display. BoumboQC showed off his Chevette. JQJ213 and NoahthePorscheGuy got their prizes from Doug Demuro. Sky Captain Obvious did some slow-motion shooting with a Raptor in the snow. FJ80waitinforacummins installed a tow bar on his panther.
---
As always, If I've missed something and you would like me to include it, let me know.
Fun Discussions
There were several posts that asked questions and sparked some good discussion between last Monday and Wednesday. Take a peek and chime in on some of them listed below:
Just the #tips
Honourable Mentions
These posts have already been shared with Jalopnik directly but deserve to be mentioned again because they were first posted on Oppositelock:
Want to participate on Oppositelock? Check out the general handbook for posting on OppositeLock as well the Oppo tools to help you get started.