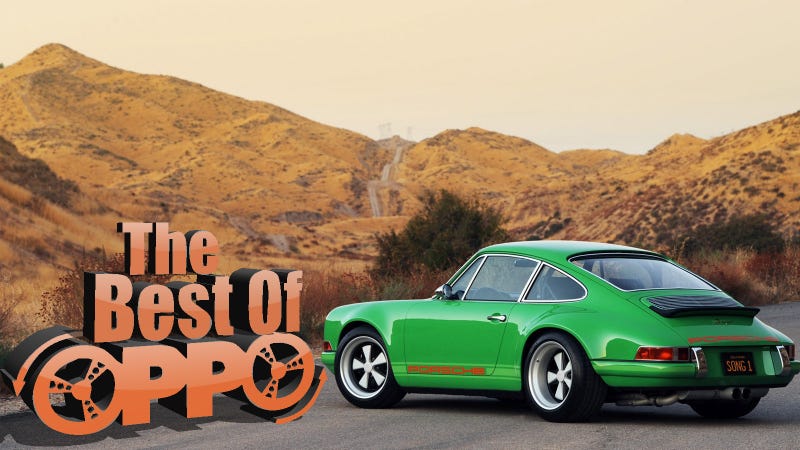 Gathered here are the Oppositelock posts that people have put a good deal of effort into writing from the weekend. Today it includes national donut day, cars in Japan, Pikes Peak and more. Be ready for a long post, it was a busy weekend.
This will be a recurring feature on Oppo. Anyone is free to create their own driver profiles from this form. Feel free to make some suggestions for other categories of "analysis" that could be added to this. My goal was to come up with ten inputs, so here they are…
I love cars, but I love my job too and we do some cool stuff. A scientist I work with is leading an effort to study the impacts of space flight on vision. This week AviationWeek wrote an article on his work: "Astronauts aboard the International Space Station this week kicked off a four-year study of vision problems that surfaced among crew members several years ago and now rank among the top health concerns facing fliers selected for future deep-space missions."
One of the reasons I enjoy having a BMW is the opportunity to belong to a club, in my case the BMW Car Club of America (CCA). BMW hosted a 10th Anniversary celebration of its highly desired and collectable BMW M3 CSL (Coupé Sport Leichtbau), affectionately know as "Cecil" by some owners in the United Kingdom. The trip was largely organized by the CSL Registry in the United Kingdom. Officially the event was called "The Homecoming Tour 2013"
Because this is America, because we're free to exercise our right to exercise, and because in 1938, the Salvation Army saw fit to honor the women who served doughnuts to soldiers during WWI, today is National Doughnut Day. If you have a problem with this, I can direct you to the nearest coastline or border.
It has become a tradition in American motor racing, almost a pre-requisite before driving to Victory Lane. The "donuts", the popular circular burnouts done by drivers after winning a race, have become ubiquitous in NASCAR and IndyCar victory celebrations. But it was not an American who elevated them to their present status.
As the Formula One circus descended on Montreal for this weekend's Canadian Grand Prix, there was one subject that was on the minds of everyone in the paddock. The Fédération Internationale de l'Automobile, earlier this week, called Mercedes-AMG Petronas to an FIA International Tribunal regarding its "secret" 1000km tire test with Pirelli before the Monaco Grand Prix. So here's a look at what this all means.
The Jaguar XKR was delivered by the Man From Jaguar. It came to my house. I dropped him at the station one mile away. I drove home. I already knew that I liked it. I kept it for ten days and drove just over 600 miles.
The Mercedes CLA is essentially a 4 door version of the A Class, so it' front wheel drive. I drove the CLA 220 CDI Sport (diesel) and the C 180 Sport (petrol) back to back.
Sorry to have to split this, but I'm slowly going through my camera and I have a few thousand more images to comb through. Like all car enthusiasts, we have all excelled in the arts of rubbernecking and identifying a vehicle in an instance. So I'd thought I'd share my short trip and all the cars I saw.
So I've had the 523i for a little over a week now. I'm still over the moon with it and, from what everyone's been telling me, I got a pretty solid car. In a country where a 318i sold for over $70,000, $11,000 for the E39 isn't so bad now. Here's what my experience has been like.
.
.
I'm back now in my daily feature that features, well, Indonesian Cars. Because Indonesian cars enjoy a bit of, weird living in here. And Today, i'll talk about something American. It's Chevrolet!
Heres some cool stuff I got at the Stoddard Cars Porsche Swap Meet. If you're in the Cleveland Area you should come to this event, its going to be their biggest meet ever with over 80 vendors and of course it's a Stoddard Cars, the Number 1 supplier of 356 and classic 911 Parts.
.
This is a new series, that is not exclusively car related. It is the travel logs, from when I moved to Ghana. I lived there from August 2007-June 2008. These logs are completely unedited, hence the text saying this or that is going to happen in the future. Mostly they are logs are about road trips.
This past Friday I had some business to attend to at my old school. So I had to drive my old commute road, 30 kms of pure Alpine backroad heaven. There is an Opel/Chevrolet dealership that I passed twice a day for 6 months. This time I was like "Why not?", and I stopped, and asked if they had a Camaro in stock to look at. They told me that selling Camaros "needs a special qualification" which they didn't have. How are they supposed to sell Daewoos like the Spark without a Halo model?
Today the driving god himself, Sebastien Loeb, arrived at Pikes Peak to make the first test runs with his insane Peugeot. Reports say that he already bet Rhys Millens 2012 time, but this year it is not just the rally superstar who is going for the win and overal record. Here is an overview of all possible record setters.
I've seen a considerable number of tweets and even outraged comments here on Jalopnik about how people had the results of both the Monaco GP and Canadian GP spoiled before it aired on NBCSN. It isn't anyone's fault but yours that you didn't realize the race was broadcast live on NBC. NBC does not suck for broadcasting the race on NBC. In fact, NBC is awesome for broadcasting a race on NBC... live.
Friends, it is a sad day for me today. I just sold my first car, an '03 Dodge Neon. Most of my friends and family will be glad I got rid of "that deathtrap", but I'm almost sad that I sold it...it was the car I learned to drive in. We've been through a lot, from me almost burning the clutch up when learning to do hill starts, to the brakes going out at 45mph during rush hour, to the front right wheel falling off in the middle of one of my city's busiest intersections, to regularly getting rear-ended (seriously, it got rear ended 4 times 2 years, at slow speeds though).
This past Saturday, my uncle had me drive up to his town so that he could bring me to some dealerships. He knew I was interested in the BRZ and suggested we swing by Scion as well for the FR-S. I figured it was going to be a good day.
No, Oppo, that isn't a run-of-the-mill 1969 Mustang coupé someone decided to craft into a poor Mach 1 replica with GT350 rocker stripes. It is a legit Shelby GT350, just not the one sold in the United States. It's the one sold in Mexico and I'm also gonna tell you the story of the, erm, Belgian Shelby Mustangs.
As always, If I've missed something and you would like me to include it, let me know.
Fun Discussions
There were several posts that asked questions and sparked some good discussion over the the weekend. Take a peek and chime in on some of them listed below:
Just the #tips
Honourable Mentions
These posts have already been shared with Jalopnik directly but deserve to be mentioned again because they were first posted in Oppositelock: