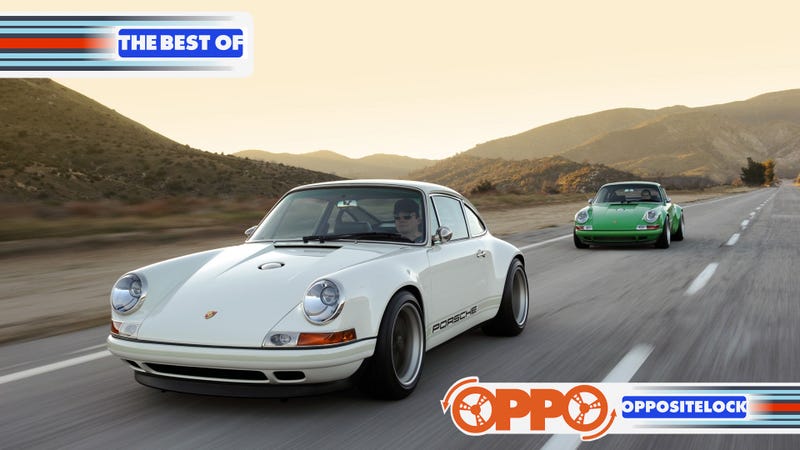 Gathered here are the Oppositelock posts that people put a good deal of effort into writing last weekend and Monday. It includes the failed promises of concept cars, why you shouldn't act like a child while driving 75mph, the enigma of the Toyota automatic shifter and more.
Every generation sees a glimpse of the future when a manufacturer stretches their imagination and envisions what the future car will look like. Then reality sets in and I've been lied to… When we split the atom, it dawned that we can harness this power in a way that doesn't kill people. Haha, silly designers...putting atom powered cars on the road. The future was nuclear powered and it would seem like an awesome powerplant for your local grocery getter...As a nation, we could tell OPEC to suck it.
I am an American abroad, living in Germany, and have successfully purchased a 1988 BMW 320i Touring for future export back to the United States. Good News, Everyone! The '88 Touring is officially registered and insured! If you're new to this series you should read Part I: The Rules for a little background. What comes next is a summary of the first week of ownership, from the issues that may arise from an Ausländer's point of view.
Crossing Africa. It's ridiculously difficult in any sort of purpose built vehicle. Remember this? Well, it's had me thinking... If I were to cross some sort of inhospitable territory in that part of the globe, what would I take? Defenders are cool, but I want to make this a tad more difficult on myself. A diesel W124 wagon? Eh. I could do worse. Much worse. Or maybe better? Yep. Got it. A Peugeot 504 Dangel.
Last night, I was driving my entire family from Houston to Central Texas in the SUPER MOM MOBILE BATTLE WAGON (Buick Enclave) on IH 10. My wife, three young daughters (all under 8), and I, just driving, minding our own business and being safe on the road. Not everyone was following our example.
After eleven months of exciting back-and-forth competition it's time to crown a champion. And of course by this I mean our fantasy championship, Ogier effectively lead the WRC championship since race one at Monte (Loeb doesn't count) and clinched the title two events ago. Not the case for us as we have a four-way battle for the crown, the top four all within a scant 27 points.
So, it's that time of year again. That's right, Motor Trend's Car of the Year award. Among certain enthusiast circles (particularly Jalops) it's become somewhat infamous and, well, there's a reason for that. Still, despite the never-ending doom and gloom about print media, people do pay attention. Perhaps because of the infamy, in fact, enthusiasts pay attention more than ever to what MT has to say about the winners, the aforementioned Passat and the 2013 winner (Tesla S). But what about the losers?
So I was driving a Corolla for work the other day and, as many a gearhead has done in the past, pondered over the enigma of the Toyota automatic shifter pattern. Toyota isn't the only car manufacturer to employ a step-type pattern or patterns like it, however their's is the most prolific. The seemingly random pattern just didn't make sense to me, but I knew there had to be a reason for it. Then the answer hit me.
For those of you who do not know American Iron, the VRSC (V-Twin Racing Street Custom or V-Rod as it is known) was made for the sport/touring young'ns of the Y generation (akin to Toyota making Scion for yuppies and hipsters in college) with the idea of a performance-oriented Harley in mind, featuring a hydroformed frame and underseat-mounted Fuel Tank, Brembo brakes and a 1,250cc V-Twin engine with Dual Overhead Cams. Yes, it's an OHC engine.
The Best of the Rest
Monovich took some scenic photos or his bike-adorned Porsche. Labcoatguy photographed his Saab 96 at the oldest Saab dealer in the US. Klic hooned his GTO and stayed on the road this time. Offroadkarter went drag racing with some friends. MatthewKlein220 documented the engine swap in his Firebird. TwinTurboBMW shared photos from C&C in Portland. Gamecat235 attended a NIN concert. Nobody raced in the Lake Elsinor Grand Prix. Ricepuddin' hooned his Focus ST in the dirt. Team5.0 introduced himself and his vehicles. Paul, Man of Mustangs refined his brake choice for his rear axle swap. 6cyl shared pictures of his steering wheel collection. Pixel gave us an update on his '64 C10 pickup. Harris Lue snagged some photos of his foxbody. Carfanatic shared photos from ALMS and WEC at COTA. BJohnson11 did the oil change from hell. F40LM got a ride in an Aventador from Matt Farah. Ramblin Rover shared some more of his Series IIa Land Rover project. Oldirtybootz ran across a nice Ranchero GT. Aya shared some more photos from the Dubai autoshow. Bhardoin took his Z for a sunday drive. Ilike_cougars posted photos from C&C in Mendham, NJ. Njp1589 also went to a C&C. Coty drove 208 miles with a Beetle humping his Ranger. RikVan picked up a new Cherokee SRT8 for a DD. Maximillious bought a Focus ST.
As always, If I've missed something and you would like me to include it, let me know.
Fun Discussions
There were several posts that asked questions and sparked some good discussion last weekend and Monday. Take a peek and chime in on some of them listed below:
Just the #tips
Honourable Mentions
These posts have already been shared with Jalopnik directly but deserve to be mentioned again because they were first posted in Oppositelock:
Want to participate on Oppositelock? Check out the general handbook for posting on OppositeLock as well the Oppo tools to help you get started.