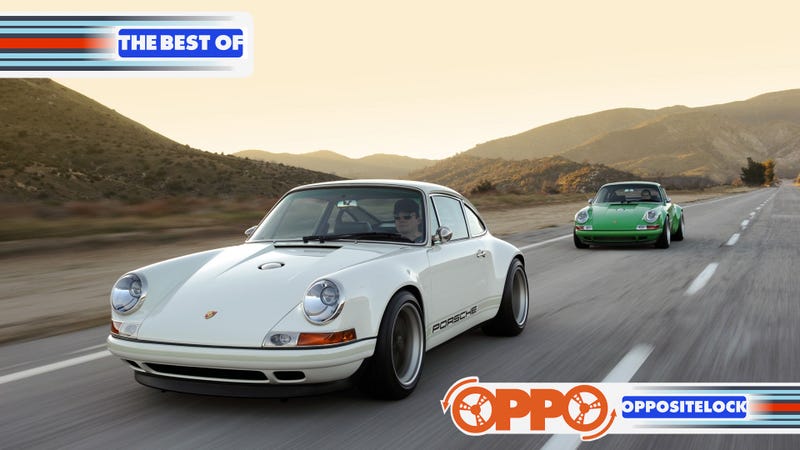 Gathered here are the Oppositelock posts that people put a good deal of effort into writing last Thursday and Friday. It includes Racing's Dark Side, a lap of Mid-Ohio, proof that auto enthusiasts have always made bad decisions and more.
It had been raining a couple of minutes into the race when a prototype spun at the exit of Tertre Rouge a couple hundred yards from where I was standing. Moments later I saw the Robin's Egg Blue of a Gulf-liveried Aston Martin flash sideways, hit the safety barrier, and ricochet back onto the track. What was in my periphery—I'd been looking further toward the exit of the corner— immediately snapped into focus. There the car sat, motionless, without its driver's door.
As automakers retire their "wagon" body trim in favor of "SUV" trim, it poses a question to the enthusiast community: What is a wagon? Doug DeMuro's post fell short of answering this question: he presented a selected data that led the reader to believe the outback was not a wagon. The data has an obvious selection bias as Doug picked the sales leading – yet generally 'uncool' - compact SUVs and compared them to the Subaru Outback. As a Subaru driver, I understand that these cars can be as ambiguous towards "wagon" and "SUV" as their drivers' gender identity so a more rigorous analysis is warranted.
As you come around the Carousel at Mid Ohio and the pace car ducks away, your gaze reaches up and left as you focus hard to see the slightest bit of movement from the flag station. You roll through the left hander leading to the front straight, letting your peripheral vision and ears inform the distance between your bumper and the car in front of you— right now that flash of green is all you care about. The slightest movement will trigger your right foot to come down before anyone else's.
A tragedy has occurred, one which we, as car enthusiasts, have a moral imperative to right. This goes far beyond someone simply buying an FR-S with an automatic transmission, far beyond someone daily driving an Aztek, and even farther than someone willingly purchasing a PT Cruiser. "What could possibly be worse than buying an Aztek or a PT Cruiser?" You're probably saying to yourself right now. "I thought those cars were purpose made to torture unsuspecting car buyers." Well, I'll tell you: Road and Track insulted the Isuzu Vehicross.
Last night, during my nighttime ritual of browsing 100 year-old newspapers, I came across this classified ad in the November 13, 1913 run of the Wilston Graphic. It appears that even 100 years ago car-crazed Americans were willing to make what sounds like a horribly bad financial decision to obtain an automobile. Trading a house for a car just sounds crazy, but then again this was 1913.
As an enthusiast who follows the car industry, I see some companies come up with with ideas that are fanciful and fantastical, but that never quite make it in the real world. Like Mr. Iaccoca and his failed experiment, the DeLorean. However, some ideas are so simple, so far-reaching in their ability to solve problems, it's a wonder why the manufacturers don't see and implement them. Here's my first in a series I call Automotive No-Brainers. MX-5 Miata + Rotary + Roof = Next RX-7
The Volvo 122S/Amazon is a 50's styled classic Volvo that (usually) doesn't cost an arm/leg to purchase, drive or restore. Today's Amazon isn't just a good deal, it is a crazy restomodded hot-rod with a turbo Nissan engine. You could also Buy A Margarita Green MGBuick GT On Craigslist For $6,500 or Live Large In A SBC Powered Crème Fraîche Colored 1973 Jaguar XJ6 and check out the Ugliest NASCAR Homologation Special Ever Is The 1986 Aerocoupe and This S54 M3 Swapped 325xi Is A Bucket Of Poisonous Snakes.
The Lotus Esprit soared high enough to be cast upon the silver screen as a bond car and just so happened to be bought by a real-life James Bond villain, but don't let the sky fall on your head with those romantic notions of spies who loved you. Many cars were elevated by the fame of her majesty's secret service, yet few came back to only live twice and die another day. Goldfinger.
We have to agree, the newer BMW models are becoming bigger, heavier and in some instances questionable in their designs. We do not believe the latter to be true in this case, the new M6 is just plain HOT!! The car may be larger than its predecessor, it may be heavier, it may lack the soul of the V10 power plant but after spending some time staring at this car (and driving it) all those complaints are quickly forgotten.
The Best of the Rest
Moxy dug up a photo of Niki Lauda and James Hunt taken by his father. Mikecyc72usa got to help load up a Lotus 79 in Austin. Dusty Ventures explored a shop full of amazing machinery. DoomBuggie explored the sights and cars of Rome. Tyler's SVT Focus Hates Him shared a story of some chain garage bullshit. BJohnson11 got a new exhaust system for his project truck. Mathias Rios picked up a $500 Porsche 924. Gmctavish's Volvo became more powerful after a carb swap. Decay bought a bike as a winter project. Blunion05's friend bought a ZL1. ASheep built a tricopter to film his team's FSAE car. JayZAyEighty spotted an NSX and Mk. IV Supra.
.
.
.
As always, If I've missed something and you would like me to include it, let me know.
Fun Discussions
There were several posts that asked questions and sparked some good discussion last Thursday and Friday. Take a peek and chime in on some of them listed below:
Just the #tips
Honourable Mentions
These posts have already been shared with Jalopnik directly but deserve to be mentioned again because they were first posted in Oppositelock:
Want to participate on Oppositelock? Check out the general handbook for posting on OppositeLock as well the Oppo tools to help you get started.