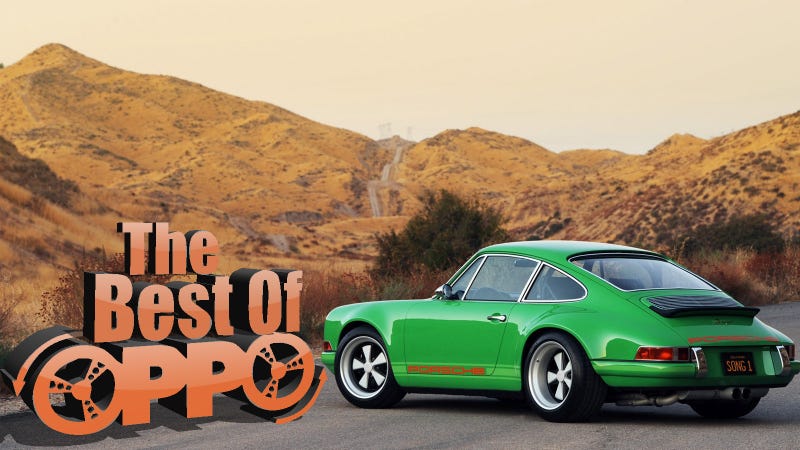 Gathered here are the Oppositelock posts that people put a good deal of effort into writing on Tuesday and Wednesday. It includes 9th annual Japanese Classic Car Show, the Lamborghini LM003, Mount Panorama and more.
Japanese Classic Cars, Nostalgic Cars, Kyusha Kai, whatever you want to call them, it's obvious they're a growing trend in the car world. Last Saturday my girlfriend and I attended the 9th annual Japanese Classic Car Show in Long Beach. It's a great show, and the growing popularity is obvious from this year's turnout.
If you're father Ferrari and have a son that embarrasses you and sullies your name, what do you do? You disown him. Time to show the man what he missed out on! The Dino was Ferrari's doing, the DNA test doesn't lie. Dino was conceived as an affordable sports car by Ferrari. Ferrari's pride and ego stopped it from slapping the Ferrari badge on it...didn't even want to risk this kid tarnishing the family's reputation of exclusive elegance. Father of the year award right here.
I'll be the first to admit that verbally I am a die-hard, three-pedal knight in shining armor who heel-toes every freeway exit, takes joy in shifting through the gears, and rev matches as if it were second nature. Internally however, in some dark and damp corner, I know that the dual-clutch boxes and even some of the new autos are much more efficient than my left leg and right arm. Why then is it that I continue to refuse to give it up knowing deep down inside it is more efficient and practical? Allow me to take a whack at explaining it…
.
Yes, I like having a manual gearbox, but its importance is exaggerated a lot by internet enthusiasts. The transmission alone is not the be all and end all of the driving experience. It is just one element. We're now at a point where the class-leading auto/semi-auto gearboxes are so good that the cars they're in can be just as much fun in their own way (and lest we forget, "different" is not "wrong"). A Brief History of the Tilt-rotor Aircraft
During the ownership of Automobili Lamborghini SpA by the Indonesian group, a study was made to put the gargantuan LM002 off road Lamborghini back into production. It was known that the LM002 had his flaws but it still was a steady low volume seller, therefore a United Kingdom based company was contacted to design a successor to the LM002, but later this job was handed over to SZ Design, a company based on the remains of the Zagato Design Studio. This was to become the LM003...
(submit your stories) There is intrinsic value to beer. Not all things need to be paid for with money when a proper volume of beer is offered in it's place. Problem: we don't know how much beer will pay off the labourer. This means you are about to give too much beer and probably the good stuff! Here's the formula...
It is dangerous, filled with twists and turns, features massive elevation changes, and high speeds. For half a century, the best drivers in Australia and from around the world have come to Mount Panorama, attempting to last 1000 grueling kilometers. Legends like Brock, Moffat, Johnson, Richards, Perkins, Skaife, Lowndes and Murphy have succeeded, but names such as Seton, Larkham, Crompton, and Jones have come up short. Hundreds have tried, but most have failed to attain success at Bathurst, Australia's most prestigious race.
It seems like in almost any review of a car, especially a cheap car, when it comes time to discuss the interior there's one phrase that comes up again and again: hard plastics. Reviewers tend to complain about the hard plastics in the cabin, and for good reason: hard plastics suck. They are hard and ugly and cheap. Yesterday I went to the local Ford dealer and looked at a pair of Fiesta ST's which had just arrived. Sitting in the cabin for a few minutes, what do I notice? Hard plastics. Hard plastics EVERYWHERE.
Some of you may remember a different Z4M I posted a few weeks ago, which tiptoed a thin line between track tool and street mule. The pictured Z4M takes the track treatment to the next level, with a big dose of precision.
.
.
I leave early in the morning, the cold crisp air, quiet streets. Walk to the garage, back the car off the machine, and head out to the track, a couple hours on the road to prepare myself for the day ahead. Whether it's Watkins Glen or Lime Rock, all I can think about is taking it deeper, faster and harder (no pun intended) through the turn. That one corner that scares the shit out of you.
Everyone has seen the infamous video of when a mass ride collides with a Range Rover. When I first watched it, my heart was pumping, I was on the side of the bikers… In a way I can see how the bikers in the video could have reacted as they did… I can't in good conscious say either party got what they deserved, but I can full heartedly believe that it could have been avoided. The big problem I have with this whole thing, is that it puts out a piss poor image of who rides motorcycles. This past sunday I participated in The Gentleman's Ride, a ride that happens simultaneously across the globe for one day.
I used to autocross pretty much every weekend. I campaigned various cars with varying levels of success. I won Street Touring X one season in the Metropolitan Washington Council of Sports Car Clubs in a 2003 Mustang GT. It was that season that the car club I was racing with started to ask me to teach a basics course for the new folks.
As helicopters progressed past their WWII infancy, researchers started to run into the expected speed limitations inherent to all rotorcraft that generate 100% of their lift and thrust from a rotor in edgewise flight. In addition to the push for more speed, there was a push for more range. There were several ways to get improvements in speed and range and they all have their merits... Bell tried their hand at tilt-rotor machines.
There are lots of ways to define a car and there are many ways a car can cross over from one category to another, or be in two categories at once. That being said, I think its a good time to review the difference between a wagon and a shooting brake. Jason Torchinsky has a good (but not definitive) guide on what a wagon is, that I personally subscribe to with one exception: shooting brakes.
The Best of the Rest
WorldRallyBlog took photos at the 2013 Croatia Rally. Benzed92 shared his photos from Pebble Beach. TheJWT posted part 4 of his 'Cars of Brooklyn' series. MountainCommand posted photos from a Camaro meet. NinetyQ changed out the hydraulic pressure accumulator and got stumped by the control arm on his Audi. Youshiftem attended an 'arm drop' drag event over the weekend. 505Turbeaux found an abandoned Bentley Turbo R on Sint Maarten. LeadfootYT picked up another e24 as a project. Mathias Rios shared a video of hooning his ML in the snow. Takuro Spirit picked up his Trans Am project.
.
.
As always, If I've missed something and you would like me to include it, let me know.
Fun Discussions
There were several posts that asked questions and sparked some good discussion over the last day. Take a peek and chime in on some of them listed below:
Just the #tips
Honourable Mentions
These posts have already been shared with Jalopnik directly but deserve to be mentioned again because they were first posted in Oppositelock:
Want to participate on Oppositelock? Check out the general handbook for posting on OppositeLock as well the Oppo tools to help you get started.