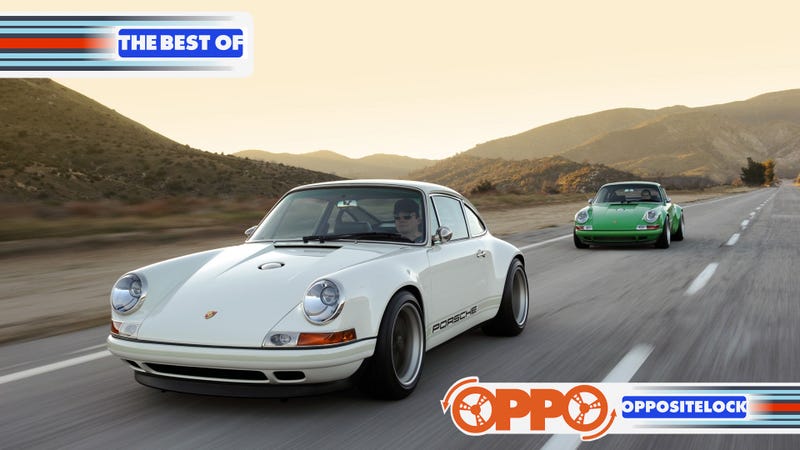 Gathered here are the Oppositelock posts that people put a good deal of effort into writing last Friday. It includes adding lightness, a railroad engineer's perspective, millenials and more.
In the past few weeks I've driven my old Audi S4, my new, old BMW 323i Touring, a Jaguar F-Type, Jaguar XFR-S, a Bentley Continental GT Speed, a Porsche Cayman, a Chevy Camaro, a BMW 435i and a brace of Range Rovers - and then I jumped in my 26 year old Porsche 924S and had a ball. The handling in the 924S is sublimely sharp and the steering is in direct communication with the road. It is hardwired with very little in the way between tyres and fingertips. It's only got 150bhp (probably quite a bit less now) but it only weighs a shade over 1,000kg. It's that last fact that is key. 1,000kg.
Its October 18th, the 24th anniversary of the most tragic in my life and the lives of many others. This piece has been posted previously on line at various discussion lists and and originally at my Hot Times on the High Iron column. And a tradition begun last year, I also now post it on my regular Facebook page to share it with all of you in my effort to educate everybody about the dangers of railroad crossings and the importance of heeding the signals and warning signs at these crossings. Also to understand that anytime can be train time.
You know you have bought something difficult, if the first time you start your "new" car, the center display flashes and tells you "2 malfunctions. repair". This is exactly what first happened when i introduced the Mercedes E320 to the family 3 years ago.
.
.
The electric car represents, to most, the way forward in terms of personal transportation. Conventionally powered cars are too bad for the environment to be viable in the long term, not to mention that what powers them will run out in the short term. All this means that at the moment, we're stuck with a few cars that can go about 30 feet before needing to be recharged, which takes the amount of time normally reserved for passing anything in Congress. QED, we don't know how to build a good battery.
I love cars. I love trucks. I love motorcycles. I love most things with engines. I love technology (even if it doesn't always agree with me). I am a millennial. I wanted to start out by laying out some basic facts about me. I truly got pissed off after reading this post from HooniverseJeff. Dave Whatever from PopSci has a three minute video of why he is represents my generation and instructs the automotive industry (cuz, you know, he has the influence to change what they do) about how to sell vehicles to us. His credentials are that he grew up around mechanics and has access to a camera.
The Best of the Rest
MooseKnuckles took some scenic pictures in the area surrounding Waterloo, Ontario. BigNSlow posted to pictures and videos of his tire shredding Grand Marquis. Clown Shoe Pilot was at the COTA as Jenson Button and Jay Leno visited. Gmctavish shared some more of the cars he's found around BC. NinetyQ was defeated by the rear callipers on his Audi 90. A Self Loathing Mustang Guy indulged is with his family's love for the Mustang. Rotundapig's Subaru got in an argument with a tree. Mycarneverruns87 posted photos of his 3 5.0 Mustangs. MayoKetchup showed us his dad's 300ZX TT.
As always, If I've missed something and you would like me to include it, let me know.
Fun Discussions
There were several posts that asked questions and sparked some good discussion last Friday. Take a peek and chime in on some of them listed below:
Just the #tips
Honourable Mentions
These posts have already been shared with Jalopnik directly but deserve to be mentioned again because they were first posted in Oppositelock:
Want to participate on Oppositelock? Check out the general handbook for posting on OppositeLock as well the Oppo tools to help you get started.