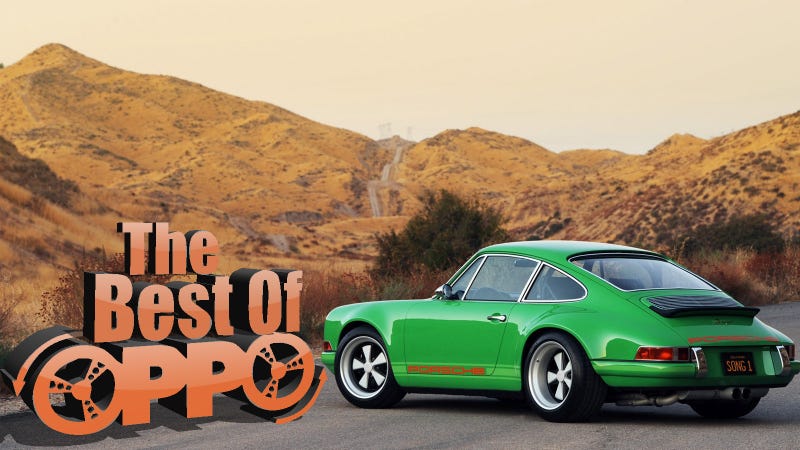 Gathered here are the Oppositelock posts that people have put a good deal of effort into writing from the last 24 hours. Today it includes 'Artifacts of a forgotten Jalop', Stance subculture, the most racecars of all time and more.
Recently I found a box of old love letters and photos tossed about a bin. I'm fascinated by things like this. I suppose some of it might actually be a voyeuristic streak I have, but I justify that by the fact that someone threw this box away and didn't care if other people saw the memories and personal effects contained within. Which brings me to this post. Mixed into the letters and photos were a bunch of cars and motoring memorabilia. As soon as I saw them the car guy in me went on full alert. I sifted frantically, not wanting any of motor head bits to slip through my fingers and get tossed in the trash. My wife saw what I was doing and asked why.
A close friend I worked with sacrificed his lunch to help me go buy the car and bring it back. It barely made it the 15 or so miles back to the office. But that didn't stop us from doing what any car nuts would do and went out on shake down run. Without surprise in the 2 days since I drove it last absolutely nothing on the car worked any better. The engine still ran poorly, the car still wandered around so much that a sober person would be charged with a DUI and it still had a musky stink. But it was my poorly running, wandering stink bucket.
Stanced and lowered cars are pretty common on the roads these days. But even just a few years ago, seeing an e30 dragging its ass would have been a rare sight. The proliferation of car parts and modifications to get cars lower than should be possible is only making it easier for enthusiasts to get low. Some people don't quite understand the attraction, but for those who do, getting lower can become quite the obsession.
If you've watched Le Mans enough that you can recite the dialogue and your heart rate spikes before every crash sequence, then this is probably the book for you. Go Like Hell is A.J. Baime's history of the war between the upstart Ford and the dominant Ferrari in the 1960s. Most car people will know something of this, if only from Le Mans. But as Baime (the executive editor of Playboy and a very good writer) tells it, it was more than just the quest for speed — it was a clash of ethos and of egos.
I haven't enough money. I don't mean my pockets are perpetually empty, my bank account is penniless and I can't buy food. I mean I don't have enough to buy a Ferrari. Of course that isn't very important in the grand scheme of things. I can put clothes on my back food on the table, and buy car magazines with pictures of Ferraris in them. However actually owning a Ferrari, paying for its upkeep, fuel, tax, servicing is just a really stupidly daft thing to do.
GM just showed its new full-size SUV vehicles to the public in the form of the 2015 Suburban and Yukon. While the refresh was long overdue (almost as much as Ford's Expedition, if we're honest, which needs an infusion of the new F-150 goodies ASAP), in terms of front and rear design, these are miserable failures. Proof positive yet again that committees need to stay out of the design studios and go back to debating cup holder placement and what other electronic gizmo they can put in a vehicle to drive its sale price up for maximum profits, even more so if it's part of a tech package with frivolities the buyer doesn't want and won't use.
In a world where performance and miles-per-gallon run hand in hand and in a market where consumers demand at least one of those; mpg or 0-60, and often both, car makers will have to explore an ever expanding horizon of cutting edge materials alongside new and innovative engine technology. But what will this mean for us, the enthusiasts?
.
.
.
.
The Best of the Rest
HarryCarry250 continued work and got the engine out of his 450sel 6.9. Jeremy Bloyd-Peshkin repaired the driveshaft on his e28. 55Buick spotted an e28 M5. MR2_FTW did some work on his friend's MA70 Supra. BJohnson11 worked on his new project truck. NYSS share photos of the NYC Camaro Club 9/11 Cruise to the Towers. NinetyQ polished up his Audi 90 to sell it.
As always, If I've missed something and you would like me to include it, let me know.
.
Fun Discussions
There were several posts that asked questions and sparked some good discussion over the last day. Take a peek and chime in on some of them listed below:
Just the #tips
Honourable Mentions
These posts have already been shared with Jalopnik directly but deserve to be mentioned again because they were first posted in Oppositelock:
Want to participate on Oppositelock? Check out the general handbook for posting on OppositeLock as well the Oppo tools to help you get started.