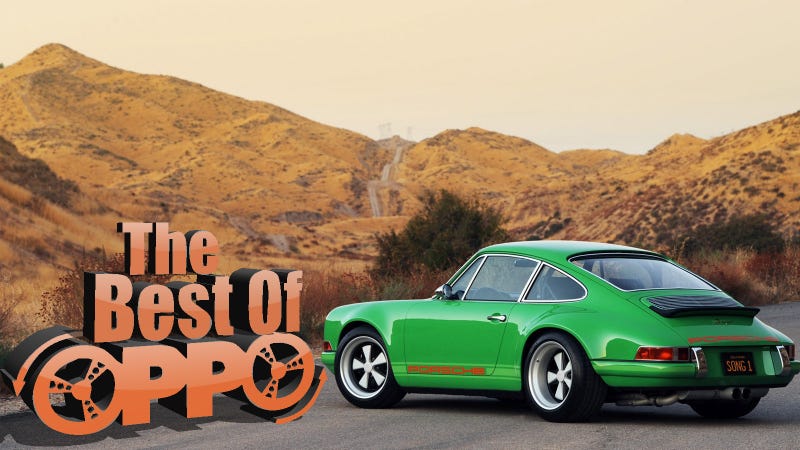 Gathered here are the Oppositelock posts that people put a good deal of effort into writing on Wednesday and Thursday. It includes the Mitsuoka K-1, a trackday at Brands Hatch, the Nurburgring with Sabine Schmitz and more.
A few years ago, if you'd seen something in Japan and you didn't know how to describe it you would never find out what it was. Nowadays, thanks to geeks worldwide and the power of the internet, it only takes a few clicks and some selected search words to fire up exactly what you are looking for. A perfect example would be the strange thing that zipped past us last night as we walked to the station in a small town just south of Yokohama. It was very short, narrow and tall, almost as if it was built up from a go kart chassis.
This incredible piece of machinery pictured here is Nuvolari's 1935 Alfa Romeo Tipo C 8C-35. It competed fiercely with the legendary Silver Arrows of Auto Union and Mercedes. Just two short weeks ago I took this picture above at Lime Rock Park, the car sitting humbly under a canopy during a torrential downpour. Not a soul in sight.
Spurred on by the success of Hurst parts in the 1965 Olds 442, GM created a marketing agreement and a number of Hurst/Olds cars starting in 1968, based on the 442 or Cutlass platforms. Today the Hurst/Olds cars are certainly more collectible than the standard run-of-the-mill Olds-mo-boats from the mid '70s, but are they worth a second look?
In a world filled with crummy craigslist ads and egregious ebay listings, one may suppose modern society has lost its compass and is teetering on the edge of an abyss. Fear not, for the Daily Turismo has found the best ebay motors listing in recent history.
Our closest circuit is Brands Hatch, and Peugeot was doing a promotional trackday for their new models. What that meant was cheap entry and a chance to drive the new 208 GTi, albeit on the shorter Indy circuit. Our trusty steed was my friend's Mk2 MR2 2.0l, with her dad as main driver and me and her as £25 extra drivers.
.
Rally Australia confirmed two things to rally fans. 1) Ogier/VW is genuinely unstoppable this year (Ogier won 19 of the 22 stages) and 2) Mikko Hirvonen has absolutely zero luck this year. After Ogier, Hirvonen, who won the last three rounds of Rally Austraila, was the dominant force, entering the final stage of the rally with a healthy 25 second lead over Neuville. Unfortunately for him, he picked up a mysterious puncture on the final stage, losing 55 seconds to Neuville, and with it second place. This does at least keep the World Rally Championsip "alive" as it means Ogier ended up one point shy of clinching the title in Australia.
Maybe you're wondering, I only put together quickride posts for unusual but cool cars. Don't be fooled by the headlines though. As you can see here, it's a 1991 Volvo 960L Turbo. The L probably stands for "Limousine". In the past the car was used by our government officials, like ministry and such. This car was built by a small coachbuilder in Laholm, Sweden, called Nilsson. But it's registered as built by Volvo.
For a long time I've been saying that the difference between a hoarder and a collector was organization. It's a good thing I have the organization of someone actually diagnosed with OCD to balance the tendency to accumulate, and accumulate I did. Reference books, especially about cars, were my favorites.
I'm sure most of you in the US have come across a new-build storefront or development that had some spots labelled "Fuel Efficient Vehicles Only", typically third in line for preferred spots after handicapped and New & Expectant Mothers spaces. Maybe you wondered what was up and, unless you drive an electric or hybrid car, maybe you didn't park in one. Well don't worry, because your car probably qualifies as fuel efficient.
Dear Mr. or Ms. Jealous non-BMW Owner, I'm sorry that you have made unfortunate life decisions. I'm also sorry if a new BMW owner decided to: cut you off/make a turn without a signal/tailgate you/flick you off/insulted your mother/looked at you funny (circle one). However, not all BMW owners are asshats, just some of them. You may be surprised to find out, that odds are, most asshats/terrible drivers are Camry/Prius/Versa/Sentra owners. This very possibly includes you.
I can appreciate almost anything that indicates that someone put some passion and hard work into their car or truck. I can even appreciate when people pay professionals to build a dream car. I get it. I don't mind when people modify their exhaust so it may be a little less "emissions friendly," because I understand that sometimes a catalytic converter has to go away to optimize scavenging and exhaust velocity. Plus, the hint of unburnt gas can make exhaust smell good. With that said, I really don't like "rollin' coal."
The Best of the Rest
Rory Farrel visited the Frankfurst Autoshow and had a go on the Nurburgring with Sabine Schmitz. ///M3 Track car did some night lapping in his, er, M3 track car, and messed up his chance to race with a 458. Bandit got a spiffy Blazer for DD duty while his Trans Am is being restored. Calzone golem found a rusty REO Speedwagon and made some more process on his truck. BiTurbo228 took pictures of a nice set of Peugeots at his track day. NinetyQ updated us on the status of his Audi 90. Saracen spot end a Prius on stretched tires. SteyrTMP had a wheel vibration issue with his locost Seven.
As always, If I've missed something and you would like me to include it, let me know.
Fun Discussions
There were several posts that asked questions and sparked some good discussion over the last 2 days. Take a peek and chime in on some of them listed below:
Just the #tips
Honourable Mentions
These posts have already been shared with Jalopnik directly but deserve to be mentioned again because they were first posted in Oppositelock:
Want to participate on Oppositelock? Check out the general handbook for posting on OppositeLock as well the Oppo tools to help you get started.