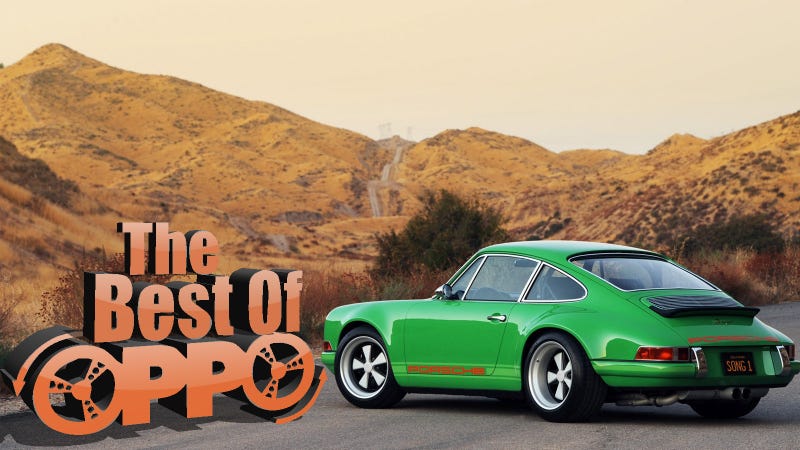 Gathered here are the Oppositelock posts that people put a good deal of effort into writing from Friday through Monday. It includes the laziest way to install a big bore kit, leasing tips, racecars as football players and more.
There seems to be no write-up of how to install a big bore kit in a DRZ400, so I decided to fill the void. All I really wanted to know was: A) Do I have to remove the engine, and B) How lazy can I be? The answers, for those of you who can't wait til the end, are: A) No, and B) Like, super lazy.
.
.
In my last installment, I talked about how our collective anger towards the car-buying industry may be directed towards the wrong people. This time I am going to discuss an often neglected and somewhat confusing topic...leasing. I know, I know…. leasing is for suckers: you get whacked with mileage overages, you never own the car, you get stuck into a perpetual trap of car-payments...But as a consultant I try my best to avoid positions of "all X is good" and "all Y is bad." You see, for some folks leasing is a good option.
(Welcome to "Thinking Too Deeply About Cars." This is a column where I over analyze my thoughts about the cars I have owned and possibly get a little too sentimental. I encourage you to do the same or call me a total nut-job in the comments). I have this problem where no matter how nice of a car I am driving I always want it to have something more. This all started with my first car, a 91' Chevy Lumina Coupe. It was a fine first car for a 17yr old, cheap to buy, cheap to fix, enough power for safe highway merging but not too much to get a novice driver into trouble, and pretty comfortable for chauffeuring friends around.
Racing season is winding down but the NFL is just getting started. It makes for a busy weekend for fans of both sports. It also overloads your brain if you try to take it all in. This is the result. Formula 1: Wide Receiver. The fastest, most agile, impressive athletes to watch. A little fragile, a lot of drama. Just watching them run alone is impressive. Nascar: O-Line. Big guys with a simple job getting action in the trenches...
Owning either a French or an Italian car is supposedly a nightmare financially. October first 2012 I decided to find out for myself and I bought a 2000 Peugeot 406 coupe, built and designed (exterior) by Pininfarina in Italy. It became my daily driver. Here's an overview of the costs of close to a year of ownership.
.
Car dealerships are not the places you go to get robbed blind and where you're afraid for your life. No, they're full of honest and hardworking people who just happen to be out for all of your money and will do or say anything to get said money. While I wish I could say this is not true and that car dealerships are actually good honest places, in my experience as a consumer and a technician who has seen the dark and disgusting underbelly of these dealerships, I can honestly say that more dealerships fit the "stealership" description than those that do not. Be sure to read Part II as well.
Dodge's Charger is an anachronism; a throwback to the days when big sedans with big V8s were the norm. Now, amongst a sea of FWD economy cars it stands out like a mushroom cloud in the Nevada desert. (the Daytona Blue paint helps here)
.
Early today Hyundai announced a $750 discount coupon for people in the state of Colorado who lost their vehicle during the recent floods. The catch: the credit can only be applied towards the purchase of any Hyundai vehicle model year 2013 or newer. A part of me thinks "Great job, Hyundai! Way to help out during a tragedy." But another part of me sees this as leveraging an individual's misfortune for direct gain.
The Jaguar XFR-S is an £80,000, rear wheel drive saloon with 550bhp. I tested the XFR last year and found it to be something of an animal. Is the XFR-S any more refined, despite having an extra 47bhp?
.
.
My friends are not gearheads. As much as I love 'em, I can't spark a passion for cars in them. I've given up. But I'll still Oppo in front of them, whether they like it or not. Here's what they said. "What's Oh-po?" Dammit, guys. It's pronounced "Ah-po". Anyway...
The Best of the Rest
It's a "Porch-uh" attended the Coronado Speed Festival. SaabStory took photos at the 2013 Kirkland Concours d'Elegance. Jagvar went to Cars and Coffee in Great Falls, as did Liquid_Popcorn. Desertdog5051 found, among others, a sweet 914 at a small car show. Shooltzie went to the Hot Rods and Rock and Roll 2013 Car Show in Columbus. TwinTurboBMW posted photos and video from Cars & Coffee in Portland. Audi For Life snapped some pictures of an RS5 at PDX C&C. Nick Gagne spotted a clean Mach 1 Mustang. Beatsbynelly said goodbye to his MR2. 48 Spoons autocrossed his FR-S. EssExTee attended a concept car exhibit. BJohnson11 got his new wheels mounted on his truck. RotaryLover visited his company's scrap/retirement yard. Corson took apart the top of the 289 in his Mustang. Ricepuddin' got his Focus ST dirty with some rallycross practice. RotaryLover posted some videos he took at the 2013 Canadian GP. MontegoMan62 brought his Montego to its first car show. RB1971 posted a video from a Concours event he attended with his E9.
.
As always, If I've missed something and you would like me to include it, let me know.
Fun Discussions
There were several posts that asked questions and sparked some good discussion over the last day. Take a peek and chime in on some of them listed below:
Just the #tips
Honourable Mentions
These posts have already been shared with Jalopnik directly but deserve to be mentioned again because they were first posted in Oppositelock:
Want to participate on Oppositelock? Check out the general handbook for posting on OppositeLock as well the Oppo tools to help you get started.