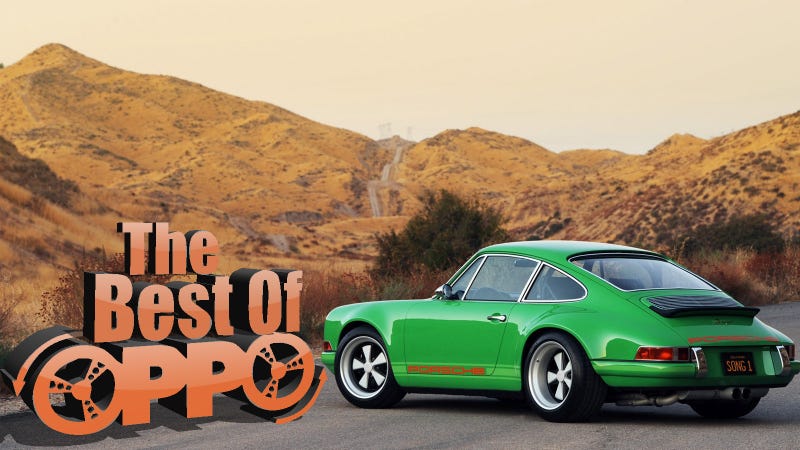 Gathered here are the Oppositelock posts that people have put a good deal of effort into writing on Wednesday. It includes 'why you can't just go for a drive in a CTS-V wagon', restoring an IH Scout and more.
I'm on vacation right now and Cadillac has graciously loaned me a CTS-V Wagon (Diamond Black edition, of course), and it's great. Stupendous. Wonderful. Except it's sitting in the driveway, and I'm afraid to drive it.
.
My Rusty Hell or: How I decided to restore an old, rusty, semi-obscure vehicle with no experience and even less money. It's been a while since I have done any updates on the Scout. Life has been busy, and summertime is a time for enjoying the Scout, not so much for working on it. These are usually about reversing the ravages of time, or fixing things that are broken, but this entry will be slightly different, unless you consider a lack of music in the Scout is something broken, which I do, so lets go.
This Datsun 210 was once loved and used by West Coast Chopper's Jesse James, but life wasn't always sunny for this Japanese classic. Internet gossip has it that Jesse grew tired of the 210 and traded it in for a newer (but still used) Von D-type covered in custom paint but many more miles and a rebuilt title.
.
In this mornings Question of the Day I submitted that fake hood vents, scoops, etc are simply unacceptable, and I think we can all get behind that statement; they look bad, don't have any functionality and make the car look cheap...so why are cars coming with them from the factory?
.
Rumors of big layoffs have been looming at work. The standard defenses—it can't happen to me, I'm mission-critical, it's all just rumors—are wearing thinner and thinner. Sleep is becoming rarer and rarer. The prospect of being suddenly financially insecure again, even after so much work planning carefully and making all the right moves, looms large over your thoughts. What can you do? Surely living in fear isn't the only solution.
Welcome to One Car Garage, in which I choose a manufacturer, and you decide one single vehicle that they make or made (no matter how old, no matter how exclusive) to live with for the rest of your life. This is your only vehicle, and all expenses are paid for, including price of entry, insurance, gas, etc... Today we're going to be heading to a country we have yet to see. We're going to be tackling the safety-minded Swedes over at Volvo.
The Best of the Rest
Roflcopter took apart a lot of the engine bay in his RX-8. Magman007 went hooning in parking lot with a coworker in his 325es. ScootScoot had a scare with a battery flying through the windshield of his car. BiTurbo228 found some metal cancer on his Alfa 156 daily driver.
As always, If I've missed something and you would like me to include it, let me know.
Fun Discussions
There were several posts that asked questions and sparked some good discussion over the last day. Take a peek and chime in on some of them listed below:
Just the #tips
Honourable Mentions
These posts have already been shared with Jalopnik directly but deserve to be mentioned again because they were first posted in Oppositelock:
Want to participate on Oppositelock? Check out the general handbook for posting on OppositeLock as well the Oppo tools to help you get started.