I had a chance to see and get into a BMW i3. It's much larger than I thought.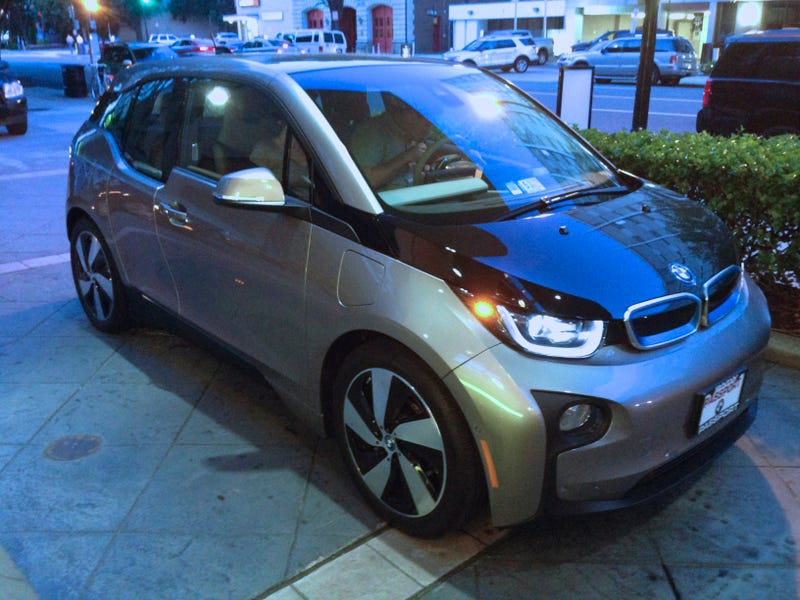 As I was leaving a semi-fancy Washington DC hotel, I saw this baby as I was awaiting my Sonic rental from the Valet. By the way, I'm pretty sure there was no Ferris Bueller's Day Off joy drives in my Chevy Sonic sedan.
Back to the i3. I moseyed on over to the i3 and chatted with the owner. He had just purchased the car and he was smitten with it. Completely.
His car has the range extender and he insisted it is the only way to order an i3. At least for the US market.
My first impressions were the car is actually pretty big. It looks good in person. It's almost mesmerizing in fact. This i3 had the Tera World trim and the 19" wheels make the car look pretty good. The interior was truly roomy, but I didn't love the fabric, particularly on a hot 95℉ Washington DC day.
The instrument panel is pretty interesting. The wave-like wood surface as the dash board was pretty nice actually. I'm no fan of the stand-up screens, but they seem to work in the i3. It's a paradigm shift, but sometimes we need to accept change.
The i3 is no sports car, but it could be a different kind of enthusiast car. I could actually see myself driving one, as long as the Jaguar was in the garage waiting to be hooned.