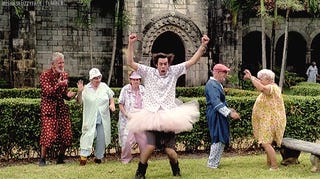 Im about to list a bunch of crazy automotive statements that will mess you up for the next five years! Let the wobbling begin!!
1) All Subarus will be 4-cyl only in the US! Mazda and Volvo have already laid out the field and I'm banking on Subie introducing a 260hp turbo 4-cyl for the Legacy and Outback within the next two years.
2) The next Chrysler 300 will be FWD-based and have a PHEV variant! I'll go one step further and declare that all Chrysler branded vehicles will be based on the platform that underpins the Pacifica. That means Chrysler will be the only FCA brand that relies on efficiency for marketing instead of "personality."
3) All Dodges will be RWD-based! That's right, the next Journey, Durango, Charger, Challenger, and "Barracuda" sportscar/Viper replacement will be built on the Giulia platform.
5) The Next Cadillac Escalade will be a $90,000 CUV with only 4-Seats! Going forward, no more Cadillac models will share a platform or engines with other GM brands. The upcoming XT7 will be the 3-row luxury family hauler while the next Escalade will be more like the Range Rover SWB and LWB, except flip-flop the on-road/off-road levels of capability and refinement. Pretty much a half priced Bentayga but with seemingly comparable luxury and performance with way more tech.
7) Jeep will sell ONE MILLION units NEXT YEAR in the US! They are the sixth highest selling brand in the US with over 700,000 units sold so far in 2016. They won't break 950,000 units this year but the next Compass and Wrangler will put them over the edge at the end of 2017. After that, the Wagoneer will be a 3-row SUV while the Grand Wagoneer will be just like the next gen Escalade described above, except flip-flop on-road/off-road levels of capability and refinement. Then there's that future midsize pickup...
11) Alfa Romeo will not only survive but THRIVE in the US! Only issue being that all their products will have a Dodge equivalent AND a Maserati equivalent. This means at least one out of the three will be a shitty value, and if there is a problem or recall then it will likely impact all three brands! Luckily, Alfa Romeo and Maseratis must be built in Italy so the all American Canadian-built Dodge models will be decent in reliability.
13) Skoda, Citroen/DS, Renault, and any other brand not currently sold in the US will NOT come to the US until 2025 at the earliest! Maybe Canada though, probably Australia and S. Korea, definitely China.
17) There will be ZERO natural aspirated cars from VW, BMW, or Daimler offered in the US after 2018! The V10 in the Audi R8 will be the last survivor and will be replaced with the V8 out of the new Panamera Turbo. Don't be surprised when Audi introduces a V6 R8 next year because that will be your red flag!!
19) Toyota will become Mazda's new parent company! And it will be the best thing to ever happen to both brands and we'll get an RX-7 with a hybrid-rotory powertrain. This will actually be the SECOND generation of the RX-7 because we will get a pre-merger RX-7 before 2019.
23) Tesla will separate from its automotive arm to become a tech giant, then Ford will buy a controlling share in the newly spun off Tesla Motors! The first vehicle to come from the newly Ford-owned Tesla Motor Company will be called the Model T, it will be the highest selling autonomous and all electric pickup in the world by 2025.
29) As soon as Ferrari wins Formula 1 (which will be before decade end) Sergio will leave all of his FCA positions with the largest cash money payout in all automotive history, he then will stay in charge of Ferrari until his death while funding the brand with his own FCA payout to turn it into a fashion brand! They will be the most expensive line of children's chewable medicines and trashcan liners in the world.
Hmm, hmm, hmph! We'll stop here for now. Hope you had fun, I sure did!