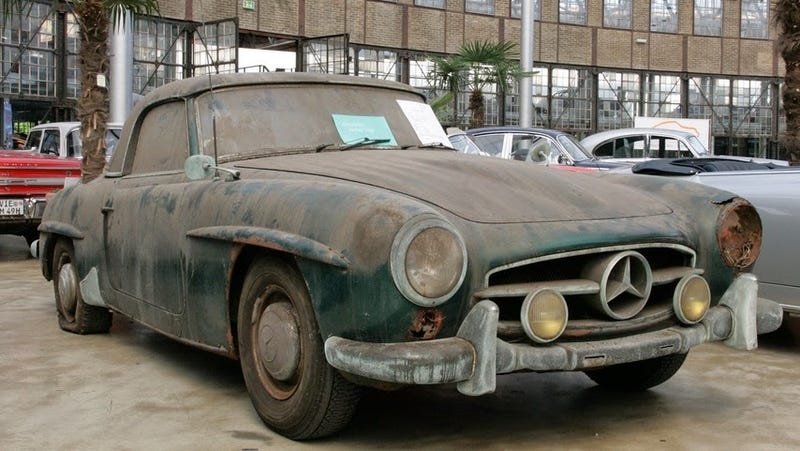 Welcome to the new and improved Daily Turismo Private Reserve, where our motto is: "Buy high, sell low, and keep your privates reserved." First up in our new seller submitted format is this 1955 Mercedes R121 190 SL, where the seller answers questions to our highly technical and detailed questionnaire below.

How long had you been looking for this car before you bought it and then decided to sell it a month later?I've been searching for R121 SL Mercs since my Dad had one when I was growing up in West Berlin. He used to use it for a quasi-legal Peking duck smuggling enterprise that was very lucrative. The East Germans loved authentic Chinese cuisine but because of a mistake in the communist customs documentation —specifically the translation of the Chinese word for maltobiose (malt sugar) was confused with the word for electronic calculator— Peking duck was illegal in East Berlin. Anyway, my Dad who had diplomatic passes would drive the family through a number of gates in the Berlin wall with the trunk positively stuffed with freshly roasted Peking ducks. To this day I cannot see a 190SL without smelling the sweet aroma of Peking duck and gasoline.

Without using the word patina, describe the body condition: It is covered with a fine...pattern...of wear. It could use some reconditioning, a complete restoration, some touch up paint and boot polish, or be driven as is. The best part about buying a car in this condition is that the methods and end result (i.e. FUN!) is left to the new buyer.

Does the engine run well enough to overpower friction in the seized brakes? Not at this time, but it probably needs a new battery and maybe clean out the carbs. I'm sure it'll fire right up after having sat for 30 years, but I didn't touch it because of arachnophobia and a congenital heart condition.
Have any of the Kardashians, Kennedys or K-Fed ever OD'd in this car? The tears in the seat seams strongly suggest that several Kardashians have been in this car, but I don't have any solid proof...but...like the restoration...the fun of researching this car's history will be...included in the sale price.

Do you belong to any country clubs or own a vacation home in the Hamptons? No, but I have been twice investigated by the SEC and once indicted for wire fraud by a federal grand jury, but — knock on aged mahogany — no convictions.
Asking Price: $5,000,000 or trade for gold, private jet, small Island, or jail-broken iPhones in bulk.
Originally posted as DT Private Reserve: Duck Dynasty: 1955 Mercedes R121 on Daily Turismo.
Creative commons photo credits: geralds_1311 on flickr. Disclaimer: this is a fake ad created for April fool's day..if you seriously want to buy this car please go stand outside on your sidewalk wearing a rose in your lapel and singing the theme song from Cheers; I will be around shortly to give you a test drive.