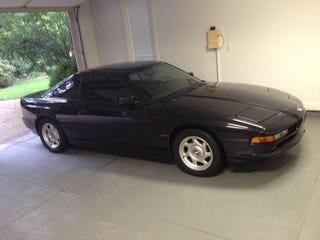 This is a BMW 840ci (whatever complicated mumbo jumbo Mercedes, lexus, and bmw call their models). I like to call it the not that powerful v12 (edit: v8) mostly automatic 8 series BMW. The guy's claiming he's gotta leave town in like a week, (mostly fake, especially on CL). Oh yeah this was apparently owned by a "high profile basketball coach".
Oh yeah this apparently has "Rolls Royce" black metallic paint. I'm totally sure that makes the car worth sooooo more. It's like if I put black racing stripes on my mom's Camry, it'll have more horsepower. Tooootally true. Wonder who was the troller who asked the question about the paint though.
Extensive service records.....probably gives you a big ass stack of paper with problems fixed. You'll probably be pissed when it's missing the past 8 years.
Moving out of state sale! My loss is your gain. I will not bore U with the standard car selling rhetoric & games. This is my second car. Everything works well. Its a driver not a baby. Have been cruising down to LA from San Fran in 5 hours flat every other weekend. This great Bimmer is priced for a quick sale no BS. If you're looking for this kind of classic it will be instantly gone. I only have room for the M3 in the new space. I have extensive service records for this machine over the last few years. I will need this beauty for the next 7-10 days then its yours. Serious inquires only! The car is in a secure garage in San Fran. Lets not waste each others time. Btw this was owned by a high profile basketball coach and yes that is black metallic Rolls-Royce paint. Price is Firm.
Bore U? Please, no drills on me. Mercy! Mercy!
It's from Florida. Wonder how much shit it's been through.
If you want a V12 (edit: V8) on the cheap, BMW, live in bay area, and want a money pit, be my guest. Dude. Rolls Royce paint and owned by a famous person.. oooooooo