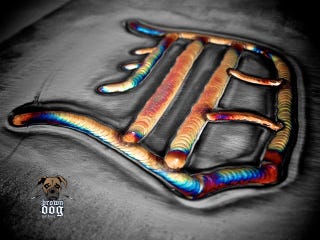 This is pretty much a response to this article. Jon Moy eviscerates Shinola and it's parent company for using Detroit as a buzz word.
I'm not from the city, I'm not even from the SE Michigan area. I grew up in the Bible Belt just south of Grand Rapids. I'm a middle aged white guy, so I'm sure whatever I have to say on the issue will be considered less relevant than the youth native to Detroit.
But I learned to weld, I became a tradesman, and I honed my craft in Detroit. I worked in the city for the better part of a decade. I'd like to set up my own shop down there one day, if not for certain life obstacles I've face the last few years I'd be there already. And it's got nothing to do with this contemporary notion that seems to anger those that are there now...that all these 25 to 45 white folks are trying to take this city for themselves.
No, it's because Detroit is the Industrial Mecca. Automotive Capital of the World. The Arsenal of Democracy. Heck, at the turn of the last century it was the largest stove manufacturer in the world. It's alway been about building stuff, whether it's cars or ships or tanks or planes. Ghosts of past endeavors still hide in buildings abandoned, in use, and in between(like Piquette) throughout the city. I've got a few friends that collect industrial machinery to refurbish and use, and there's no shortage of treasures around here.