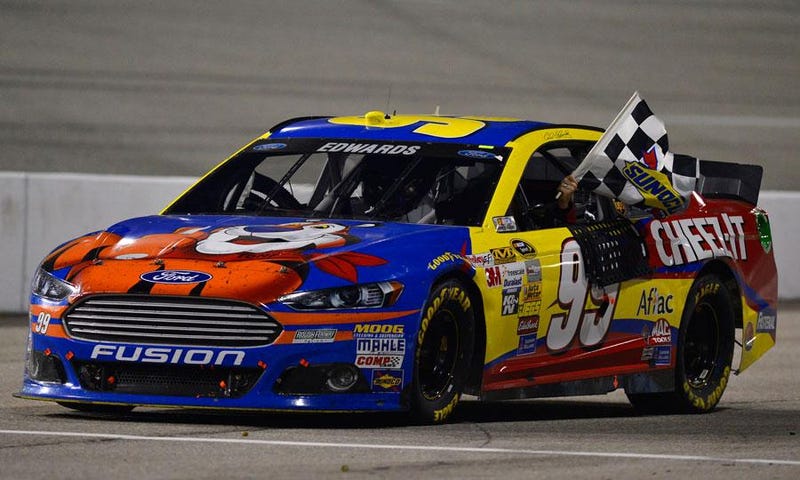 If you were looking for excitement Saturday Night at the NASCAR Sprint Cup Federated Auto Parts 400 at the Richmond International Raceway (boy, that's a mouthful), you surely weren't disappointed. Edwards took over the lead on what looked to be a fairly liberal jump during the final restart, but NASCAR didn't raise any questions and in the end Joey Logano and Martin Truex, Jr snuck in as your #10 and #2 Wildcard entrants ahead of Jeff Gordon and Ryan Newman.
What will undoubtedly be the most talked about (and it already is) situation has to be Clint Boyer's phantom spin out with only laps to go which lead to the final caution and restart that ultimately led to Newman being kicked out of first and Truex, Jr taking over the Chase spot on a tie breaker. The radio chatter includes Bowyer's crew informing Bowyer that Newman is going to win the race, and the ensuing disappointment that he would edge out teammate Martin Truex, Jr, to suddenly Boyer losing control of the vehicle and spinning out. No one will truly know what happened in the cockpit of that race car, but that will not stop the NASCAR world from buzzing about it. My view? Well shucks, that's one hell of a teammate if it's true no? So in the end it was Edwards taking the checkered in what was the start of an exciting 10 weeks of racing. The score cards are blank and the racers are amped, I can't wait to see what unfolds.
The Final Lineup for the Chase for the Sprint Cup is as follows: (first to last)
Matt Kenseth (Joe Gibbs Racing)
Jimmie Johnson (Hendricks Motorsport)
Kyle Busch (Joe Gibbs Racing)
Kevin Harvick (Richard Childress Racing)
Carl Edwards (Roush Fenway Racing)
Joey Logano (Penske Racing)
Greg Biffle (Roush Fenway Racing)
Clint Bowyer (Michael Waltrip Racing)
Dale Earnhardt Jr. (Hendricks Motorsport)
Kurt Busch (Furniture Row Racing)
Kasey Kahne (Hendricks Motorsport)
Martin Truex Jr. (Michael Waltrip Racing
Most notably absent will be Brad Keselowski who will be only the second (behind Tony Stewart) reigning champion to miss out on the following Chase and future-hall-of-famer Jeff Gordon who looked like for all intents and purposes to have clinched a spot in the chase until Boywer's car spun with 7 to go. Tensions were high on this one, but all that lead to was one hell of a night of racing.