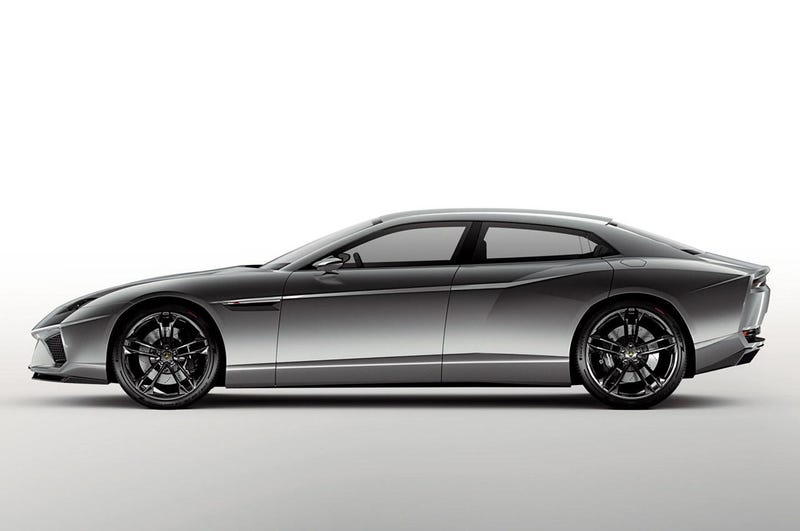 'Radical' and 'Lamborghini' are two words that you would be hard pressed to separate. Lamborghini has always had that unmistakable streak of audacity and an almost child-like silliness coded into its DNA, yet the 2008 Paris motor show saw a Lamborghini concept which was so radical, it called into question the very philosophies that Lamborghini adhere to.
Lamborghini's Estoque concept was conceived as a £150,000+ super-saloon seating four in comfort, a grand tourer that echoed the Espada but provided four doors instead of two. The real revelation from the Estoque however was that Lamborghini had also designed it to incorporate both petrol and diesel engines.
Car manufacturers as a whole have been required for some time to keep their total CO2 outputs down, and as a result, many of the world's prestige manufacturers have had to introduce new engines to accommodate the regulations. Not all manufacturers saw this as a negative though, many new models were – and still are – spawned from the regulations and the automakers have been able to reach out to clients that they may not have had previously, which is good for the car industry in general. Lamborghini's diesel idea all stemmed from this new movement. From a development perspective the Estoque seemed to be a good idea brimming with business potential.
However, there were a couple of rather large 'but's' waiting in the wings. Would anybody with £150,000 to spend choose to purchase a diesel powered Lamborghini? Would anybody buy a Lamborghini saloon? It's a question that was never answered, as the Estoque was never given the green light for production, but clues as to its possible fate can be found in the current car market in the form of two luxurious saloons with contrasting fortunes.
The Maserati Quattroporte has had consistently good reviews since its launch, and seems to get stronger with each upgrade. 2013 actually saw Maserati sell 7,800 Quattroporte's. It's Maserati's strongest selling vehicle and the driving force behind their recent resurgence, but it has taken many years to get it to this point. On the other hand, the more expensive and exclusive Aston Martin Rapide has not sold particularly well. Aston Martin actually cut production of the Rapide by almost 50% after disappointing sales in 2011.
It's here we may discover a little insight into the wealthy customers mindset. Mega-flashy Rolls Royce's aside, does there come a point in the price brackets where buying a saloon is just no longer feasible? Perhaps this is why Lamborghini held back the Estoque. Not only is a diesel Lamborghini one of the biggest automotive turn-offs imaginable, £150,000 for a saloon is too. Starting at just under £80,000, Maserati have done very well from the Quattroporte, but starting at around £150,000, Aston Martin hasn't. This is simply because buyers view other cars as being able to do the very same job the Aston does at a far lower price.
Should we ever happen to see a Lamborghini saloon, don't expect it to sell well. Lamborghini thankfully saw the light before it was too late, and the gorgeous Estoque concept remains just that – a concept.