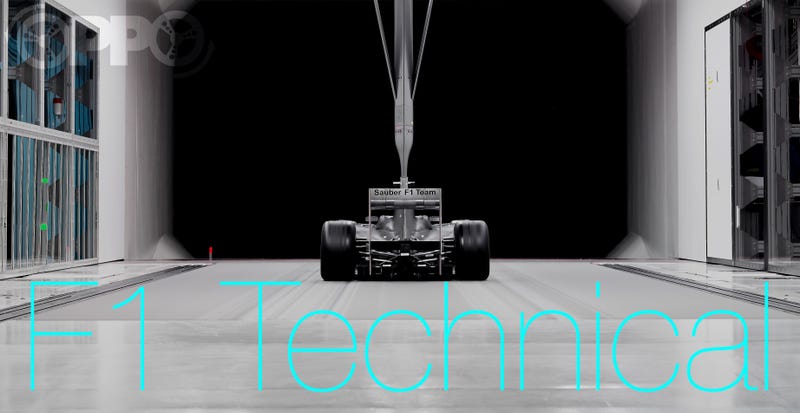 Technical innovation is what makes Formula 1 so different from any other form of racing. The on track action is as much played out by the engineers and aerodynamicists as it is the drivers. We are here to admire, study, and discuss this beauty that exists on the ragged edge of what we think is possible, or at least what we thought was possible.
Discussions and questions are welcomed and encouraged in the comments section below.
2014 Regulation Changes
In 2014 a number of regulations, some major and some minor, will transform the look and feel of next year's batch of F1 chassis. Keep in mind that these are just a few expected solutions to the new regulations and will not in literally reflect what will actually be unveiled after the new year.
Font Wing Width
2013
2014
In 2014, the front wing width will be reduced by 150 mm and will make it more difficult for the aerodynamicists to create front-end downforce and simultaneously sculpt the air around the tires to reduce drag.
Nose Height (Bulkhead)
2013
2014
In 2014, the front bulkhead (nose height in line with the suspension) will be reduced by 100 mm. This reduction in height could make pull-rod suspension more viable as the push-rod style suspension will have to angle flatter, but most likely most of the teams will stick with the push-rod style suspension as there is more positive angle to play with than negative on the pull-rod style.
2013/2014 Comparison
That's only 10 cm, people, and it looks massive.
Nose Height (Crash Structure)
2013
2014
In 2014 the nose height of the crash structure will be reduced, and finally the stepped noses will be gone, as the FIA have regulated and angled line limit rather than two separate heights for two separate locations. However, a skirt of the regulations could produce a different nose that is far more unattractive than I care to comment on. However, vanity panels are still allowed, so cross your fingers.