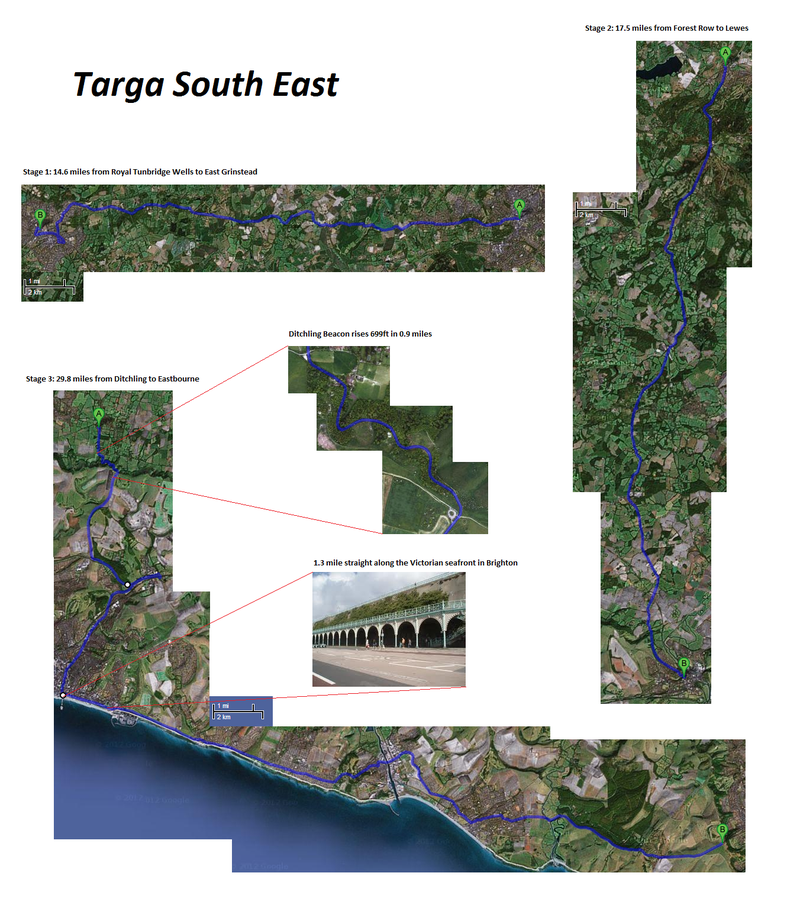 This is my submission for the 'Create a racetrack from your neighborhood' challenge. I was rather proud of it, so lets share.
I present the first 3 stages of Targa South East: Stage 1 comprises of tight, technical British country roads through enclosing wooded tunnels (which also runs past my house). With constant elevation change, a lovely blind apex corner and nary a straight in the stage, it's a punishing start to the rally.

Stage 2 comprises more open sweeping country roads, including a 1.2 mile straight dash across the Ashdown forest (and is also my route to work). Much more high-speed than the previous stage, competitors will have numerous opportunities to catch air across the rolling landscape.

Stage 3 starts in the small town of Ditchling and climbs the Ditchling Beacon (the highest point in East Sussex). The Beacon rises 699ft above the surrounding terrain in just under a mile, and then drops 814ft to sea level in a series of very long and fast sweeping bends. Once through the city of Brighton, the competitors hammer along a 1.3 mile stretch of Victorian seafront, with a long raised balcony for spectator viewing before continuing along the twisty coast road to the day's finish just outside of Eastbourne. As Eastbourne is a town for old people, the rally won't enter it for fear of deaths by shock and awe.

I want this to happen.