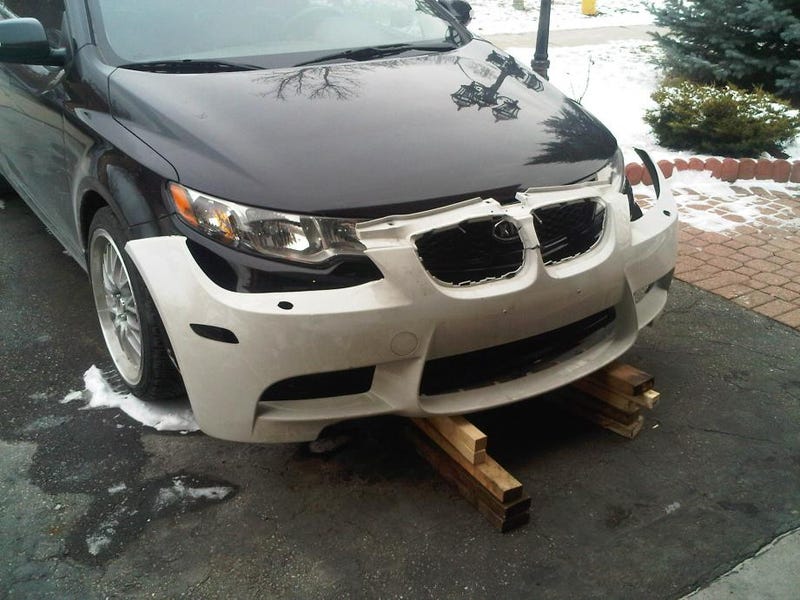 Russian-Canadian Sergei Sidorov had crashed is KIA so he did what any neo-ricer yearning to preserve tradition would. He got himself the corresponding part from a current BMW M3 to graft onto his whip.
The damage was just the perfect opportunity to upgrade
His concept is solid though
This is a little picture of what I think it would look like when finished in black of course. I did it red so that the body lines could be easily seen. 

I like it. The fenders will be widened both front and rear. The front lights and bumper would also be pushed in and the hood over lapping just a little bit for an angry look.
He is encouraged by SLEEPS:
"It does not look terrible but its the idea that its a KIA and your fooling with BWM parts... So long as you dont put a BWM badge or make it overly known its a BMW front end, i think classy would be a good word for the look."
And he is met with adversity from bobzilla:
"Like I said in your first thread about this......

Two questions:

1.) Do you have a lot of body fabrication experience?
2.) Do you have plenty of money to spend paying someone with a lot of body fabrication experience?

If you can't answer "yes" to at least one of those questions, don't even start this project because it's going to end up half assed and look like shit."
and from ScketchedOut
Personally I'd highly advise against this unless you enjoy being insulted for driving a very poor mans M3..
He perseveres though, like any real Russian!
1st fitment is a (sic) success