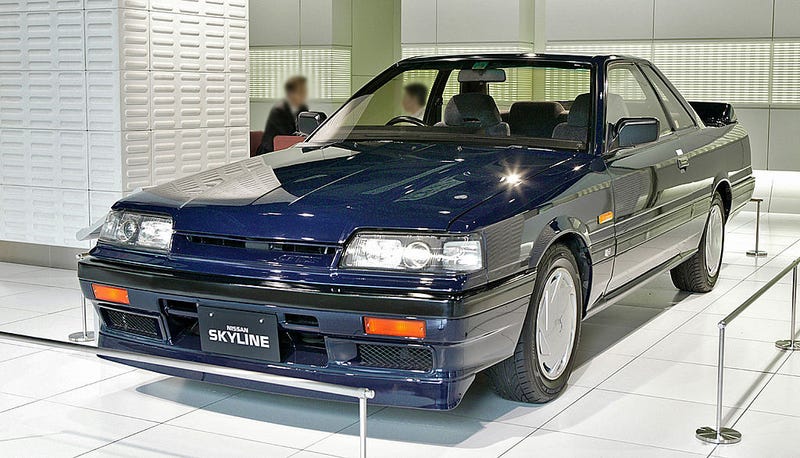 Late eighties/early nineties Japanese cars like this R31 Skyline are pretty fascinating. It was a time when you could buy all kinds of strange and wonderful F/R layout sedans and coupes from Toyota and Nissan. To an extent though they all blend together. Nearly everything that falls under this category is boxy in a rather nondescript way. And that makes this era of Japanese cars pretty exciting IMO.
This is a Nissan laurel. Look at how sporty it is! With the beige 2 tone and the spoiler! It's magnificent. I think this was available with an RB20DET, which would be a lot of fun. This is the kind of thing I'd love to import. It'd be really strange, light, fun to drive, and most likely dirt cheap too. In case you haven't heard, old cars are so undesirable in Japan that you can buy halfway decent examples of cars like this Laurel for around the same price you'll pay for the importation process.
This thing is killer. It's a late eighties Nissan Leopard. Look at those wheels! And that paint! You could spec these with a 3.0 turbo v6, which is awesome - that would be another car to blow minds with at a Japanese car show. I wasn't even alive in the eighties but it'd be SO COOL to take this little JDM GT car on a road trip, blasting Van Halen and Michael Jackson the entire way...
This is a leopard too. Except the nineties turned it into a comically ugly melted jellybean. Look at that rear light assembly! It's hideous...
This is a laurel too. Side mirrors FTW.