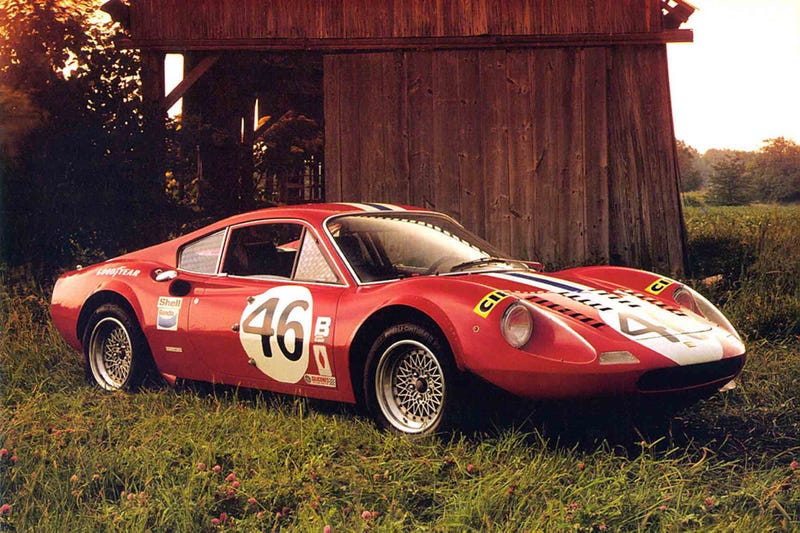 If you're father Ferrari and have a son that embarrasses you and sullies your name, what do you do? You disown him. Time to show the man what he missed out on!
The Dino was Ferrari's doing, the DNA test doesn't lie. Dino was conceived as an affordable sports car by Ferrari. Ferrari's pride and ego stopped it from slapping the Ferrari badge on it...didn't even want to risk this kid tarnishing the family's reputation of exclusive elegance. Father of the year award right here.
But as a young rebellious teen the Dino is, it doesn't understand the whole story. Papa is still embarrassed of you, so get used to it...yet your name has meaning to him. He named you after his son who lost his life battling muscular dystrophy at the young age of 24. That has to mean something right?
Nope, Ferrari still hates you. It sent the Dino off to live with uncle Fiat; Fiat co-produced the Dino as a technicality to make homologation cars to allow Ferrari to use the Dino V-6 engine in Formula 2. It has a 2.0L V6 front engine, RWD configuration while in the Fiat clan.
Then the heat was on as those close to Ferrari pressured him to love his son enough to give him a mid engine layout. Ferrari was opposed to this...like hardcore. He felt that it was too dangerous for customers to handle. He eventually caved in, rationalizing to himself that people won't kill themselves in the car since it had just a V-6....but insisted that the Ferrari name stay off of it. The Dino takes the form of the 206S prototype:
This leads to the the rise of the Dino 206 GT. The Dino's growing up! The car looks stunning and had the build of an athlete. It weighed only 1980 lbs and had a mid-engine all-aluminum DOHC 2.0L V-6 rated at 160 HP at 8000 rpm with 135 LB FT at 6500 rpm. It's making a name for itself too, being the first "Ferrari" to have electronic ignition and a direct rack and pinion setup. It also had a top speed of 146 mph and was incredibly balanced. The Dino was extremely popular. Including its later iterations, the car sold damn near 4000 units!

"Today I will do what others won't, so tomorrow I can accomplish what others can't"- Dino 246 GT
The Dino became the 246 GT. It bulked up on muscle weight (195 hp Euro-Spec) and when going toe to toe with the 911, it was almost dead even in sheer performance with a top speed of 148 mph and a 0-50 sprint in 5.5 seconds. This was the last of the Great Dinos as it was replaced by the uncharasmatic Dino 308 GT4.
The Dinos didn't officially get acknowledged by Ferrari until May 1976, when the Ferrari prancing horse finally was put on the hood. By that time, the Dino already proved to the world that it didn't need Ferrari's name or prestige holding it back.
photo credit belongs to their respective owners