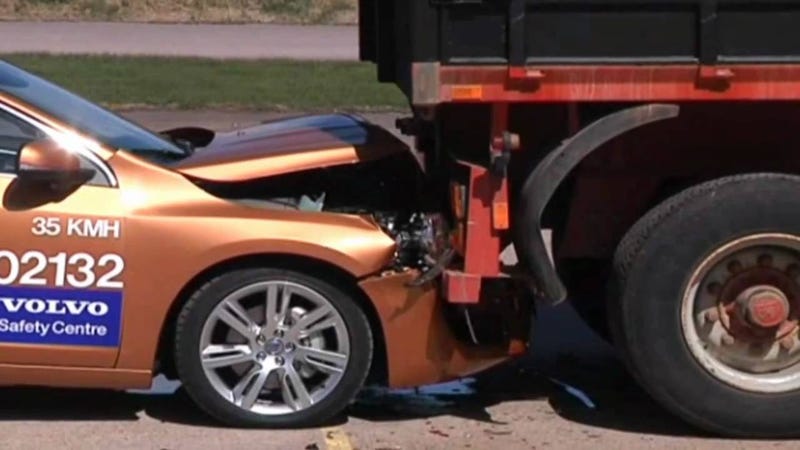 Being from Silicon Valley, I've grasped the importance of flawless product demonstrations after living through Steve Jobs's numerous product unveilings. You know, make a bunch of tech journalists sit three hours worth of presentations about new developer initiatives, two hours about new Apple software programs, and right when you think it's the end, say "One more thing," and then spend another two hours talking about the new iSomething.
Having spent middle and high school living through this, I was always amazed that nothing ever went wrong during an Apple event. After all, even Bill Gates couldn't stop XP Media Center Edition from failing during a CES demo.
But these are nothing compared to automotive product demonstrations that went wrong. At least if a bug renders an iPhone inoperable, we can use smoke signals to communicate, but if a system on a car doesn't work, there may be an immense accident, resulting in smoke signals of a different sort.
As a result, I've come up with a list highlighting product demonstrations gone bad on cars, showcasing that once in a while, with their tightly controlled and choreographed events, even manufacturers can get things very, very wrong.
Author's Note: Automakers, despite the moments listed, please continue with the public product demonstrations. There's no other way to remind gearheads that even automaker employees can be human.
A Bugatti Veyron Spins at Laguna Seca
The VW Group had prove that the Bugatti Veyron was not vaporware. So before the Veyron was delivered to customers, many of whom go to Pebble Beach along with two or three garage queens, Bugatti decided to have a prototype do some laps at Laguna Seca. You would think just having a development car do a few laps would make for a good show. But no, the car spun at the Andretti Hairpin.
Unfortunately this happened back in 2004, when YouTube didn't exist, so no video exists to show what actually happened. One can only imagine the reprimands the driver received from VW management which would have been on pit lane video. And the incident didn't show the automotive press that the Veyron project was going especially well.
Elon Musk Introduces the Frunk
People would be forgiving the Stuttgart or Detroit automakers if that happened, but in Silicon Valley, where Steve Jobs set the standard for a product demo, the "frunk" incident is borderline unacceptable. I admit it's not a tech feature like an accident-avoidance or night-vision system, but it is a demo gone wrong nonetheless.
Hopefully something similar of the sort doesn't happen when he shows off his Lotus submarine, like the propeller cover that fails to turn. Or when he finally decides to take that cross-country trip with his five kids and runs out of battery due to powering all their laptops, smartphones, iPads, and drink coolers.