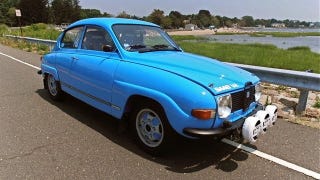 The SAAB 96 traces its lineage back to the beginnings of the Trollhättan based automaker— the final evolution of their original aerodynamic beetle-esque form of the Ur-SAAB. The 96 was powered by a small V4 or 2-stroke and is a leisurely ride...with the notable exception of factory rally examples.
It is not clear if this example is factory prepared or just a damn good copy, but full FIA papers and an engine built by Bengt-Erik Strom is nothing to scoff at. Find this 1970 SAAB 96 Factory Rally Car for sale in Southport, CT for $24,900 or best offer on ebay.
The letters in SAAB should be capitalized because it's actually an acronym, standing for Svenska Aeroplan Aktiebolaget which translates to Swedish Aeroplane Ltd. The early cars had an aeronautical shape to them with blunt front, clean fuselages and teardrop shaped tails. The 96 is one of the last SAABs to maintain the teardrop shape and it looks incredible covered in an electric shade of power blue. A trio of period correct Hella fogs dominate the front end, but should be great for blinding oncoming traffic or picking up that apex rock your co-driver noted on the route map. Either way, please don't crash into something and ruin this beauty!
The V4 engine design is uncommon but it is shorter than a straight 4 and inherently imbalanced, but it's compact and SAAB had little choice when looking for a 4-stroke mill that would fit in their FWD chassis. In street trim the 1.5L V4 puts out 55hp and 79 lb-ft in but this one has been bored and stroked to 1.8 liters and is equipped with undisclosed SAAB performance parts and is now good for 150 horsepower. Mated to a close ratio gearbox and limited slip front diff, this thing will scoot-scooot-SCOOOT once the front tires stop spinning.
The interior is setup for rally- with a cage, racing seats and nothing that isn't specifically needed for going fast. And as they say, once you go full race car, there is no going back...
See a sweeter looking vintage rally machine for the cash? tips@dailyturismo.com
Tip from Kaibeezy. Originally posted as DTO: Hella Cool: 1970 SAAB 96 Rally Car on Daily Turismo.