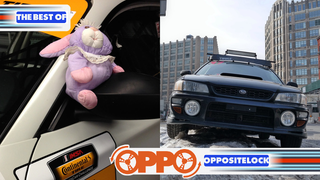 Assembled here are the best Oppositelock posts from Monday and Tuesday. Today we've got the Puffalump at the Roar Before the 24, Triple-C ice racing, a love for racing and more.
A few people asked "where's the Puffalump?" on my horse review. She's been quite busy. I couldn't pry myself away from my LeMons build in Austin long enough to sneak along with a friend for the Roar Before the 24 at Daytona, so I did the next best thing—I sent Fluffy.




What do you say when your co-workers buy a $2,500 Subaru specifically for ice racing and ask you to come along? Well in my case; I said let me grab my camera. Over the last few years I've taken a lot of inspiration watching the /DRIVE guys create some of the most interesting and well told automotive stories produced to date. Thus, I couldn't pass up the opportunity to share Adam, Ethan, Aaron, and my story; attempting to campaign a Craigslist-find Subie in the two-month-long A.M.E.C. Ice Racing Championship.
Sports of any type have a rather rocky history with me. When I was a kid, baseball was my favorite activity by far, but around the age of ten, I put away my cleats and left that hobby behind me. Years later, as a young adult, I worked in the golf industry for a little over five years and enjoyed playing the game, but never really cared to take much interest in the PGA tournaments and didn't even get very excited about meeting touring professionals for that matter. The day I stopped paying attention to baseball was the same day I started paying attention to cars, but what I have never been fond of is the thought of automotive racing as a whole.
Cadillac has pressed onward in their war with the Germans, sometimes opting for plastic chrome in place of actual luxury. Their new ATS can be easily understood as a smaller CTS, but will photocopying models at 78.3% pay dividends to the Detroit automaker, and is can this car even be considered cool considering Cadillac's absence of a flagship model?
This "Truck Yeah" post is pretty disappointing. There is a lot of LEGIT talent in the car art sphere, but that digital photo manipulation stuff isn't it, in my humble opinion. Orlove featuring John Brosio was cool...he's a fantastic artist with a unique style and that painting rules...but how about featuring some rad auto artists that are legit gear heads too? To see more of Josh's work, check out his new book.
McLaren was founded in 1966 and won their first race in 1968. Since then they have 8 Constructor's Championships, 12 Driver's Championships, 182 wins, and 155 poles. Their driver history reads like a list of F1 royalty. If I could really tell you the true history of McLaren we would both be here all day.
The Datsun 510 (known as the Bluebird outside the US & Canada) was the Japanese equivalent of the BMW 2002 from parent company Nissan. Like the 2002, they were built by the boatload, rusted instantly when exposed to moisture and languished in a price range that put them just inches from the crusher for decades. Also Go Topless In A Custom Z31 300ZX Convertible.
Generation Y — otherwise known as "those damn Millennials" to anyone old enough to have been awake during the Gerald Ford administration — has been a source of constant grief for automakers and middle-aged balding industry pundits for a couple of years now. "Cellular phones," they constantly quip out of ignorance, "are more important to today's youth than personal transportation."
I frequently browse through catalogs for upcoming classic car auctions. They're the best for discovering rare cars you never heard about. And my god there is so many. From the obvious Miura SV to the unexpected 1950's family sedan, there are lots and lots of classic cars on the market. That raises a question: how many classic cars are there in the world, right now?
It was a couple of years ago when my father bought a cream-colored 50K-mile 2008 NC Miata from a desperate dealer at the end of the year for a fair $13,000. Desperate, you ask? Yes, desperate. As if dealerships struggle to keep NCs on the lot, this one was especially hard to sell because of what it had in between the two seats: a PRNDL with a +/- below it. Yes, an automatic Miata.
If I had known the amount of attention I would be getting from all walks of life as I sat in the low back seated position of the loaned CR-Z, I would've shaved, settled my escaping hair, and dressed a bit better to match the exuberance of the car. If it fails at anything that we're about to write on, it sure is one hell of a head turner as it does look like kind of a space ship amidst all the Civic, Corollas, Land Cruiser and Suzukis in the traffic.
I thought I was gonna start off with a history Saturn, the Astra and how GM Ruined the brand and blah blah blah! But that's boring, I don't like boring and no one wants to read a boring review. This car is exciting to drive and fun to have so that's what this review will be: fun and exciting!
About six months ago I had the chance to drive, then write a comparison review about three very awesome, very similar cars; the 2013 Mazda Miata, the 2013 Subaru BRZ, and a really nice 2007 Honda S2000 with low miles. I came out very impressed with all three vehicles, but the little voice inside my head kept telling me something was amiss. "what about the RX8?" it asked. "You should check out one of those too" it said. Well, after much arguing with imaginary voices (and strange looks from everyone around me), I decided to test one out to see how well it would measure up to the others.
The Best of the Rest
NinetyQ photographed the FT-1 at the Chicago Auto Show. Njp1589 shared some racing photos taken with his new camera. Quarterlifecrisis found some photos from Labour Day weekend. Interrogator-chaplain took photos at the Toronto Auto Show. Philiphilip spotted a Model A. Slow4o bought a garage with some sort of domicile attached. One Quick Turbo Brick updated us on his Volvo project. HammerheadFistpunch went to Moab. MattBartlett shared his photos from a trip to Florida.
---
As always, If I've missed something and you would like me to include it, let me know.
Fun Discussions
There were several posts that asked questions and sparked some good discussion on Monday and Tuesday. Take a peek and chime in on some of those listed below:
Just the #tips
Honorable Mentions
These posts have already been shared with Jalopnik directly but deserve to be mentioned again because they were first posted on Oppositelock:
Want to participate on Oppositelock? Check out the general handbook for posting on OppositeLock as well the Oppo tools to help you get started.