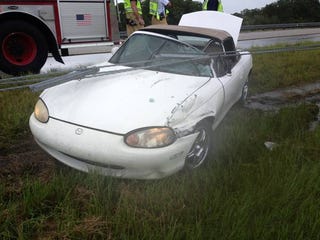 Anyone that has been on either jalopnik or Oppo for an hour knows how we feel about Miatas. They are simply a great car. I'd love one if I wasn't such a big guy (I look ridiculous driving one around town).But for many other people, they love it as a daily driver. I'm sure the owner of todays NPOCP loved his too, but now its for sale and up to you if his $2000 aksing price is worth it.
The 1999 Miata was a great car when it was new. Hell, its a great car today. This example has (read: had) a very nice white body with beige top and beige interior. I know this is a personal preference, bit I prefer white and beige to whte and black. These rims, although not stock, are not ostentatious and work well with the car. Suposoedly, it still has ice cold air andthe engine runs great. It does have a manual transmission too. This is a great drivers car; if you can get over the body.
This example also has plenty of upgrades including: k&n cai, ecu chip, roll bar, ceramic headers, flowmaster custom exhaust and muffler, new spark plug wires, water pump, timing belt, brad new rotors slotted and drilled, new ceramic pads, 6 month old tires, aftermarket rims, have new stage 2 racing clutch brad new in box ($300) value , new cam pos sensor, new fuel filter and pump. The owner claims it was meticulously cared for; always babied and maintined.
According to the seller,
car has moderate-severe body damage
but to me, it seems a bit worse than that. The windshield is cracked and bent out of place and the front fender is horribly smashed. I cannot tell if it is purely cosmetic or if the damage is more serious.
The asking price is $2000. What do you think? NPOCP?